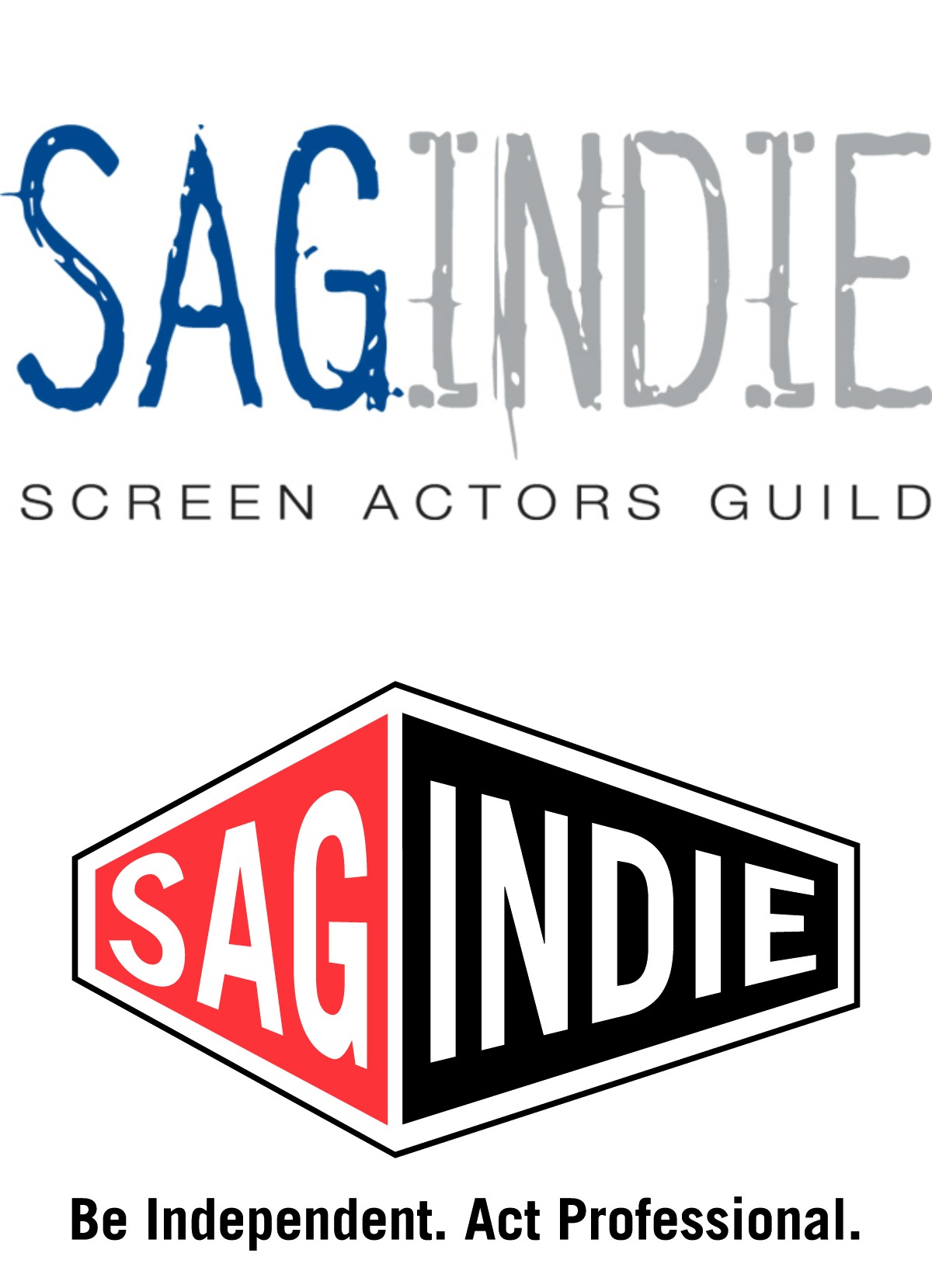 A SAGindie Timeline
Since 1997, SAGindie has been a resource for connecting professional actors and independent filmmakers.
Click through the timeline slider for highlights of SAGindie's outreach.

1997
The first Screen Actors Guild Indie Contract Workshop is held in September at the Independent Feature Film Market (now IFP Film Week) in New York. Among the panel participants at that first workshop is then up-and-coming actress Angelina Jolie.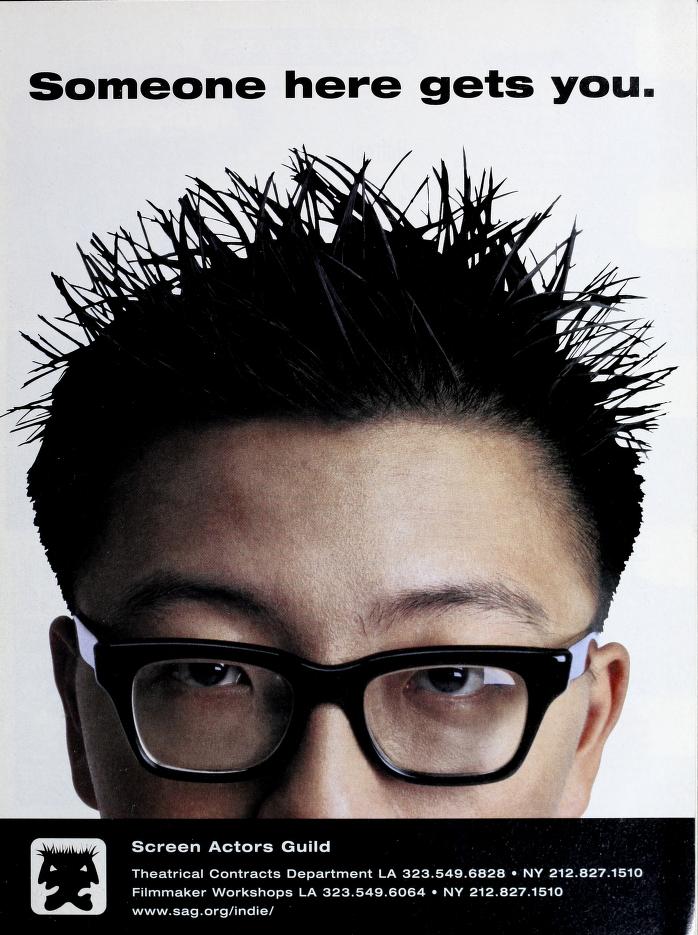 2000
SAG's Film Festival/Trade Show Campaign advertises to reach independent filmmakers. The program is soon rebranded as the SAG Indie Outreach Campaign, and then just SAGindie.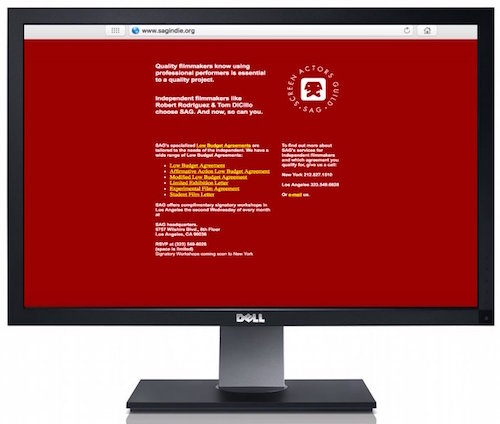 2001
The sagindie.org website is launched, bringing the SAG low-budget contracts online for the first time.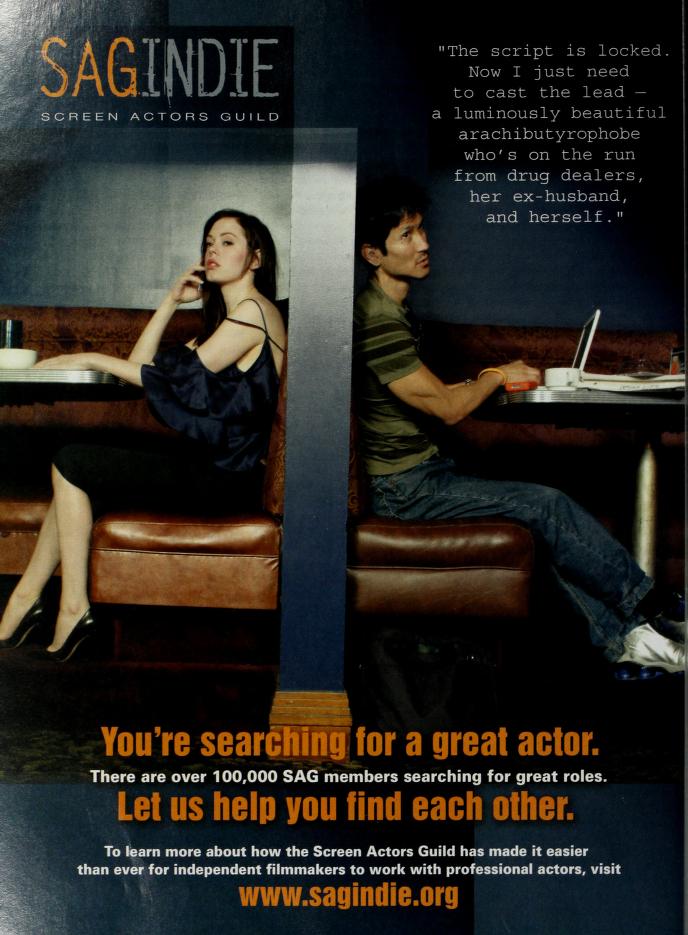 2005
Actress Rose McGowan and writer/director Gregg Araki appear in a SAGindie ad campaign targeted to both actors and filmmakers.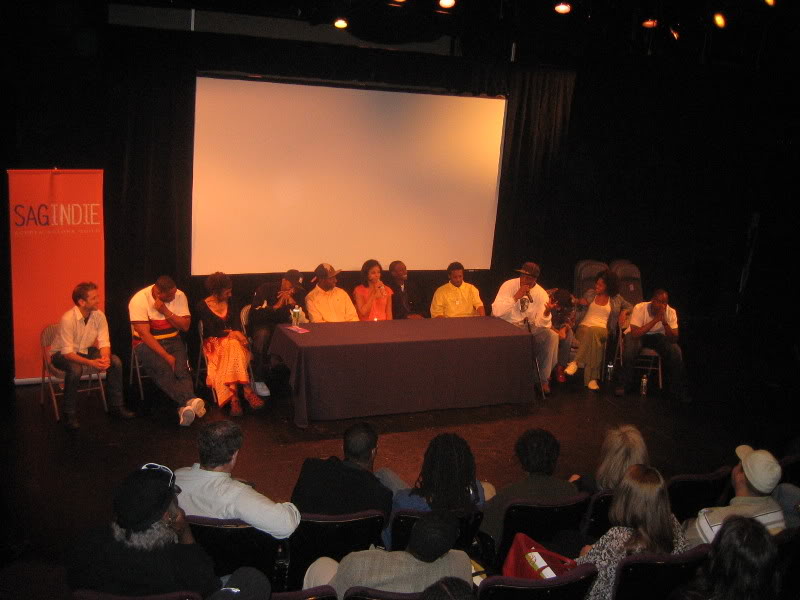 2006
SAGindie's Diversity Screening Series is launched to highlight films with diverse casts or featuring diverse themes. (Pictured: SAGindie Diversity Screening of Blackout).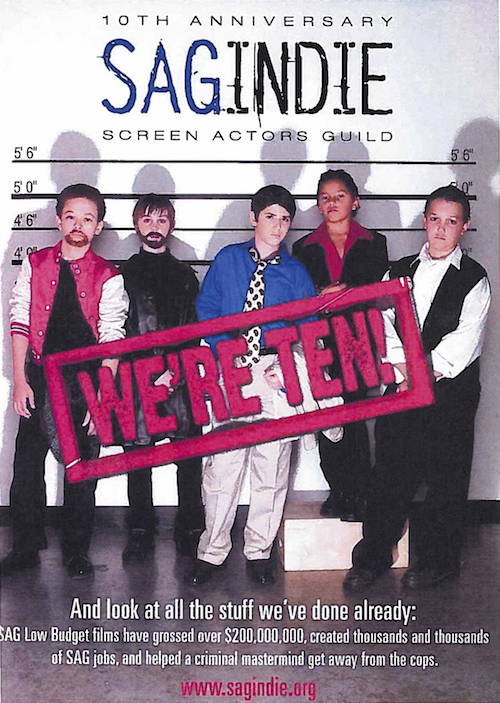 2007
SAGindie turns 10. To celebrate, that year's "We're Ten!" advertising campaign recreates iconic indie movie posters, cast with ten-year-olds.
2010
From 1997 to 2010, the percentage of SAG signatory movies at the Sundance Film Festival rose from 23% to 97%. SAGindie's Sundance Luncheons quickly became a staple of the fest, where in 2010 it drew veterans like Melissa Leo and Adrien Brody and newcomers like Jennifer Lawrence.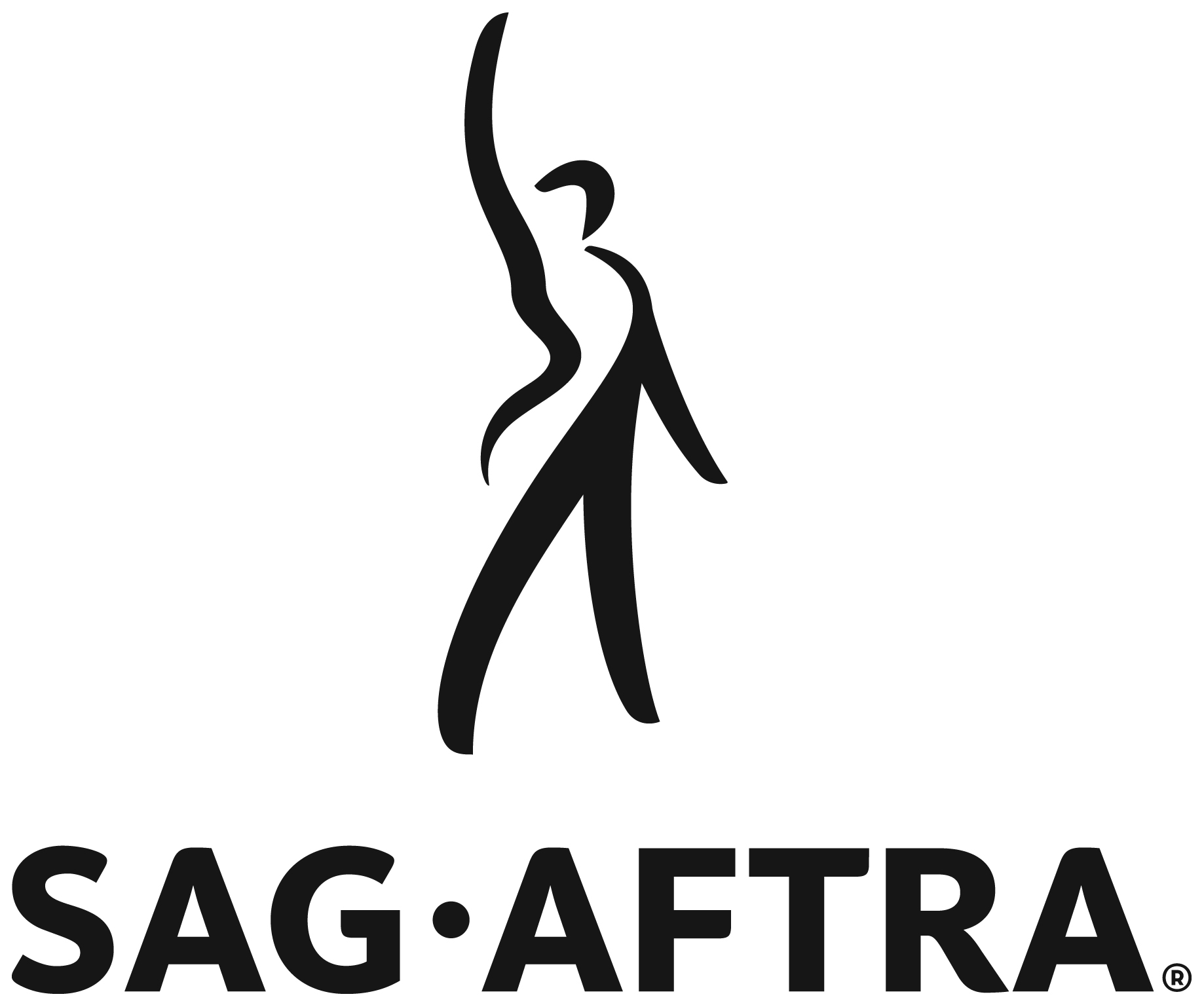 2012
SAG and AFTRA merge into one union; SAGindie later rebrands with a new logo and updated tagline: "Be Independent. Act Professional."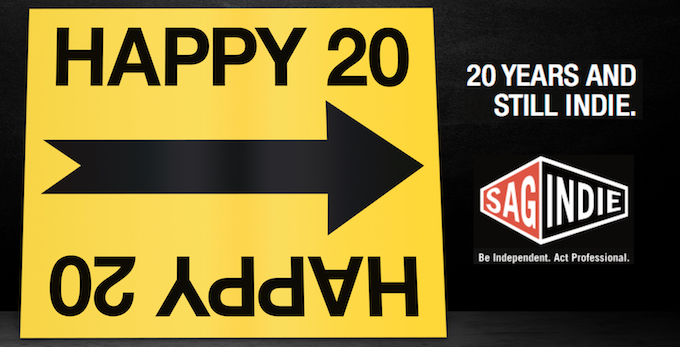 2017
SAGindie celebrates 20 years as a free resource for independent filmmakers. In those two decades, nearly 41,000 shorts and features have signed as signatory low-budget productions.
Back in 2007 for SAGindie's 10th Anniversary, we went into detail about the evolution of independent filmmaking in the U.S. and the eventual SAG (now SAG-AFTRA) low-budget contracts that followed. In the decade since our last big birthday, the independent film industry has evolved even further and through it all, passionate independent filmmakers have continued to put their stories onto the screen. To further commemorate this 20-year landmark, SAGindie National Director Darrien Michele Gipson has offered this reflection.
____
SAGindie is now 20 years old. I have to confess, I didn't give birth to this extraordinary organization; I'm more like the stepmom who's been around for 15 years and has watched it grow up.
Independent film has always been a haven for the best and brightest. 20 years ago, SAGindie was an idea to enable indie filmmakers to use SAG talent and to demystify the Guild. Some things haven't changed; we still help filmmakers hire professional actors and we try to give the best advice we can on working with the (now-called) Union. And let's face it, the union can sometimes still feel like a scary presence. But we maintain that it is the fear of the unknown that is the worst part of filmmaking. Once you know the rules, everything else can fall into place.
We at SAGindie have seen a lot of changes in the past two decades, some good, some bad. The bad? I've watched small but prolific production companies go out of business. I've watched indie budgets shrink so small that it's amazing anyone can get anything made. And I've watched the burden of creativity and imagination fall upon the shoulders of those among us who have the least (money, connections) and who have the most to lose (money, career, …hope). And yet, I am heartened by the good that I have seen. That those with the least money and most to lose will still forge ahead and create content as if their very lives depended on it. I've seen amazing feats of cinema and fantastic works of art, presented on screens big and small. I've watched bold, new companies come along and fearlessly hold ground amidst the big studios. And I've seen those same studios suddenly realize that the talent that lives in the indie world can work for them as well. I still love that a singular voice like Taika Waititi is bringing his style to Thor: Ragnarok. I love that Ava DuVernay is giving the world A Wrinkle in Time and that safety was never guaranteed but certainly rewarded in Colin Trevorrow's Jurassic World.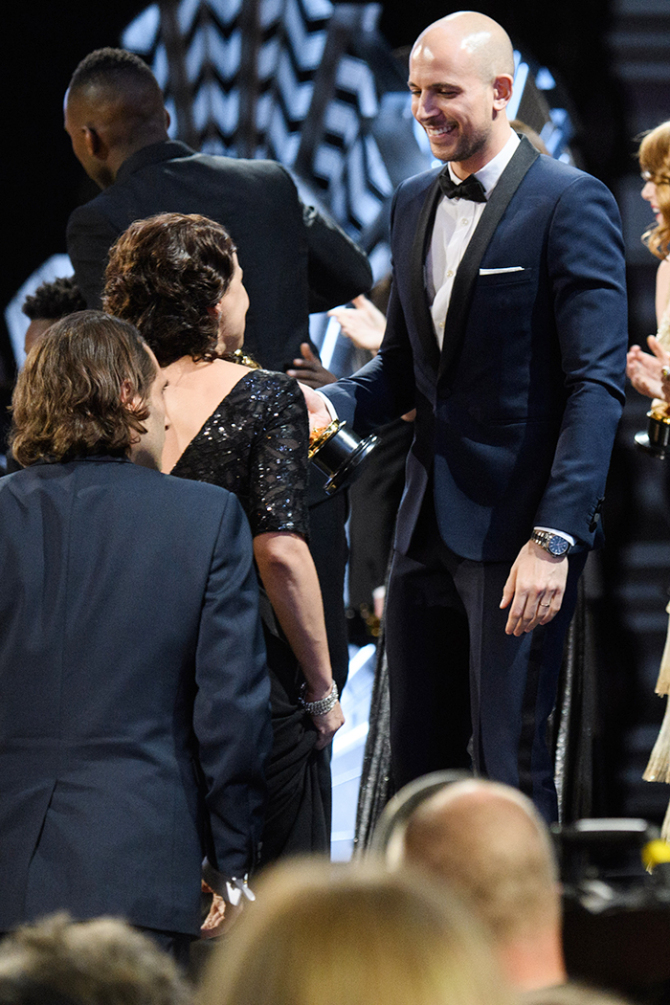 But maybe the best thing I saw this year came during the industry's most shocking moment. The Best Picture snafu at the Oscars will be one for the history books. But what I remember is, in the midst of what I imagine to be a crushing disappointment, the La La Land team showed genuine class and familial love when handing those Oscars to the Moonlight team. The picture of La La Land producer Fred Berger at the top of the stairs, smiling at Moonlight producer Adele Romanski as he waits to hand her the Oscar… that is the picture that defines independent filmmakers to me. At that moment, I knew what indie spirit was all about.
We know how hard this business is and how much we struggle to create our version of art. In the end, we are part of a family. We spend months on sets or festival circuits, in interviews, photo shoots, and (hopefully) award shows, all while wondering if this means that someone will give us enough money to make another film. And we know that film – and frankly, the world – needs us. We need visionaries and cinematic Greek choruses to show us versions of ourselves – be it a good look or a bad one. And when I see the camaraderie that is so evident amongst us, I know in the end, we are all going to be okay.
__
More on SAGindie's 20th Anniversary
20 Years and Still Indie
SAG-AFTRA Magazine Fall/Winter 2017
SAGindie's 1997 Movie Picks
SAGindie staff's favorite films also turning 20 this year
indieBlog Archive Interviews
Stephanie Allain, Hustle & Flow
Julie Asato, Better Luck Tomorrow
Ram Bergman, Brick
Edward Burns, The Groomsmen
Adam Goldberg, I Love Your Work
Jon Heder, Napoleon Dynamite
Miranda July, Me and You and Everyone We Know
Nicole Kassell, The Woodsman
Tom McCarthy, The Station Agent
Mark and Michael Polish, Northfork
Jason Reitman and Mindy Marin, Thank You For Smoking
Amy Sedaris and Paul Dinello, Strangers With Candy
Duncan Tucker, Transamerica
——
If you're an independent filmmaker or know of an independent film-related topic we should write about, email blogadmin@sagindie.org for consideration.