Low Budget Film Contract Workshop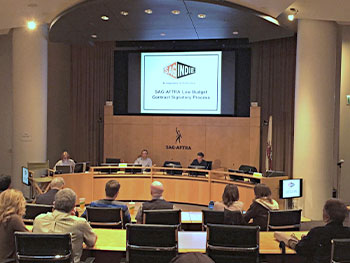 Workshop Schedule:
Workshop Locations:
Los Angeles

SAG-AFTRA LA Local
5757 Wilshire Blvd, 1st Fl
Los Angeles, CA 90036
6:00 p.m.
New York
SAG-AFTRA NY Local
1900 Broadway, 5th Fl
New York, NY 10023
6:00 p.m.
Learn how to hire professional actors for your independent film!
Join SAGindie staff and SAG-AFTRA Theatrical Business Representatives to walk you through the process of signing SAG-AFTRA Low Budget Agreements from start to finish. Workshops are held in Los Angeles and New York on the 2nd Thursday of every month from 6 to 8pm and are FREE. Workshops fill up quickly so register now!
The SAGindie workshop highlights the Short Project and Low Budget Theatrical Agreements. If you want to learn about new media contracts, the SAG-AFTRA New Media department holds their own workshop in Los Angeles. Contact SAG-AFTRA New Media for more information.
NOTICE: Due to COVID-19 precautions, SAGindie workshops have been canceled until further notice. Please stay tuned to this page for updates regarding future events.