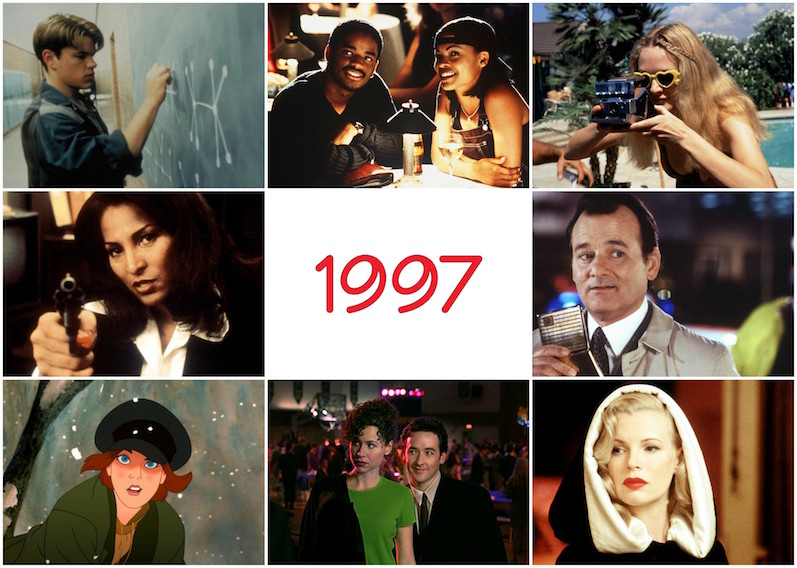 2017 marks the twentieth anniversary of SAGindie's founding, and we've been celebrating all year. But if there's one thing we love celebrating even more than anniversaries, it's movies. So with our special landmark birthday in mind, our staff looked back on the year 1997 to pick our favorite movies also turning 20 this year.
——
Darrien's Picks:

Tasked with deciding which film in the lexicon of films from 1997 should wear the crown as THE BEST, I had the pleasure of going down memory Wikipedia-lane. I saw so many movies! Good ones, bad ones – I'm lucky if I see 1/10 of the number of movies now. There were some real clunkers that year, to be sure. But there were also some films that are burned into my memory:
My Best Friend's Wedding – from the opening credit song, to the amazing Dionne Warwick sing-a-long, to the surprising ending where our heroine DOESN'T get the guy (spoiler alert! Oh come on, you had 20 YEARS!), I loved this movie.
Grosse Pointe Blank – acerbically funny. When I see my sister wearing anything with a lot of buttons, I still call her Sgt. Pepper. One of the best pairings of the Cusack siblings ever.
Yeah, yeah, yeah Good Will Hunting – 'nuff said.
Soul Food – for crying out loud! After Eat, Drink, Man, Woman (1993), this continued my post-movie binge eating craze. Not to mention, once the TV show began, it forever solidified our collective confusion of "Which Soul Food? The one with Vanessa Wiliams."
BUT, when push comes to bludgeon (that's how that goes, right?), my absolute favorite film from 1997 has to be Love Jones. The story, the romance, the soundtrack(!), even Bill Bellamy driving around in a hearse. It is a classic that has more than stood the test of time.
Eliza's Picks:

The Man Who Knew Too Little. It's a surprisingly entertaining film that no one saw and no one really remembers so I can quote it all day long and no one knows that I've stolen all my hilarious jokes from a film and that without it I am a very unfunny person the end.
Colin's Picks:

While Austin Powers, Romy and Michele's High School Reunion, and I Know What You Did Last Summer all hold a special '97 place in my heart for nostalgic reasons, and while I can't deny the genius that is L.A. Confidential, Jackie Brown, and Chasing Amy… my all-time favorite movie turning 20 this year is Boogie Nights. It's the 1997 movie that's always good for a re-watch, the 1997 movie soundtrack that never gets old (partly because all the songs were already old, even in 1997), and has the best ensemble cast a 1997 moviegoer – or even a 2017 moviegoer – could ask for.
Shefali's Picks:

I'm going to be honest, I haven't seen a lot of movies from 1997 other than the classics like Boogie Nights, Good Will Hunting, etc. One that I found very moving was Amistad, which I watched in my high school history class. As for my favorite, I'd probably have to go with Anastasia since it was such a beautiful yet sad story. I remember really enjoying it when I watched it in 1997 and then as I grew older becoming really fascinated with the real story behind it and how we might never know what happened to the true Anastasia!
Michael's Picks:

1997. What a year, what a year: George Lucas basically ruined all three of his Star Wars films, James Cameron gave us non-stop Celine Dion dreck, we were fed such cinematic classics as Beverly Hills Ninja, McHale's Navy, Contact, George of the Jungle, G.I. Jane, Leave It to Beaver, and Mr. Magoo. On the flip-side, we also did get Donnie Brasco, Private Parts, L.A. Confidential, Boogie Nights, Starship Troopers, Good Will Hunting, Amistad, As Good As It Gets, and Jackie Brown. But as far as the "best" movie of '97, I'd have to go with Boogie Nights. It's perfect in every respect from writing to acting to directing to cinematography to soundtrack (I defy you to hear "Sister Christian" and not think of Alfred Molina and firecrackers), it's aged perfectly, it introduced us to numerous levels of epic talent, it revamped lost careers and gave us one of the best character names in decades: Dirk Diggler.
WHAT IS YOUR FAVORITE MOVIE FROM 1997?
——
For more on SAGindie's 20th Anniversary, check out our Spotlight archive for filmmaker interviews and articles from years past.