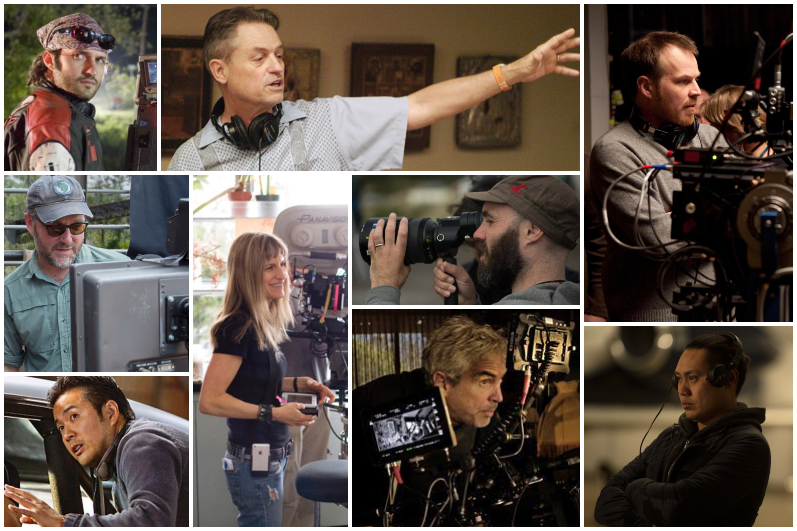 [UPDATED 3/7/19]
We've written before about filmmakers who stepped away from blockbusters to scale things back budget-wise. Even the most legendary Hollywood directors have at times desired a respite from the high money/high stress world of tentpole filmmaking; Hitchcock followed up his biggest-budget film (North by Northwest) with his lowest-budget American film (Psycho), and Spielberg famously shot his passion project Schindler's List on the heels of the mega-in-every-way Jurassic Park. But the practice became more noticeable in recent years, somewhat as a reaction to the (distressing, in certain ways) trend of unknown indie filmmakers being launched into big-budgeted blockbusters without a net.
While those giant job promotions haven't slowed, they have at least diversified a bit (including Patty Jenkins, Taika Waititi, Cathy Yan, and Chloé Zhao all getting called up from the indies to the major studios). There's also been somewhat of a "boomerang" effect that has taken place since our last blog post on the topic: Filmmakers whose indie landed them a huge studio gig, which then swung them back to doing another indie.
So with those "boomerang" filmmakers in mind – plus a few other notable names – we took another look at those who hit the big bucks and made a U-turn back to their lower-budget roots.
Here are eight nine more filmmakers who went from big budgets to indies.
____
Marc Webb


The Big One: The Amazing Spider-Man 2 ($200 million budget)
The Next One: Gifted ($7 million budget)
Music video veteran Marc Webb made an indie splash with his debut film (500) Days of Summer in 2009, which led to everyone falling in love with Zooey Deschanel and Joseph Gordon-Levitt and questioning the use of parentheses. It also led to Sony hiring Webb for a pair of "Wait, no Tobey Maguire?" editions of Spider-Man. But when the sequel didn't hit the box office heights Sony hoped for (despite grossing over $700 million) and the studio got hacked by North Korea (remember that?), a third Spidey-Webb collaboration was canceled. This gave Marc Webb the opportunity to swing back to the lower-budget world by making the family tearjerker Gifted, an original screenplay that – like 500 Days of Summer – was discovered on The Black List. Webb stated, "Having come off of big movies, I wanted to do something that was refreshing and uncomplicated, and that's what [Gifted] provided." He stuck around that smaller family drama territory with his next film, The Only Living Boy in New York.
Jon M. Chu


The Big One: G.I. Joe: Retaliation ($140 million budget)
The Next One: Jem and the Holograms ($5 million budget)
Okay, technically the Jon Chu film released right after his big-budget G.I. Joe sequel was the Justin Bieber documentary Believe – but we're focusing on his next narrative film, Jem and the Holograms. While Jem was (like G.I. Joe) based on an '80s Saturday morning cartoon series, it came from budget-conscious studio Blumhouse Pictures, who opted for a more low-key, superpower-less interpretation about a teenage singer achieving viral fame. Jem had a truly, truly, truly, outrageous-ly bad opening, which led to a pair of memorable Film Independent Forum keynote speeches from both Chu and Blumhouse's Jason Blum that very same opening weekend. (Watch the videos of the keynotes for some filmmaker-glass-half-full inspiration.) After the disappointment of Jem, Chu went back to bigger budgets and studios, helming the Now You See Me sequel and the monster hit rom-com Crazy Rich Asians (so far the highest-grossing domestic film of his career).
Catherine Hardwicke


The Big One: Red Riding Hood ($42 million budget)
The Next One: Plush ($2 million budget)
Catherine Hardwicke didn't return to the Twilight sequels, despite helping the first film achieve astounding financial success and becoming the first woman to direct a $400 million-grossing movie. Instead, she was soon hired by Leonardo DiCaprio's Appian Way and Warner Bros. to direct a dark take on a familiar fairy tale (those things were all the rage for a while). She wasn't given a massive budget to pull it off, but Red Riding Hood was the largest scale Hardwicke had been afforded yet. Though the film made more than double its budget back, it wasn't enough for another studio gig. So it was back to a low-budget, intimate youth-centric story much like the ones Hardwicke cut her teeth on, like Thirteen and Lords of Dogtown. (When it comes to giving female filmmakers second chances, Hollywood is… not great.) Still, the digital release of her MTV-inspired indie Plush made Hardwicke see the potential of the emerging new media market. "A lot of these wonderful indie movies come out and it's got great reviews and you'll see ten people [at the theater]," she stated. "But it's going to live forever in cyberspace."
David Lowery


The Big One: Pete's Dragon ($65 million budget)
The Next One: A Ghost Story ($100,000 budget)
When Disney hired Ain't Them Bodies Saints filmmaker David Lowery to remake their 1977 half-animated musical fantasy Pete's Dragon, the move (along with other Disney hires like Alex Ross Perry and Andrew Bujalski) seemed at first glance an odd pairing of arthouse cred and family-friendly fluff. But Lowery brought his fable-esque indie sensibilities to the boy-and-his-dragon tale, which received critical acclaim upon its 2016 release. And when he decided to opt for a lower budget for his follow-up film, he went as stripped down as possible: Filming in one house with a handful of actors and even more minimal special effects and costumes. A Ghost Story was an intimate story told and produced in an intimate way. It went on to become an arthouse hit (aided by distributor A24's inventive marketing campaign) and landed on many critics' best-of lists. You can catch a short behind-the-scenes documentary to be a fly on the wall of Lowery's microbudget production.
Alfonso Cuarón


The Big One: Gravity ($110 million budget)
The Next One: Roma ($15 million budget)
Cuarón won the Best Director Oscar for both Gravity and Roma. One was a VFX-heavy space thriller starring two of Earth's most famous humans (Sandra Bullock and George Clooney). The other, a small autobiographical drama shot in black-and-white with largely improvised Spanish-language dialogue from its cast of non-stars. Said Cuarón, "After Gravity, which had the good fortune of making lots of money, I was offered big films, sequels, franchises, but as Guillermo del Toro says: Sometimes you eat the cereal not because of the cereal itself, but because of the toy inside." The toy, for Cuarón, was the opportunity to return to his native Mexico (his first time filming there since his previous indie hit, Y Tu Mamá También) and even serve as his own cinematographer (for which he also won an Oscar). But despite the smaller nature of Roma, he didn't skimp on the technical side – the movie was shot on 65mm film with Dolby Atmos audio. No wonder distributor Netflix was required to show the film in theaters and not just its streaming platform. Going from Gravity to an iPad just seems wrong.
Justin Lin


The Big One: The Fast and the Furious: Tokyo Drift ($85 million budget)
The Next One: Finishing the Game ($500,000 budget)
Getting hired onto a successful film series would be a career boost for any filmmaker, but Justin Lin's entrance into the Fast and the Furious world became pivotal to the franchise's survival. Universal planned to wind the series down, releasing the third film, Tokyo Drift, direct-to-DVD. Lin was hired, having come off a Sundance breakout (Better Luck Tomorrow) and a mid-budget studio movie (Annapolis). But the film (with a last-minute Vin Diesel cameo added) garnered such a positive response from test audiences that it was saved from DVD purgatory and thus able to steer the series into the $5 billion(!) behemoth it has become. It wouldn't be Lin's last film of the fast and/or furious variety (he returned for the fourth, fifth, and sixth installments, plus the upcoming ninth), but before all that he made a pit stop back at Sundance. Lin co-wrote and directed the low-budget Finishing the Game, a mockumentary behind-the-scenes telling of Bruce Lee's Game of Death. "[Tokyo Drift] allowed me to get out of heavy debt and has allowed me, for the first time in my life, to be creative without worrying how I'm going to pay rent next month. It was in that space that I got to reunite with a lot of the talented folks that I love and go back into the no-budget indie world to make Finishing the Game." In addition to the unkillable car racing series, Lin also took a tour in the Star Trek universe. We're going to assume he's still good for next month's rent.
Jonathan Demme


The Big One: The Manchurian Candidate ($80 million budget)
The Next One: Rachel Getting Married ($12 million budget)
For a film as raw as Rachel Getting Married is, it's a bit surprising that it actually cost as much as $12 million. But at that point in his career, $12 million was basically a microbudget for the late Jonathan Demme. Demme was no stranger to low budgets in his early days, having worked for Roger Corman, but during his stride in the 1990s, he was known for mid-to-high budget prestige pictures such as The Silence of the Lambs, Philadelphia, and Beloved. Once Demme transitioned to higher-octane studio remakes like The Truth About Charlie and The Manchurian Candidate, the fact that he chose to take on an independent project from a first-time screenwriter (Jenny Lumet) is all the more surprising. "I realized that [Rachel Getting Married] could provide me with the opportunity to make a kind of film I love going to and a kind of film that excites me more than all others as a consumer. And that's an independent-spirited, low-budget film," he stated of the decision. Anchored by the against-type casting of Anne Hathaway, the film scored six Independent Spirit Award nominations. It also led Demme to go even lower in budget for his next film, the 2013 Henrik Ibsen adaptation The Master Builder (made for under $1 million).
Colin Trevorrow


The Big One: Jurassic World ($150 million budget)
The Next One: The Book of Henry ($10 million budget)
Fairly or not, Colin Trevorrow's jump from Safety Not Guaranteed to Jurassic World painted him to many as the public face of white male privilege in the filmmaking world (a criticism Trevorrow has been open about grappling with). But after being handed the keys to the franchise world, Trevorrow opted out of directing the Jurassic sequel (he still co-wrote and executive produced) to focus on directing an original screenplay that had been circulating Hollywood since 1998. Producers had even approached Trevorrow about directing The Book of Henry before he went off to make Jurassic World, but the timing worked out that he could use the small-scale family drama as his first post-dino production. Following the – um, gleefully, some might say – negative critical reaction to The Book of Henry, it was announced that Colin would no longer be making the ninth Star Wars film (getting kicked off a Star Wars film is so in right now). Instead, he would soon return to the director's chair for Jurassic World 3. Franchise life finds a way.
Robert Rodriguez


The Big One: Alita: Battle Angel ($170 million budget)
The Next One: Red 11 ($7,000 budget)
Robert Rodiguez's sojourn from a James Cameron-produced VFX fantasy epic to a micro-micro-budget thriller was a return to his roots in a very extreme sense. In conjunction with his reality competition series (named after his own memoir) Rebel Without a Crew, Rodriguez emulated the budget and constraints he had during the production of his first film, 1993's Sundance Audience Award-winner El Mariachi. With his son as his only other crewmember, Red 11 was even based story-wise on the path Rodriguez took to raising the money for El Mariachi – by working as a medical guinea pig. Considering his reputation as a mentor for up-and-coming filmmakers and his frequent ping-ponging between franchises and original films, it's no surprise that the director of movies as varied as The Adventures of Sharkboy and Lavagirl in 3-D and Machete Kills would have a few more unorthodox career choices up his sleeve.
*Unless otherwise noted, budget numbers collected from Box Office Mojo and The Numbers.
——
If you're an independent filmmaker or know of an independent film-related topic we should write about, email blogadmin@sagindie.org for consideration.