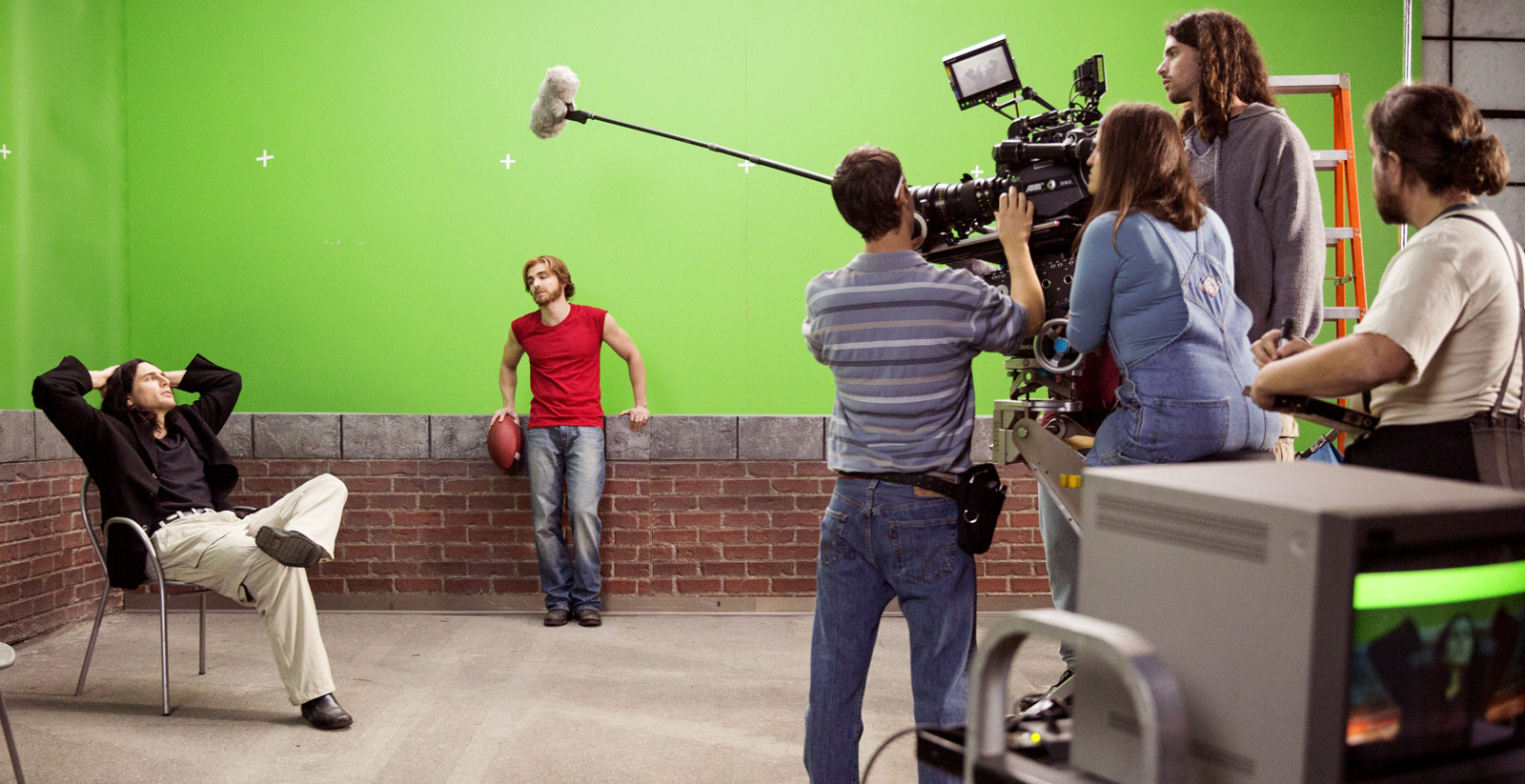 [UPDATED 11/18/19]
Anybody who has spent time on a movie set knows that there are plenty of characters to be found. Not "characters" as in "written roles being performed by actors," but characters as in… interesting folks. Artists and entertainers with their own passions and quirks, plus a salty crewmember or two. It should come as no surprise, then, that movie productions – with their creative players and money, egos, and time on the line – can make great settings for… well, movies.
Yep, we're here to talk about movies about making movies. More precisely, movies about making indie movies, where the budgets are lower but the stakes seem even higher. The following films brought behind-the-scenes stories of some real movies front and center, but also offer something to learn for viewers interested in the moviemaking process. So heed the lessons of these fictionalized versions of actual filmmakers to help turn your own movie into a reality.
(And maybe someday even your film's production history will become a movie of its own.)
____

From the screenwriters who brought you Ed Wood (see below) and the director who brought you Hustle & Flow comes a movie about the man who brought you Dolemite. Eddie Murphy plays one of his heroes, dancer-turned-singer-turned-standup-turned-actor/producer Rudy Ray Moore. After years as a struggling standup, Moore finally gets a taste of success when he changes up his persona – taking on the cadence and vulgar stories of local homeless men – and starts performing as a pimp character named "Dolemite." His combination of jokes, raunch, R&B, and spoken word/proto-rap touched a nerve, and Moore believed Dolemite was meant for bigger things… he wanted to make him a movie star. Through self-determination, smooth talk, and trial-and-error, Moore got his Dolemite movie off the ground as an indie production stocked with industry newbies and a few confused pros (including Wesley Snipes as actor/director D'Urville Martin). Any movie with a joke about "four-walling" is one truly made for a filmmaking audience.
The Lesson: Be flexible in your hustle.

James Franco took on the nearly impossible task of playing the mysterious filmmaker Tommy Wiseau (age/nationality/source of income TBD) in a movie that takes place in the real world and not a fantasy vampire land. Wiseau's self-financed disasterpiece The Room was a truly bizarre phenomenon – a movie that became famous for being terrible (and shockingly high in budget – $6 million). Yet by framing Wiseau's story (along with his friend/co-star Greg Sestero, played in The Disaster Artist by Dave Franco) as that of an actor looking to make his own big break – regardless of the skills he may not actually possess – you can't help but root for Tommy to succeed. The Disaster Artist can also give you some clues on how not to run a movie set – namely, don't deprive your actors of water until they pass out, and think about saving money by using real locations instead of building exact replicas of said locations inside a soundstage. But hey, if you mysteriously have millions of dollars you want to spend on unnecessary set-building, we won't stop you from living your dream!
The Lesson: Don't wait for the gatekeepers. (But also, treat your cast and crew well.)

How's this for meta moviemaking: A microbudget DIY flick cast with unknowns and shot in black-and-white about making a microbudget DIY flick cast with unknowns and shot in black-and-white. That's what UK filmmaker Christopher Downie did when he set out to tell the story of Kevin Smith's transition from slacker New Jersey convenience store employee to one of the maverick indie filmmaking heroes of the '90s. Shooting Clerks adds another layer to the original Sundance hit's legacy, which includes a live-action TV pilot, an animated TV series, comic books, a movie sequel, and teasings of a Broadway musical adaptation. The producers also had the good sense to get Smith and many of the original stars on-board, so none of that pesky "unauthorized" Jackie Jormp-Jomp bullshit here, folks.
The Lesson: Take inspiration from your heroes.

Jean-Luc Godard is a giant of French New Wave Cinema (Breathless, Band of Outsiders) and you could arguably make a compelling film about any of his groundbreaking early-'60s productions. But Oscar-winning director Michel Hazanavicius (The Artist) chose to focus his lens on Godard's 1967 flop about Maoist college students, La Chinoise. Louis Garrel stars as the legendary filmmaker during what proves to be a particularly tumultuous period. In addition to Godard marrying La Chinoise's 17-year-old star Anne Wiazemsky (played in Godard Mon Amour by Stacy Martin), its production and fallout caused the filmmaker to have his own political awakening and begin to distance himself from the films and collaborators that helped make him famous. It's part love story, part mid-life crisis, and part political revolution.
The Lesson: Make sure to have a work-life balance.

Paramount Pictures viewed Psycho as such a risky endeavor that they refused to finance it. But Alfred Hitchcock was determined to make it, so he and his wife/collaborator Alma Reville footed the bill themselves. That fight – plus the strains of their marriage – play out in director Sacha Gervasi's biopic, where Anthony Hopkins and Helen Mirren play the Hitchcocks. The film is full of juicy behind-the-scenes stories and showcases how much Hitchcock delighted in playfully tormenting his bosses, the censors, and – especially – his actors (with movie stars Scarlett Johansson and Jessica Biel playing movie stars Janet Leigh and Vera Miles, respectively). For a less playful interpretation of how Hitchcock treated his leading ladies, The Girl recounts actress Tippi Hedren's alleged harassment at the hands of her director during the production of The Birds and Marnie.
The Lesson: Stick to your guns.

HBO combined the historical biopic genre with the making-of-a-movie story for this 2009 adaptation of the life of the Beals: Mother and Daughter, both named Edie (aunt and cousin of Jackie Kennedy), who had turned from society ladies to cat ladies, holed up in a decaying mansion and fixated on their days in the sun. The women were captured on film by up-and-coming documentarians Albert and David Maysles for what became one of the most famous documentaries of all time. Jessica Lange and Drew Barrymore embody the mother-daughter duo for HBO, where they not only reenact the glamorous good old days in 1940s flashback scenes but also the 1970s iterations of the women living in squalor when a pair of documentary filmmakers come calling. Barrymore's Little Edie, in particular, sees the arrival of a camera crew as her final chance at stardom (which – as the film portrays – she got, albeit in a campy cult classic kind of way). The Maysles Brothers play supporting roles in the film (by Arye Gross and Justin Louis), which makes sense. When you have characters as bizarre and unique as the Beales, even the most charismatic filmmaker is going to want to stay behind the camera.
The Lesson: Form a trusting partnership with your talent.

It's hard enough to try to fill the shoes of a pioneer filmmaker. But when that pioneer filmmaker is your father, the pressure doubles. That's what Mario Van Peebles had to face when he decided to write, direct, and star in a movie about his father Melvin Van Peebles, who wrote, directed, and starred in his own films in the '70s. In 1970, fresh off the success of the comedy Watermelon Man, Melvin solidified his place in indie cinema by rejecting studio offers and self-financing the hyper-sexual and hyper-violent tale of Sweet Sweetback's Baadasssss Song. Not only prescient in plot (about a Black man in South Central L.A. being targeted by racist cops), Melvin also prioritized diversity both on-screen and off, insisting on having his crew be 50% People of Color. With a budget of $150,000, the film went on to gross over $15 million and is credited for launching the "blaxploitation" genre. In 2003, Mario Van Peebles stepped into his father's platform shoes to tell the story of Sweet Sweetback's production from a unique perspective: His own. A 13-year-old Mario had played the younger version of the title character in his father's film, and in a strangely perfect circle of life, plays the adult version of his father in his own film (he casts Khleo Thomas as the younger version of himself). That first-person approach worked. Roger Ebert called Baadasssss!, "One of the best movies I've seen about the making of a movie."
The Lesson: Tell a personal story (and make inclusive hiring a priority).

Shadow of the Vampire isn't a straight retelling of silent horror classic Nosferatu's production history. No, this film takes things in a supernatural direction when German filmmaker F.W. Murnau (played by John Malkovich) discovers during the filming of his Dracula adaptation that the actor playing the terrifying titular vampire (Willem Dafoe as Max Schreck) is… an actual vampire. Taking "authenticity" to a gruesome new level, Murnau moves forward on production, much to the horror of the rest of the cast and crew, some of whom may not make it to the wrap party alive. Dafoe scored a Best Supporting Actor Oscar nomination for his portrayal of Schreck in a role that probably isn't the first time a temperamental Method actor was equated with a literal monster.
The Lesson: Let your actors add their own personal twist.

Before there was Tommy Wiseau, there was Edward D. Wood, Jr. Ed Wood became one of the first filmmakers to gain some "so bad it's good" notoriety, and Tim Burton's 1994 biopic lovingly recreates many of Wood's most infamous productions, with Johnny Depp as the director who was big on enthusiasm, but not so much on talent. Instead of covering the subject from birth-to-death, screenwriters Scott Alexander and Larry Karaszewski focus on Ed Wood's numerous low budget collaborations with washed-up Hollywood legend Bela Lugosi (played by an Oscar-winning Martin Landau). From Wood putting his own kinks on the screen by starring in cross-dressing drama Glen or Glenda, to the notoriously cheap "octopus fight scene" of Bride of the Monster, Wood and his motley crew of collaborators (including Landau's Lugosi, Bill Murray's Bunny Breckinridge, Lisa Marie's Vampira, and George "The Animal" Steele's Tor Johnson) venture from one flop to another, never losing steam or hope. And if that undying passion for movies is not something an independent filmmaker can get behind, we don't know what is.
The Lesson: Screw the haters.
Side Note: Though we focused on narrative films here, if documentaries about filmmaking are more your style, you really can't go wrong with American Movie.
DO YOU HAVE A FAVORITE FILM ABOUT FILMMAKING?
——
If you're an independent filmmaker or know of an independent film-related topic we should write about, email blogadmin@sagindie.org for consideration.