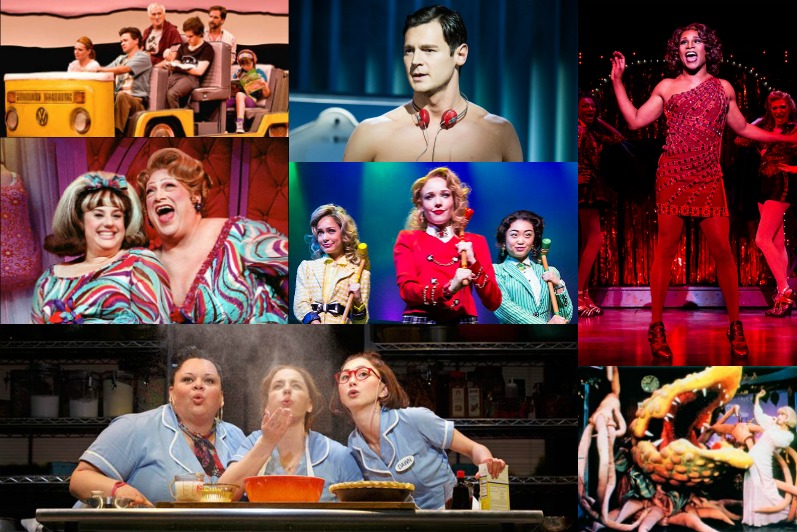 The Tony Awards are coming up this weekend, which are sort of like the Oscars if all the Oscar movies were performed live and sometimes sung. In other words: It celebrates the theatre (yes, theatre with a -re). A big trend in the theatre world the last decade or so has been adaptations of popular movies. Just like Hollywood, Broadway can't get enough of that beautiful thing called "brand pre-awareness."
When it comes to theatrical film adaptations, regardless of genre, they more often than not take the form of a Broadway musical (or if we're being exact, Off-Broadway, which kind of feels like an elitist dick move to point out). Movies as varied as King Kong, Sunset Boulevard, Rocky, and Groundhog Day have all taken stabs at becoming on-stage musicals.
Independent films – despite lower budgets or less mainstream recognition – are not immune to the musical adaptation machine. So to prep all the indie film fans out there for Tony night, we took a look at some new (and some old-yet-notable) stage musicals that started out as indie films.
____

Waitress

The 2007 indie rom-com Waitress has the unfortunate distinction of being the final film of celebrated filmmaker/actress Adrienne Shelly before her murder. Aside from that depressing backstory, it's a little Sundance charmer about a small-town diner waitress (Keri Russell) with an unbridled love of baking pies. Her dreaming-of-a-better-life character seems an ideal fit for the song-and-dance format, and the recent Waitress musical has been a huge hit on Broadway. With songs by Sara Bareilles (who took over the lead role in 2017), and actual freshly baked pie aroma pumped into the theater, Waitress has become the most successful pie-themed musical since Sweeney Todd.
American Psycho

Yes, technically it's based on a book (remember our mention of "brand pre-awareness?"), but director Mary Harron's 2000 film version brought American Psycho a whole new level of cult adoration. Literature's sexiest sociopath made a successful jump from book to screen largely built on Christian Bale's career-making performance as Patrick Bateman. (Okay, career-making besides Empire of the Sun. And Newsies – this is about musicals, after all.) So naturally, that hatchet-wielding Huey Lewis-loving banker would be a great lead role for a stage musical, right? First playing in London (starring Matt Smith), the Broadway version (with Benjamin Walker) upped the blood-splatter for its US debut. But tapping your foot and chuckling through poppy New Wave murder songs might not have been an ideal fit for the Broadway crowd: American Psycho got the axe early, closing after 54 regular performances.
Heathers

Oh hey, speaking of murdery musicals! For an '80s high school movie, Heathers is pretty dark when compared to your standard John Hughes fare. And if you can't quite picture Winona Ryder's and Christian Slater's characters from the movie breaking out into a love ballad, you're not alone. Some of Heathers' harder edges had to get smoothed out and glossed up to make it as an on-stage musical comedy. Yet with the blessing of original screenwriter Daniel Waters, Heathers: The Musical kept much of the teen murder, suicide, date rape, and bulimia humor that made you cringe-laugh while watching the film version. And with Clueless, Jawbreaker, and Mean Girls all on their way to becoming stage musicals as well, it looks like everyone is still trying to be as cool as the Heathers.
Kinky Boots

Nominated for three British Independent Film Awards in 2005, the film Kinky Boots helped launch the careers of its stars Chiwetel Ejiofor and Joel Edgerton. But when cartoon-voiced writing partners Cyndi Lauper and Harvey Fierstein got together and turned the film into a Broadway musical in 2013, it really hit the big time. The Kinky Boots musical was nominated for 13 Tony Awards, its soundtrack debuted at the top of the Billboard charts, and its cast even filmed a PSA about anti-transgender bathroom laws. Musically-inclined and socially responsible!
Little Miss Sunshine

Another Sundance favorite that became a mainstream hit, Little Miss Sunshine made the jump to the stage with the help of the Sundance Institute Theatre Lab workshop. With a cute kid, a madcap family, and a climactic dance routine built right in, it seemed an interesting prospect for the theatre. After a premiere at San Diego's La Jolla Playhouse, the musical had a massive overhaul (replacing all the original songs except for three) before moving to Off-Broadway. But maybe a road trip movie was never meant to be stage-bound: The production closed after two months. Hell, much like child beauty pageant contestants, they can't all be winners.
Hairspray

Arguably the most successful indie-movie-to-stage adaptation ever, at this point Hairspray is likely more well-known as a candy-colored Broadway musical than as an independent film (the 2007 movie musical and 2016 NBC live production likely contribute even more to that idea). But John Waters' 1988 low-budget indie flick started it all. Starring an odd combo of celebs from yesteryear (Ricki Lake, Jerry Stiller, Sonny Bono, Debbie Harry, Pia Zadora, Vitamin C), it was Waters' casting choice of his drag queen muse Divine as Edna Turnblad that became the most recognizable thread that ties together the film and subsequent musical versions: All iterations have continued to cast a man in the role. So thanks for the nightmares, John Waters, for leading us to Mama Travolta.
The Producers

When TV comedy writer Mel Brooks was trying to find backing for his debut film, titled Springtime for Hitler, studios unsurprisingly balked at the idea of making a showbiz comedy filled with Nazi jokes. But eventually, an independent producer (Sidney Glazier) and an arthouse distributor (Embassy Pictures) funded the $900,000 film – starring Zero Mostel and Gene Wilder – and released it under a new title, The Producers. The movie bombed upon release (though Brooks did win an Oscar for the screenplay). But as Mel Brooks' clout in the industry grew via his later films, he knew there was still an audience for The Producers. And 40 years later, there was. The Producers musical became one of the highest-grossing Broadway shows of all time and won a record-breaking 12 Tony Awards. Stars Nathan Lane and Matthew Broderick reprised their on-stage roles for a new movie version in 2005, which (like the original film) was a box office bomb. Just goes to show that audiences prefer to see their Nazi jokes performed live.
Little Shop of Horrors

Another project probably more remembered as a musical than as an indie film. But The Little Shop of Horrors began as part of indie icon Roger Corman's oeuvre, an ultra-low-budget 1960 horror/comedy filmed in two days. Future Disney songwriters Alan Menken and Howard Ashman (The Little Mermaid, Beauty and the Beast) took inspiration from the man-eating-plant movie and turned it into a quirky musical that premiered Off-Broadway in 1983. The 1986 film version, with an all-star comedy cast including Rick Moranis, Steve Martin, Bill Murray, and John Candy, has become a cult classic of its own, spawning a Broadway revival in the 2000s and the best inside-someone's-mouth-muscial-number in the history of cinema. (Little Shop isn't even the only movie from our list of essential indie horror films to get the stage transformation – someone actually made an Evil Dead musical too.)

WHAT'S YOUR FAVORITE INDIE FILM-TURNED-MUSICAL? AND WHAT INDIE FILM WOULD YOU ADAPT FOR THE STAGE?
——
If you're an independent filmmaker or know of an independent film-related topic we should write about, email blogadmin@sagindie.org for consideration.