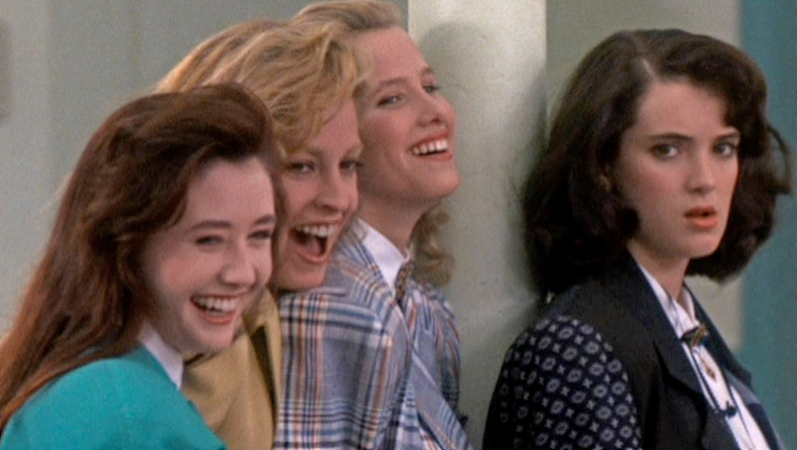 Happy 30th Anniversary, Heathers! You don't look a day over 17.
The cult teen comedy about three queen bees and the frenemy who ends their reign began life as a 200-page original screenplay by video store clerk Daniel Waters. Waters' dream director was Stanley Kubrick, but producer Denise Di Novi brought recent USC Film School grad Michael Lehmann aboard to make the low-budget dark comedy his directorial debut. With a cast of up-and-comers including Winona Ryder, Christian Slater, and Shannen Doherty, the film premiered in Milan, Italy, in the fall of 1988 before making its way to Sundance (then still known as the U.S. Film Festival) in 1989, where it screened in competition against scene-stealing sex, lies, and videotape. Though it didn't make the biggest splash in Park City (or during its original theatrical run, despite good reviews and Independent Spirit Award nominations for Best Screenplay and Best Female Lead, plus a win for Best First Feature), Heathers eventually found its loyal band of followers – and imitators. March 31, 2019, marks the 30th anniversary of Heathers' debut in U.S. theaters, so we compiled all the ways journalists and critics have delved into the details and sung its praises through the years in this Good Reads: Heathers Edition.
(Most) Everything You Could Possibly Want to Know About Heathers
The Production
Heathers: An oral history (via Adam Markovitz for Entertainment Weekly)

The Script
Daniel Waters on Heathers (Part 1) and (Part 2) (via Paul Rowlands for Money Into Light)

The Dialogue
Our favorite Heathers slang (via Angela Tung for The Week)

The Name
Heathers on Heathers (via Heather Cocks, Heather Hogan, and Heather Schwedel for Slate)

The Controversy
All the Drama That Nearly Kept Heathers from Making It to Theaters (via Sirin Kale for Broadly)

The Feminism
Talking about bad girls (via Eva Wiseman for The Guardian)

The Musical
Heathers Writers Laurence O'Keefe and Kevin Murphy Break Down the Musical's Full Album Track by Track (via Laurence O'Keefe and Kevin Murphy for Playbill)

The TV Show
What's Your Damage? Why a Heathers TV Adaptation Hasn't Worked – Yet (via Hanh Nguyen for IndieWire)

The Fandom
Teen Angst for Adult Humans: A Night at the Heathers Art Show (via Kerensa Cadenas for Jezebel)

The Legacy
Celebrating the Take-No-Prisoners Cynicism of Heathers (via Jason Bailey for Flavorwire)

The Analysis
Heathers Blew Up the High-School Comedy (via Naomi Fry for The New Yorker)

Extra Credit
HEATHERS is available to stream on Netflix, Amazon Prime, Hulu, Shudder, and Hoopla.
How do you think Heathers would have been received if it came out today?
Interested in more Good Reads about specific touchstone indie films? Check out our collection for Halloween and Night of the Living Dead.
——
If you're an independent filmmaker or know of an independent film-related topic we should write about, email blogadmin@sagindie.org for consideration.