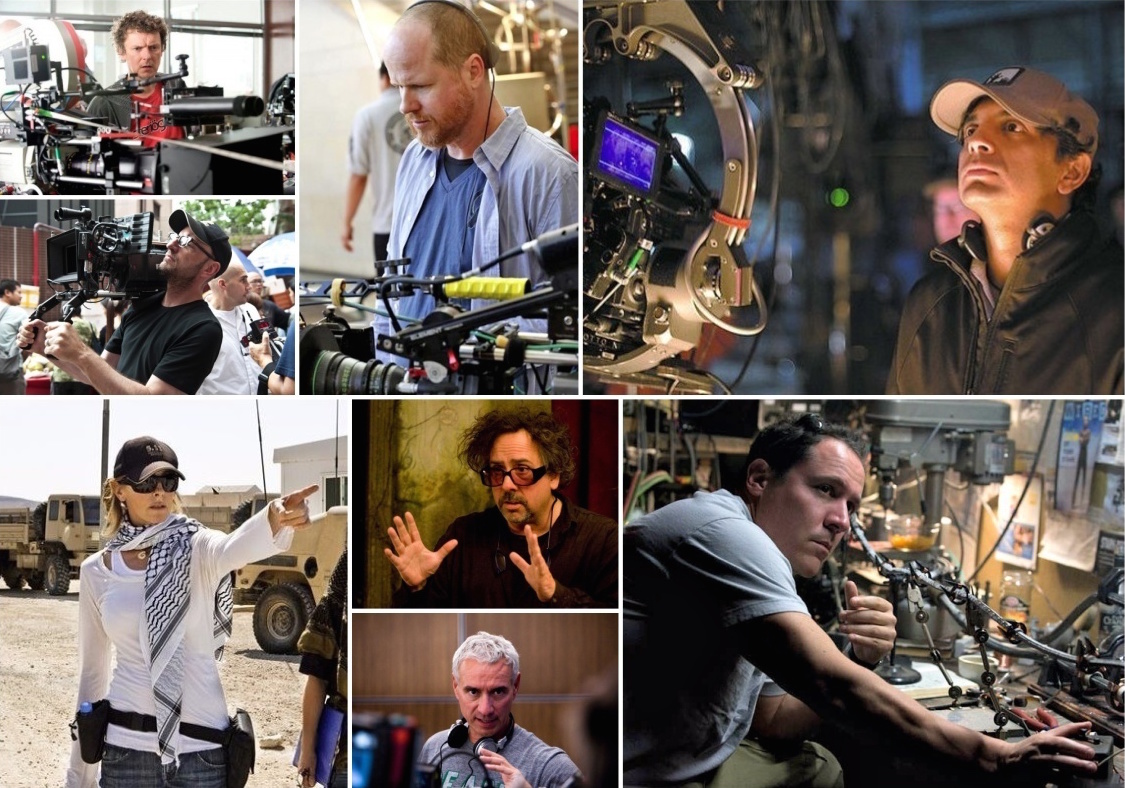 [4/14/16 UPDATED figures and resources.]
Helming a big-budget studio tentpole may be some filmmakers' dreams, but it also comes with unfathomable responsibility and pressure (albeit with a hefty paycheck to soothe all that, no doubt). Nearly all directors cut their teeth on a smaller scale – shorts, TV, music videos, or low-budget indie films – before getting the go-ahead by the big studios.
Take, for instance, Gareth Edwards, who jumped from the $500,000-budgeted indie Monsters to Warner's $160 million Godzilla remake. Or Colin Trevorrow, who went from directing the $750,000 Safety Not Guaranteed to working with $180 million for Universal's Jurassic World. Those are mighty budget bumps from one project to the next.
But what about those filmmakers who take the reverse route? Once in a while, a director gets a taste of the high-budget studio stuff, only to turn around and head back to indie film territory.
Here are eight filmmakers who took a break from the big bucks and made a return to their low-budget roots.
____
Joss Whedon


The Big One: The Avengers ($220 million budget)
The Next One: Much Ado About Nothing (< $1 million budget)
From the way Whedon talks about his experience helming The Avengers and its sequel, it sounds a little like Superhero PTSD had set in (take this revealing interview with Vulture, for instance). That could be why Whedon scaled things back and made Much Ado About Nothing in between his two Marvel films, stating of the decision, "There was an impersonal feeling to [making The Avengers]… I knew the best way for me to come home was to do something small that could be made passionately." Whereas Avengers was filmed over 93 days in Ohio, New Mexico, Pennsylvania, California, and New York, Much Ado was filmed over 12 days, in Whedon's own house, on what he described as a "micro-budget." (Bonus that he didn't even have to waste time writing a script, apparently some dead British guy had already written it.) Cast largely with industry friends from Whedon's TV days, Much Ado About Nothing – from its stark black and white photography to stripped-down production value – was the low-key cure to his Loki problems (#MarvelJokes).
M. Night Shyamalan

The Big One: After Earth ($130 million budget)
The Next One: The Visit ($5 million budget)
Shyamalan has been living down his "next big thing" status since the late '90s, and critics definitely had it out for After Earth when it became a costly bomb back in 2013 (even Will Smith admitted it was his own worst film). So you can't blame Shyamalan for aiming for something a little smaller-scale for his follow-up project. The writer/director used his fee from After Earth to self-finance The Visit, claiming it was "an attempt to regain artistic control" after his big studio busts. Utilizing the easy-on-the-pocketbook "found footage" style for The Visit, Shyamalan's return to the horror genre helped eliminate any lingering aftertaste of sciency/religiousy undertones and Smith Family Nepotism™. And it seemed to work: The Visit became Shyamalan's best-reviewed film in over a decade and grossed nearly $100 million worldwide.
Jon Favreau


The Big One: Cowboys & Aliens ($163 million budget)
The Next One: Chef ($11 million budget)
Having made his name during the indie film boom of the Miramax '90s (writing and starring in the $200k-budgeted Swingers), Jon Favreau hit it big in the studio world directing Elf and two Iron Men (Iron Mans?) before taking on the highly-anticipated Sci-Fi/Western hybrid Cowboys & Aliens in 2011. Turns out audiences weren't much interested in Favreau's cowboys and/or aliens, so he opted out of directing the third Iron Man and got to work writing a smaller, independent film for himself to star in: Chef. Favreau's return to indie film yielded more creative control for the director, with no franchise overlords watching his every move: "On [Chef], I really wanted to do something where I didn't have to check [with the studio] what color the hat should be or what city has the biggest rebate or what actors test the highest." Chef was a low-budget passion project to cleanse Favreau's palate and help get his groove back before returning to the big-money world of Disney's Jungle Book remake.
Tim Burton


The Big One: Dark Shadows ($150 million budget)
The Next One: Big Eyes ($10 million budget)
Despite his offbeat and singular style, Tim Burton started his career with Disney and has largely worked within the major studios ever since. But by the mid-2000s, his budgets were ballooning bigger than Large Marge's eyeballs and critics were complaining that some of the old Burton spark was gone. When his big-screen adaptation of the 1970s vampire-soap-opera (oh, the '70s) Dark Shadows failed to live up to its crazy budget, Burton took a step back. Big Eyes brought Burton back down to Earth (even re-teaming him with Scott Alexander and Larry Karaszewski, the screenwriters of his Oscar-winning Ed Wood), telling a more intimate story with less CGI and a more modest price tag. Like Whedon and Favreau, it seems Burton was possibly suffering from franchise fatigue. He explained, "[Big Eyes] was like kind of reconnecting back to the base of doing things quickly, moving several times a day, not having to deal with the side issues of having a tie-in with McDonalds… It kind of reconnects you to why you like making films." And also like Favreau, the lower-budget detour didn't last long: It was recently announced Burton would direct a live-action remake of Dumbo for his old pals at Disney.
Michel Gondry


The Big One: The Green Hornet ($120 million budget)
The Next One: The We and the I ($2 million budget)
When the odd combination of Superhero Franchise + Arthouse Director + Stoner Comedian + Taiwanese Pop Star managed to not set the world on fire with 2011's The Green Hornet, said arthouse director decided to go back to much lower-stakes territory. The We and the I, Michel Gondry's follow-up to his Seth Rogen/Jay Chou action comedy, couldn't have been more different from the studio would-be tentpole: An improvised ensemble docudrama about Black and Hispanic teenagers from the Bronx taking place almost entirely on a city bus. Given the restrictions Sony apparently placed on him during The Green Hornet's production, you can see why Gondry might have been looking to work outside the box on The We and the I. Using non-professional actors and one main location, it was the type of film that would get an up-and-comer noticed at Sundance, not the most predictable follow-up to a big studio shoot-em-up. Gondry has remained in the quirky, lower-budget realm since Green Hornet, likely to the pleasure of cinephiles everywhere.
Kathryn Bigelow


The Big One: K-19: The Widowmaker ($100 million budget)
The Next One: The Hurt Locker ($15 million budget)
Bigelow took a seven-year break from movies between her big-budget Harrison Ford submarine flick and the film that would eventually make her the first (and thus far only) woman to win a Best Director Oscar. When K-19 sank (get it?) at the box office, Bigelow spent those seven years largely doing TV before re-emerging on the film festival circuit with The Hurt Locker. And when she came out of "movie jail" with a new project, the studios weren't exactly jumping to give her another gig. Bigelow stated of the process to get The Hurt Locker made, "I wanted to keep it as independent as humanly possible, and I wanted to shoot in the Middle East. That alone probably would have been a non-starter [with the studios]." So with a $15 million budget, Bigelow and crew filmed in Jordan, braving 120-degree heat, food poisoning, and a little event a few miles away called the Iraq War. Eventually, the work paid off when The Hurt Locker received a ten-minute standing ovation at its Venice Film Festival premiere, going on to win Best Picture at the Oscars and placing Bigelow in the moviemaking history books. You can't buy that kind of legacy for $100 million.
Roland Emmerich


The Big One: White House Down ($150 million budget)
The Next One: Stonewall ($15 million budget)
German director Roland Emmerich ushered in the modern summer blockbuster era by bringing us such biggies (and oftentimes baddies) as Independence Day, Godzilla, The Day After Tomorrow, and 2012. So it's only natural that his follow-up movie to the Channing Tatum/Jamie Foxx punchkicksplosionfest White House Down was… a moderately-budgeted indie drama about the history of the gay rights movement. Hm, okay then. Roadside Attractions released Stonewall during prime late-September awards season, but their hopes of "Independent Spirit Award Nominee Roland Emmerich" taking off went kaput when the film was largely boycotted by LGBT audiences and fizzled at the box office. Still, you couldn't really expect Emmerich to stay in awards-bait territory for long. His next movie after Stonewall? Independence Day 2, of course.
There are some other notable examples of big-name directors taking lower-budget excursions (Ang Lee following up Hulk with Brokeback Mountain… David Gordon Green fleeing Your Highness for Prince Avalanche… or Kevin Smith abandoning the studio-friendly world of Cop Out for his self-distributed indie Red State.)
But by far the MVP of going from mainstream high-budget studio flicks to small, low-budget arthouse fare is…
Steven Soderbergh
Steven Soderbergh has made a career out of flip-flopping his big-budget, director-for-hire studio work and his lower-budget, weirder indie passion projects. He followed up his early-2000s trifecta of Erin Brockovich ($51 million budget), Traffic ($46 million and a Best Director Oscar for Soderbergh), and Ocean's Eleven ($85 million) by scaling it back and making the little-seen Full Frontal for $2 million (Note: Google Image searching "Steven Soderbergh Full Frontal" on a work computer isn't awkward at all…) Soderbergh dialed it back even further after the now-with-even-more-movie-stars Ocean's Twelve ($110 million) with the subsequent Bubble, costing $1.6 million; one of the first films released day-and-date in theaters and on DVD/VOD. Ocean's Thirteen ($85 million) and the two-part epic Che ($58 million) were followed by the $1.3 million The Girlfriend Experience, his lowest-budgeted film since his indie debut Sex, Lies, and Videotape. Soderbergh "retired" from feature filmmaking after bestowing America with a Channing-Tatum-double-header Magic Mike ($7 million) and Side Effects ($30 million). But since he made his name on unpredictable career choices, his next project is anybody's guess. And whatever budget spectrum he lands on next, we'll be watching.
*Unless otherwise noted, budget numbers collected from Box Office Mojo and The Numbers.
——
If you're an independent filmmaker or know of an independent film-related topic we should write about, email blogadmin@sagindie.org for consideration.