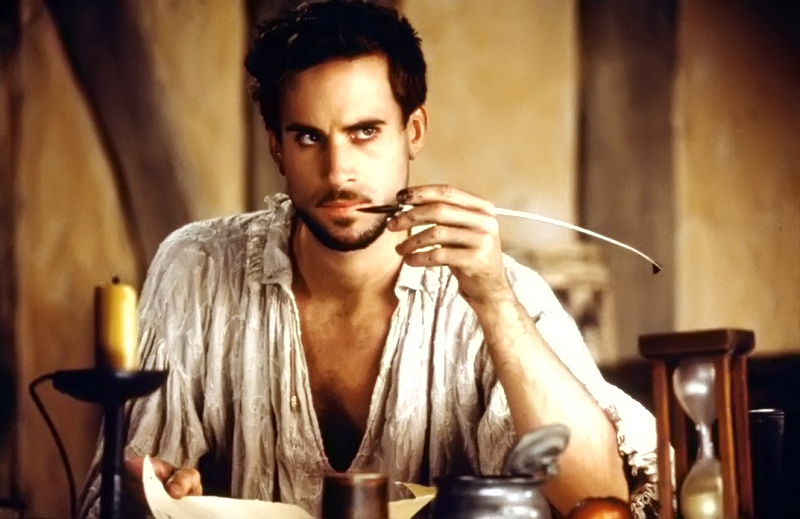 [UPDATED 4/27/22]
There has been no writer in history with more film adaptations than WILLIAM SHAKESPEARE. His plays have seen numerous faithful adaptations, but also "reimaginings" in every genre: Sci-Fi, action, musicals, mob movies, samurai films, fake biopics, and even lawn-ornament-based-cartoons. In addition to the sheer number of plays to choose from, there's also the convenient fact that they're all in the public domain. So filmmakers can have that magical thing called "pre-awareness" without having to pay for the intellectual property.
So with budgets on the line, there's no shortage of Shakespeare-based indie films. In honor of the 400th anniversary of Shakespeare's birth and death (yes, he died on his birthday), we take a look at some memorable independent films that came from his works.
Tempest (1982, based on The Tempest)

Indie film's ultimate power couple John Cassavetes and Gena Rowlands star in this yuppie-era update that merges mid-life crisis comedy with Shakespeare's island-set adventure. Directed by Paul Mazursky, Tempest finds Cassavetes abandoning material possessions and his life in NYC to move to a deserted Greek isle with his daughter (Molly Ringwald) and new lover (Susan Sarandon). But his past catches up to him and – in true Shakespearean fashion – confusion, drama, and ill-timed reunions abound.



Gus Van Sant's loose adaptation brings Shakespeare's tales of royalty and their troubled offspring to grunge-era Portland. Narcoleptic gay street hustler Mike (River Phoenix) and runaway rich kid Scott (Keanu Reeves) turn tricks, hang with a Falstaffian mentor (William Richert), and hit the road to track down Mike's long-lost mother as their divergent paths in life start to fracture their friendship. The film and its lead performance became Phoenix's signature role, winning him Best Actor at the 1992 Independent Spirit Awards.



Iconic low-budget indie studio Troma Entertainment got into the Shakespeare game with 1996's Tromeo and Juliet, directed by Lloyd Kaufman and co-written by Guardians of the Galaxy director James Gunn. The film adds Troma's signature brand of over-the-top sex and violence to Shakespeare's well worn tale of star-crossed lovers from rival families. And can any other adaptation of The Bard's work claim narration from Lemmy? Didn't think so. (Shakespeare's most famous tragedy got another indie update – this time for the social media climate – with Carey Williams' 2021 R#J.)



Michael Almereyda's updated take on the classic play recasts Ethan Hawke's Prince Hamlet as the heir to a Fortune 500 Company (instead of, you know, a Prince), and sports a stacked ensemble cast of Bill Murray, Julia Stiles, Liev Schreiber, Sam Shepard, Diane Venora, Kyle MacLachlan, Jeffrey Wright, and Casey Affleck. The merging of Shakespeare with corporate America is oddly fitting, coming to a head in the play's famous "To be or not to be" scene, shot here inside a Blockbuster Video (which viewing today, seems about as dated as anything else that happened during the Elizabethan era).


Scotland, PA (2001, based on Macbeth)

This Sundance Film Festival hit was the directorial debut of actor Billy Morrissette, which brought Shakespeare's tragic "Scottish play" to the world of 1970s fast food. The stakes may be a bit lower, but the egos and ambition are just as serious. James Le Gros and Maura Tierney are the scheming couple who won't let a little murder stand in the way of their rise to power (in this case, control of a hamburger stand). For anyone who has ever wanted to take out their boss, this is the Shakespeare adaptation for you.


O (2001, based on Othello)

Race relations, love, jealousy, and murder make the transition to Varsity Basketball in O, directed by actor/filmmaker Tim Blake Nelson. Coming in the wake of a string of popular teen remakes of classic literature in the late-'90s (like Clueless and Cruel Intentions), O's theatrical release was delayed a few years in the wake of the Columbine High School massacre (murderous teenagers were a touchy subject at the time). The film starred Mekhi Phifer, Josh Hartnett, and Shakespeare-remake-Queen Julia Stiles (finishing out a trifecta after 10 Things I Hate About You and Hamlet).



We've written before about Joss Whedon's decision to make this micro-budget Shakespeare adaptation after helming Marvel's The Avengers. The ensemble relationship comedy plays out in the modern-day suburbs (using Shakespeare's original text) with a cast that includes Clark Gregg, Nathan Fillion, Fran Kranz, and Amy Acker.



First-time feature director Casey Wilder Mott brings Shakespeare's comedy about love in an enchanted Greek forest (supposedly Will's most-produced play) to modern-day Hollywood. While the original play contained lords, ladies, fairies and sprites (those are two different things?), this iteration contains actors, producers, agents, writers, and surfers – all while keeping some of the original dialogue in tact. The ensemble cast – including Rachel Leigh Cook, Lily Rabe, Hamish Linklater, Finn Wittrock, and Much Ado About Nothing alum Fran Kranz – descend upon Topanga Canyon's magical hiking trails to fall in and out of love. (This isn't the first time this particular play has been updated – see 2002's A Midsummer Night's Rave for some Shakespeare for the Go fans out there.)

What are some of your favorite Shakespeare adaptations?
——
If you're an independent filmmaker or know of an independent film-related topic we should write about, email blogadmin@sagindie.org for consideration.