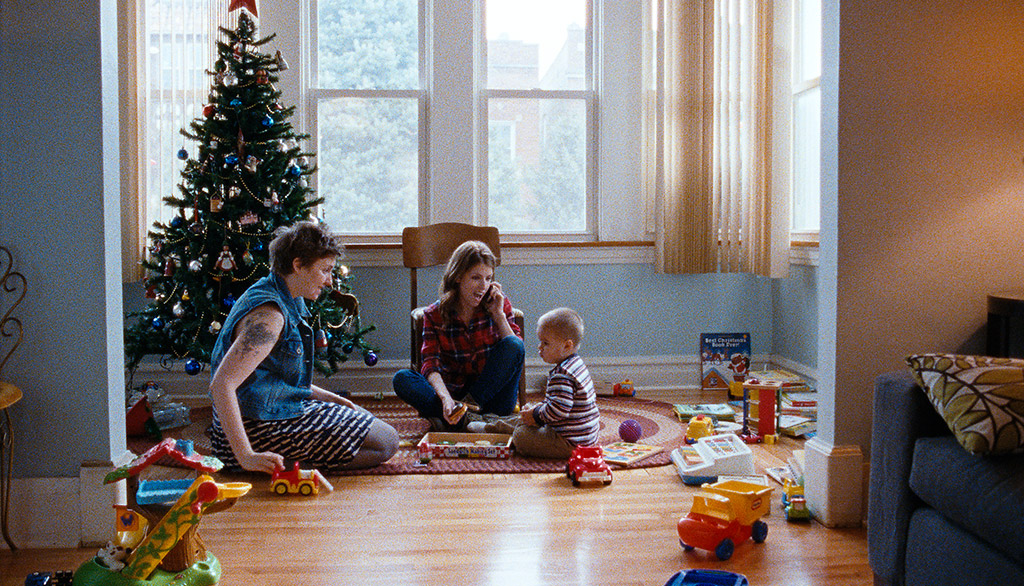 [UPDATED 12/1/17]
As we've pointed out on this blog before, there are plenty of offbeat non-Dickens, non-Capra, non-Griswold Christmas movies to enjoy during the holiday season. And that includes a handful of lower-budget indie films and festival favorites that may have slipped through the cracks of a Hallmark Christmas Movie Marathon. So we've helpfully collected a list of some great Christmas movies to help get you in the holiday spirit without losing your indie street cred.
(And for the record, we would love to write a post about indie Hanukkah movies. So please, someone, somewhere, make an indie Hanukkah movie. Or even make a studio Hanukkah movie! Just don't make us recommend Eight Crazy Nights again).


Charles Poekel's microbudget character study earned an Independent Spirit Award nomination for focusing on the loneliness of an NYC Christmas tree seller (played by Kentucker Audley). Christmas, Again is maybe a little more downbeat than your average Christmas movie, what it lacks in reindeer and gingerbread, it makes up for in realism and deep, subtle performances.
Celebrate Christmas and New Years in style: Like a 1950s lesbian! Todd Haynes' gorgeous Carol follows the blossoming holiday romance between a mousy department store Santa's helper (Rooney Mara) and a glamorous high-society housewife (Cate Blanchett). Both tragic and romantic, Carol boasts two great lead performances, spot-on period detail, and some classy Christmas trappings to boot.
It's a Very West Hollywood Christmas, with two transgender sex workers Sin-Dee Rella (Kitana Kiki Rodriguez) and Alexandra (Mya Taylor) out on the prowl on Christmas Eve searching for Sin-Dee's philandering pimp/boyfriend (James Ransone), and turning some tricks along the way (insert bad "ho ho ho" joke here). Famously filmed on an iPhone by director Sean Baker, Tangerine is about finding a makeshift family in a town of transplants.
If the holidays are about spending time with family, you have to include the black sheep as well. Anna Kendrick plays the family fuckup in Joe Swanberg's microbudget comedy, crashing at her brother and sister-in-law's place over the holidays and wreaking a little bit of havoc on their pleasantly suburban Chicago lifestyle. Co-starring Melanie Lynskey, Lena Dunham, and Mark Webber, the film has the improvised affability of Swanberg's best comedies, with an extra sprinkling of Christmas cheer.
It's not uncommon to get the blues during the holidays, but Suzanne (Anna Margaret Hollyman), the lead character of Zach Clark's White Reindeer, has better reason than most. You can't really blame Suzanne for unraveling a bit after her husband dies shortly before Christmas, especially when she finds out he'd been cheating on her. So she decides to spend her holidays partying with strippers, binge-shopping, attending a neighborhood orgy, and developing a slight addiction to candy canes. Hey, you have your holiday traditions, Suzanne has hers.
Christmas gets the Brothers McMullen treatment in this kinda-but-not-really-followup to Edward Burns' breakout indie hit. Burns returns to his Irish-Catholic Long Island roots, also reuniting with McMullen co-stars Connie Britton and Mike McGlone, in this low-budget affair about a large Irish clan doing their best to avoid each other (and their newly-returned absentee father) during the holiday. If you like a little Jameson with your eggnog (we prefer ours without the nog), this is the Christmas movie for you.
It's Christmas Y2K with this take on late-'90s rave culture, back when ecstasy was the coolest party drug, Moby was the coolest artist for your soundtrack, and Mazda Miatas were socially acceptable sports cars. From screenwriter John August and director Doug Liman, Go tracks multiple storylines over Christmas Eve in LA and Vegas, with an ensemble cast including Katie Holmes, Timothy Olyphant, Sarah Polley, Taye Diggs, and the film debut of Melissa McCarthy. Go is a fun "one-crazy-night" movie that adds some energy to the Christmas season.
If you think spending the holidays with your family is insufferable, try going Christmas-party-hopping with the snobs and debutantes of indie auteur Whit Stillman's feature debut. Set in the upper-crust world of young Manhattan socialites, Metropolitan gives you a glimpse into the holiday rituals of the old money set – it's pretentious, awkward, and damn funny.


WHAT ARE SOME OF YOUR FAVORITE INDIE HOLIDAY MOVIES?
——
If you're an independent filmmaker or know of an independent film-related topic we should write about, email blogadmin@sagindie.org for consideration.