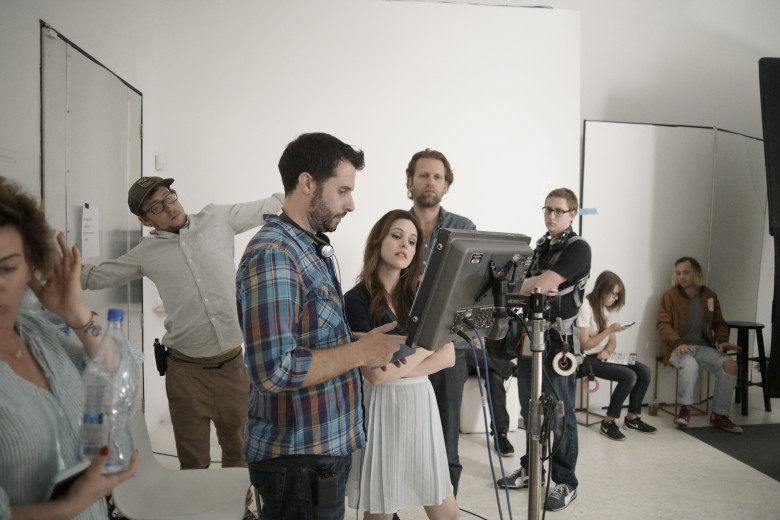 MICHELLE MORGAN writes, directs, and stars in the new satiric comedy of manners IT HAPPENED IN L.A., in which a group of thirtysomethings navigate rocky relationships in the Hollywood Hills (with the occasional trek to Echo Park, when absolutely necessary). Despite initial plans to be a screenwriter, Morgan's first success in the entertainment industry was through acting. After landing roles on television series like CSI: Miami and American Dreams, Morgan eventually returned to writing. She worked as a hired writer at studios and got two independent film scripts produced, 2008's Middle of Nowhere (directed by John Stockwell and starring Anton Yelchin and Susan Sarandon), and 2012's Girl Most Likely (directed by Shari Springer Berman and Robert Pulcini, and starring Kristen Wiig and Annette Bening). Morgan's next project, the short film K.I.T., saw her move behind the camera as director. That 2013 short film debuted at the Sundance Film Festival, where Morgan returned earlier this year to premiere It Happened in L.A. (then titled L.A. Times).
In her new film, Morgan leads an ensemble cast including Jorma Taccone, Dree Hemingway, Kentucker Audley, Margarita Levieva, Adam Shapiro, Angela Trimbur, Robert Schwartzman, Nora Zehetner, Andre Hyland, James Ransone, and Tate Donovan. The Orchard will release the film in Los Angeles theaters November 10, followed by a VOD release (including iTunes) on November 14. [UPDATE: It Happened in L.A. is now streaming on The Roku Channel, Tubi, Kanopy, and Hoopla.]
We spoke with Michelle Morgan about directing her first feature, as well as her time as a working actor, and the inspiration you can get from Disneyland.
——
COLIN McCORMACK: When you were in college, did you study screenwriting or was acting or directing part of your program as well?
MICHELLE MORGAN: No, I studied screenwriting in college. That was always my focus, that was always the direction that I was moving in. I did always enjoy performing. I did plays and acting classes and things like that, but I didn't really consider it seriously as a career. And my senior year in college I was interning at an agency and I met somebody from the theatrical side and they said, "Hey, would you want to audition for this?" That's sort of how I got into acting. So I was a working actress for a couple of years, but I didn't have the passion for auditioning and it seemed like a very difficult way to break into the business, doing all these four or five-line parts on TV shows, and it wasn't very creatively satisfying. So I decided to focus on what I had always really wanted to do, which was be a screenwriter.
CM: Yeah, the grind of auditioning doesn't seem worth it if it's not your main passion.
MM: Yeah, I think for me it was kind of comical because I would end up rewriting a lot of my audition sides. I would go in there – and sometimes I'd be right for the part and sometimes I wouldn't – but there were a couple times when I wasn't right for the part but they said, "Could you please leave your sides if you have your notes written down? We've been struggling with these sides and you found a way to make it work." So it seemed like there were a lot of signs that I should be focusing on writing instead of acting, so that's what I decided to concentrate on. And then the directing thing was mostly born out of frustration as a writer, seeing my scripts directed by other people but they weren't the way that I would have directed them. I think that there comes a time for most screenwriters when they get frustrated with the way their stuff is being interpreted and they want to take the reins. I think if you're a writer very early on and you are lucky enough to work with amazing directors, maybe it doesn't fuel your inspiration to direct. But I felt very frustrated and I knew I wanted to be the one to translate my scripts onto the screen.
CM: With It Happened in L.A. when you started writing it, did you know you'd be trying to set it up with you as director?
MM: Yes, absolutely. That was my sole purpose for writing it. I wanted to write something that felt manageable for me, that felt like something I could do for a small budget, that I could shoot using my friends and locations that I had access to. So that was definitely always in the back of my mind when I was writing it. Just being able to use the things that I had access to, that would allow me to tell the story for a price and keep it small budget.
CM: Did the process of writing it feel remarkably different than when you were writing a script that you know another person will be directing?
MM: Oh, absolutely.
CM: Were you allowed to sort of direct on the page?
MM: I mean, when you're writing scripts for studios – which has been my bread and butter for the better part of ten years – yes, you don't write them with so many limitations because you know that if a studio wants to make it they can probably afford to have that many locations, or they can have a driving shot or something like that. Whereas when you know that it's going to be your first movie and you might have to finance part of the film, you definitely keep those things in mind. And I think also when you're writing for a job, at least for me, I never really think that the project is going to make it to the screen, so there's a pretend sort of world that you live in with it. It would be great if it made it to the screen, but also it's unlikely because studio movies are so challenging. When you're writing something that you know you're actually going to make, it gave me a lot more OCD where I would belabor over lines that normally I wouldn't so much.
CM: When you're a writer for hire, you have X amount of drafts that you owe and then your job is done. With this, not only did you write it, but you were developing it and shooting it and then through post-production you're involved, now as it's being released you're involved in the promotional efforts. How has it been to have a project be with your for so much longer than I assume your other screenwriting work had been?
MM: Well, it's interesting because for some studio projects you could be working on them for years, so really it's hard to say. I've written three independent films that have been made and they all are a version of a personal story for me. And those are always obviously a lot more painful in terms of the experience because you have so much emotion connected to the outcome. It's a greater reflection of who you are, this one in particular because I directed it. The other two I don't feel very much ownership of because they weren't my vision. I wrote the script and in many instances, the script changes or gets rewritten by the director and becomes something that is totally the opposite of what you intended. This one was more of my baby than anything else I've worked on.
That's the hard thing about movies, it's kind of like cooking for Thanksgiving: You've spent so long laboring over this and it's consumed and basically discarded in such a short period of time compared to how long you spent trying to prepare it. So I think the takeaway with making films of this ilk is finding people that you really believe in, that really inspire you, because the journey and the experience are oftentimes so much more valuable and so much more memorable in your life than the actual outcome of the film. That is something that I've learned. The process of it can be very magical and you learn so much from it, and then the film comes out and we live in an age where a million people have an opinion on it. As opposed to 30 years ago, when someone put out a film and maybe five reviewers had thoughts on it and you had to actually seek out what those thoughts were. Now you can't go anywhere or do anything without somebody judging you or having an opinion or telling you how you could have done it better. So it's an interesting time for artists.
CM: Filmmaking is such a collaborative process anyway, but even more so when you are directing yourself as an actor. You really have to rely on your collaborators. How did you navigate that challenge?
MM: I tried to be very mindful of who I invited to work on the film with me because I knew that it was really important that I felt comfortable, that I really trusted the person and that they didn't intimidate me or make me feel like I couldn't completely be myself. I was so happy with the team that we assembled, but it was very mindful. I have friends that for their first film they felt that they should hire a DP who has been shooting for 40 years because they know so much more than them. But that also presents an interesting challenge because the DP in certain situations maybe is like, But I've done this for so much longer than you and I know so much more than you. So it was really important to me to find people that were sort of on equal playing fields, so we could all go there and feel really comfortable to not be judged and to figure out what we were doing as we went along.
CM: You have this big great ensemble cast. With filmmaking in general it can be a Catch-22 of needing a name actor to secure financing, but sometimes you need some financing to get an actor to take the script seriously. How long did it take to get the financing as well as all those actors finalized?
MM: It took about two years to put it all together. You put it together and then it falls apart. Then you put it back together again and then it falls apart. Then basically you have a ride-or-die moment where you're like, Okay, we're going to make the movie right now and this is the date. I had a big chunk of financing that fell through and I had to basically clean out my savings and put my own money into the film. When it comes to these kinds of films, you just have to do what you have to do. I feel like you do this movie once because it is so hard to get your first film made, especially when you don't have famous names. Everyone who is in my movie is amazing and these were the people I wanted to cast. I didn't care about foreign value, I didn't care about whether someone was recognizable from a TV show. I wanted to make the film I wanted to make. It's very rare in this business where you have complete control over a project, and so I wanted to luxuriate in that opportunity as much as I could. But yeah, I feel like for my next movie I would definitely try to have famous people [laughs], because it helps you a lot with financing and it helps you with distribution. But I wouldn't change a thing about my film. I'm really proud of it and I'm really, really proud of my cast.
CM: They're all great. When you are either auditioning or offering roles, in addition to their talent and what they can bring to the role itself, were you thinking about, Is this person going to be cool with the small scale? How will they be on a more familial set? They're not doing these roles for the money, so what is that extra X-factor you're looking for?
MM: I think you get a pretty good sense of somebody when you have a meeting with them. And I was very up-front, I never presented it as anything other than what it was. It was like, This is the script. We're going to be shooting on a lot of locations I can get for free. It's funny because I actually have a lot of filmmakers in my cast-
CM: I noticed that.
MM: Jorma's a filmmaker, Kentucker's a filmmaker, Tate Donovan's a filmmaker-
CM: Andre Hyland-
MM: Yeah, Andre is also a filmmaker. Jeff Grace, who has a little part in it, he's also a filmmaker. So I had a lot of filmmakers in the film and they all have been in this position. Everybody had a lot of compassion for it, and it made for a really fun, really collaborative, really supportive vibe on set. And the girls– Dree Hemingway is so incredible. As a person, she's so warm and giving, and as a performer, she's just so fascinating to watch and so talented and she was so low-maintenance. She showed up, she brought her own food, and she was just like, "Let's do it. Whatever you need me to do, I want to do it." It was such a wonderful experience creatively and I do think that it's important for first-time filmmakers to keep all those things in mind. It's the price that you pay: Do you want a bigger name, do you want a bigger name DP, do you want somebody who might change the tone of the set and ultimately make your job a little bit more challenging? I did not want that. I wanted people who really wanted to be there. I didn't want to have to talk anybody into this. So I think everybody was there because they shared my passion and they really believed in the script and ultimately I think you can see that on screen.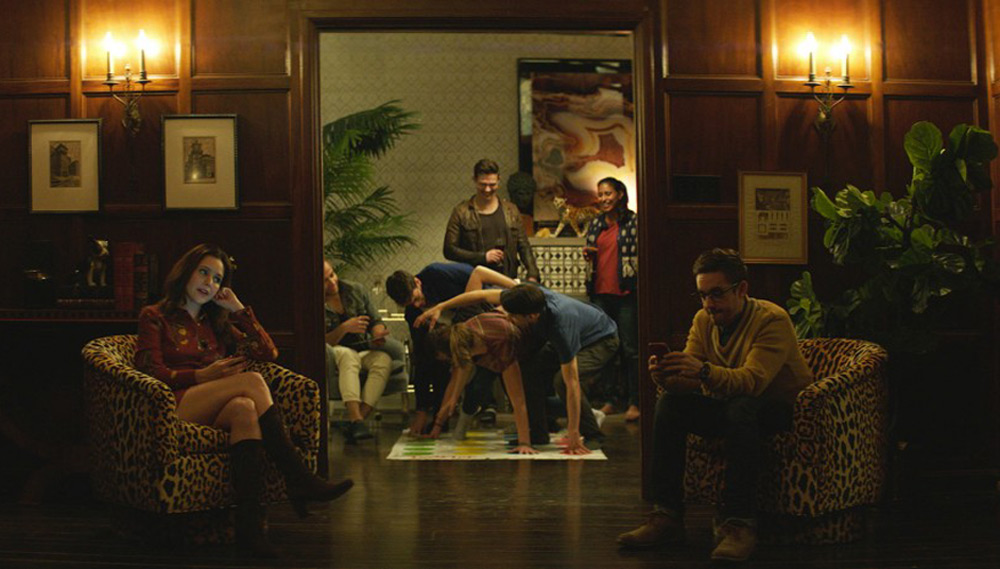 CM: How long was your shooting schedule?
MM: It was 19 days.
CM: L.A. is this huge city with all these pockets and neighborhoods that can feel like completely different cities. How did you decide to distill the city down to the neighborhoods and the characters you covered?
MM: I had been living in a really cool, historic part of Hollywood for about five years. And the neighborhood really inspired me, so I knew going in that I wanted to try and capture that old-time elegance of Hollywood and showcase a different part of the city that people perhaps aren't used to seeing on screen. Our focus was mainly in historic areas of Hollywood, and it just has a really cool energy and if I hadn't lived here I don't think I would have appreciated how special this area was.
CM: I read that Woody Allen's Manhattan and Whit Stillman's Metropolitan were both influences on the film, which I can totally see. But those are also super New York-centric movies. As an L.A. native, what are some of your favorite films that you feel embody L.A.?
MM: Um… Okay, you'd think I'd have a quicker response to this. [Laughs] Obviously L.A. Story. Fast Times at Ridgemont High, which is the Valley but I still consider Los Angeles. Day of the Locust. The Way We Were, even though half of it takes place in L.A. and most of it takes place in New York. Most recently, La La Land. Afternoon Delight. Andre Hyland's movie The 4th. Shoutout to Andre.
CM: Oh yeah. Did [The 4th] premiere at Sundance the same year as your film?
MM: No, The 4th was the year before.
CM: I'm not sure if this is a sensitive subject to bring up, but I'm curious about changing the name of the film. It premiered at Sundance as L.A. Times, and now it's It Happened in L.A. How did that come about?
MM: I know, I love the title L.A. Times and if I could have convinced the L.A. Times newspaper to let me keep my title, I absolutely would have. But I did not want to piss them off and they kindly asked me if I would not use that as my title. So I had to sign something that said I would change it [laughs].
CM: And it's not your first brush with a title-change. Girl Most Likely originally premiered as Imogene. As the writer, you probably had a little less say over that matter.
MM: I had no say over Girl Most Likely. Imogene was the title. It's funny, in France it's still called Imogene because it's a French name so they were able to keep the title. But yeah, the distribution company, Lionsgate or maybe Roadside Attractions, they felt like no one would understand what an Imogene was.
CM: [Laughs]
MM: And I argued that but I wasn't the filmmaker and wasn't the producer and ultimately they're the ones who made the decision. I can tell you this: I will never write another movie and put it out there until the title is cleared. Because I would like to have a movie that retains its title throughout the entire process. So that's high on the list of priorities for the next one.
CM: Have you been faced with confusion over it? At this point, when the trailer and poster have It Happened in L.A., I'd assume most people know that's the title.
MM: I think most people know. This isn't a huge movie, so it's not like we changed the title of Star Wars and people are very confused. It is what it is. I think that people who know it as L.A. Times or who are my friends or who follow me on social media, they're aware of the title change. And then hopefully there are a lot of people who are going to discover it only as It Happened in L.A., which is what the great intention is.
CM: I'd heard before that certain distributors try to get filmmakers to change the title so it begins with an A or a B so that it's higher up when people are looking through Video On Demand.
MM: It's so stupid because I don't know anybody who searches alphabetically for what they're going to watch. But yes, The Orchard did pitch out a bunch of things that started with A, B, and C, and I shot them down. We had a list of options, and I is closer to A than S or T, so we are where we are.
CM: I also wanted to ask you about directing the scenes of the fake TV series in the film [a Game of Thrones-style show created by Jorma Taccone's character], with the green screens and the action. Did that feel like you were getting a taste of the blockbuster action-directing life, or you knew what your budget was and it still felt like you were making an indie film?
MM: [Laughs] It always felt like we were making an indie film. We were initially going to try to make it look more bigger-scale and shoot it outside in a place that looked like an outdoor location for one of those kinds of shows. But it was growing exceedingly more and more expensive and complicated and my AD, who is very smart, suggested, "Why don't we just do a green screen because we can find one of those studios in the Valley for cheap?" And I was like, Oh my Gosh! There are a lot of ideas that are so great that come from collaborating. It was his idea and we did it and I really quite like the way it turned out, and I do like the color green. So it was fun. My hair and makeup department were amazing and my costumer as well. They were able to put all of that together for not a lot of money, and it looks pretty damn good I think.
CM: Did it give you the bug to go the James Cameron route and now only make films on soundstages and green screens?
MM: No. Although, I don't know if you've ever seen this film The Night of the Hunter?
CM: Yeah. With Robert Mitchum?
MM: Yeah. That is filmed in a soundstage in the most quaint [style]. There's something so cozy about the way it is, and I would really like to shoot something in that way on a soundstage. Because I do think there's something very old-timey and charming about building the sets like that, and I love the feel of recreating the outdoors indoors. So that is something I would love to experiment with one day. It's funny, after I get off the phone with you I'm going to Disneyland. Because I love Disneyland, and one of the things I love about it is actually what we're talking about. I love that feeling of going on Pirates of the Caribbean and you're outside in the Bayou at night, but you're indoors. There's something about that that's very attractive to me, so I would like to do that one day.
CM: I was just at Disneyland like two weekends ago and it was the first time I noticed the fake fireflies on Pirates of the Caribbean. They have these lights on strings that flicker and I'd been on the ride I don't know how many times, but their attention to detail is so great that you always see something new.
MM: It really is. There's a profile on Disneyland in Los Angeles Magazine this week or this month… and it talks about that and all the tricks they employed to make everything feel so quaint. If you have a chance to read about it, it's really cool.
CM: As a writer, actor, director, or all of the above, what's next for you?
MM: Right now I am working on a script, and it's actually a thriller. It's set in the '60s and it's something that I have been very passionate about and have wanted to write/make for over ten years. But I knew that it didn't make much sense as my first film because I wanted to get a little bit more experience before I took a bigger bite. So I hope that's the next thing.
CM: You'd be planning on starring and directing as well?
MM: No, I will not be starring in this one. It's just writing and directing. Although at the very last minute, you never know what could happen [laughs]. But no, I'm not planning on it. I never thought that I'd be acting again, but who knows?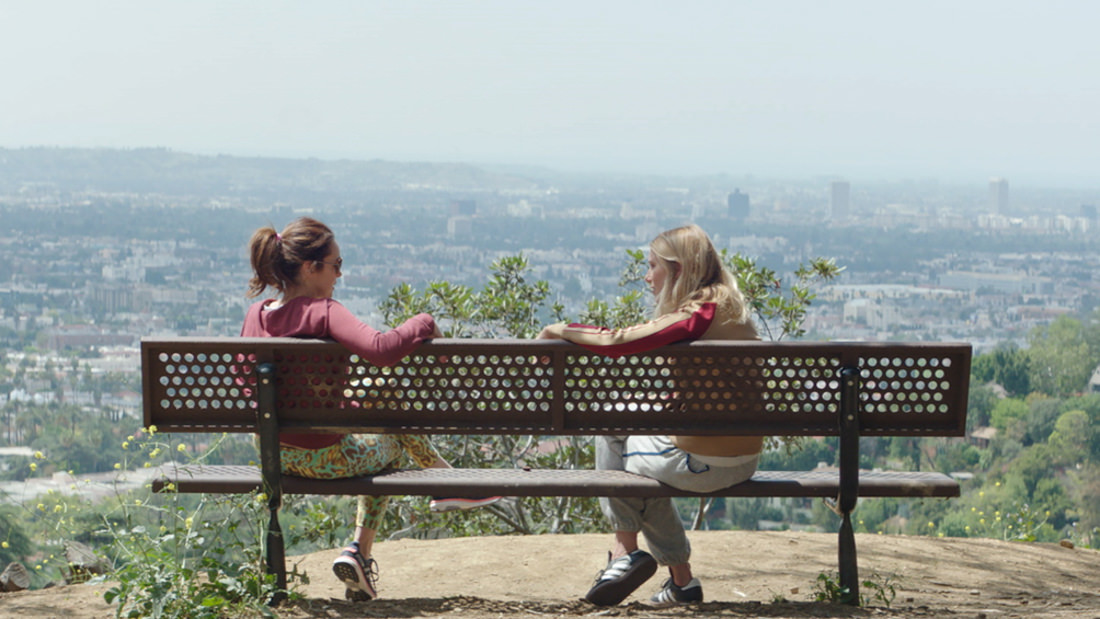 __
Get more info on IT HAPPENED IN L.A. at the film's website or on Facebook.
If you're an independent filmmaker or know of an independent film-related topic we should write about, email blogadmin@sagindie.org for consideration.