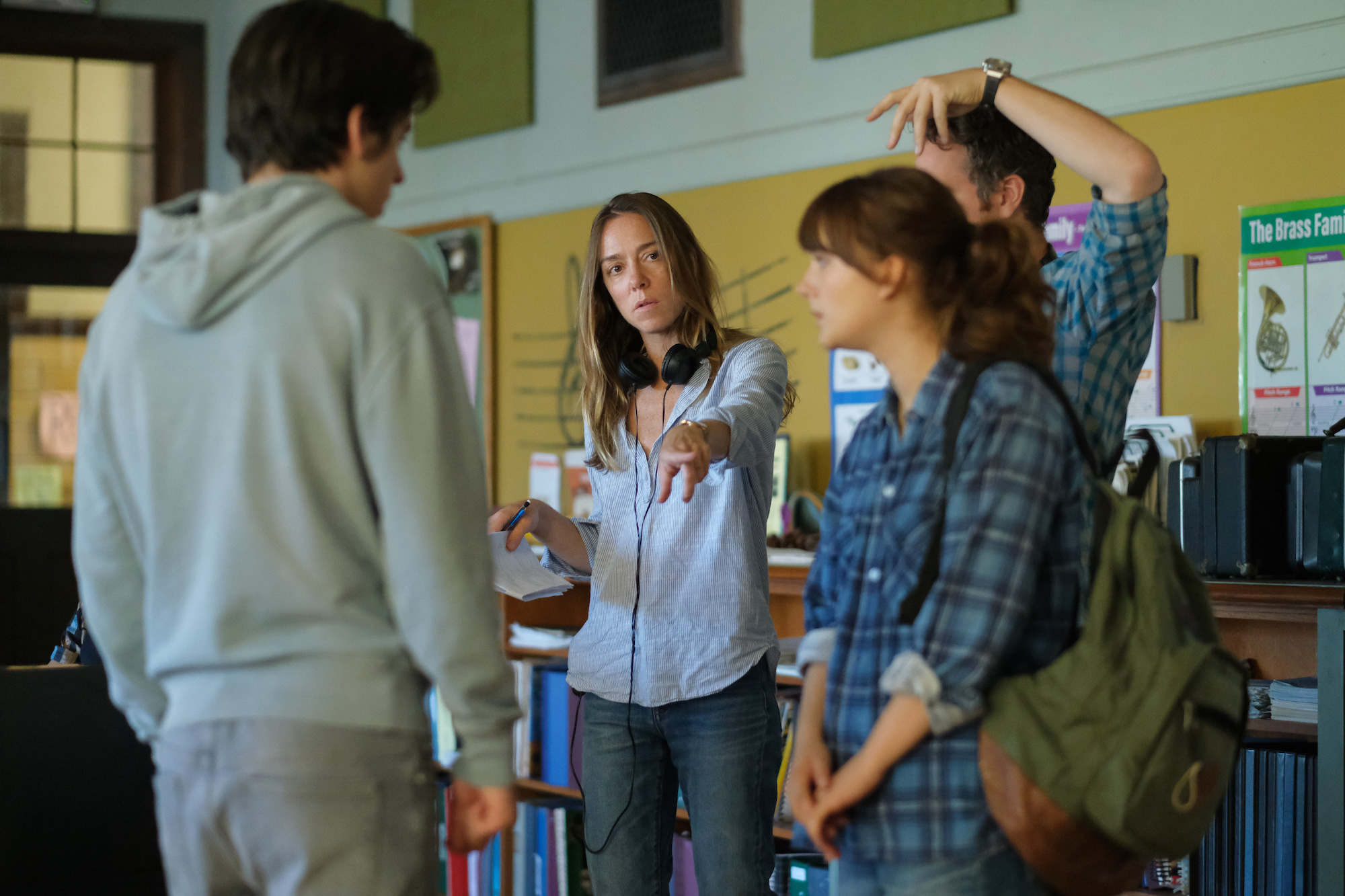 Even before she premiered her feature debut film at Sundance, writer/director SIÂN HEDER had seen career success in many forms. That first feature, Tallulah, was picked up as a Netflix Original before it even hit the screen at Sundance 2016. Prior to that, Heder's first short film Mother won a Cinéfondation Jury Award at the 2006 Cannes Film Festival. She received a Peabody Award for her work on the TV series Men of a Certain Age, multiple WGA nominations for writing and producing on Orange is the New Black, and a Spirit Award nomination for Little America, of which she is executive producer and co-showrunner.
When Heder returned to Sundance this year with her second feature, CODA, she was met with accolades that most filmmakers could only imagine: Sweeping the festival's awards (winning the Grand Jury Prize, Audience Award, Directing Award, and an Ensemble Cast Award) and landing a record-breaking acquisition sale to Apple. The company will release the film in theaters and on Apple TV+ on August 13. [UPDATE: The CODA winning streak continued with its victories at the 2022 SAG Awards, PGA Awards, and at the 94th Academy Awards, where it won Best Adapted Screenplay for Heder, Best Supporting Actor for Troy Kotsur, and Best Picture.]
In the film, the titular CODA (Child Of Deaf Adults) is Ruby (Emilia Jones), who struggles with pursuing her own music career ambitions and the pull to stay behind with her blue-collar parents (Marlee Matlin, Troy Kotsur) and brother (Daniel Durant). Eugenio Derbez and Ferdia Walsh-Peelo co-star in the film, which was shot on location in Gloucester, Massachusetts. We spoke with the much-anticipated film's writer/director Siân Heder about the preparation that went into the movie, portraying an authentic story of a Deaf family, and what projects she has planned next.
——

COLIN McCORMACK: To start, when and how did the project that became CODA first come to you?
SIÂN HEDER: This is a remake of a French film called La Famille Bélier, which I think came out in 2014. Lionsgate originally had the rights to do a remake of the film and I had just been at Sundance with my first film Tallulah. I came back and they sent me the original film. I think whenever, as a creative person, you're approaching something like a remake the question is really, "Why?" The movie already exists. What is the reason to re-approach the story? And when I watched the French film I was very moved by the premise and I was moved by the character at the center and the idea of this family, but I also felt in a way that there was so much room to really make it personal, make it my own, set it in a place that was very specific – in that fishing community in Gloucester, Massachusetts, and also dig into Deaf culture and the CODA experience in a way that I don't think happened with the original film. I went in as a filmmaker and pitched my take on the movie to Lionsgate and then started developing it at the studio. And then it started to seem like it wasn't going to happen at the studio and [producers] Philippe Rousselet and Patrick Wachsberger took it out of the studio and set it up independently through Paté and Vendome [Pictures] and got me my financing. So we made the film independently and I think, ultimately, that was the best thing for the movie.
CM: When any culture or subculture is portrayed in a movie, I'm sure there's a sense of responsibility to get that authenticity right. How did you start the not only research process, but the outreach process? I'm sure much of the research was reaching out to other organizations and individuals?
SH: Yeah, I didn't want to tell this story if I couldn't tell it right. I knew I was coming in as an outsider to this community and whenever that's the case, you feel an enormous amount of responsibility to make sure what you're capturing about the community feels authentic and that the culture you're representing on-screen is real and is something that honors the actual community you're representing. So it was very important for me right at the beginning to have collaborators — from writing the script through pre-production, on set, and all the way through post — where I really needed Deaf collaborators who had that lived experience, could be a check on my own hearing perspective, and could help me to tell this story the right way.
When I was writing the script, I started studying ASL [American Sign Language]. I knew that I wanted a good percentage of the scenes to be fully in ASL and I felt like I needed to have an understanding of the language. I started going to Deaf West Theatre and seeing productions there. That was actually how I discovered Troy Kotsur; I saw him in two productions there, one was At Home at the Zoo and then I saw him in a production of Our Town. And I thought he was such an incredible, charismatic actor and was very exciting. Also through Deaf West, the artistic director there, DJ Kurs, was really instrumental in helping me find my ASL masters, Alexandria Wailes and Anne Tomasetti. Marlee was also really helpful in that regard. So it was sort of making connections and then feeling like I had to seek out the right creative voices for me. It wasn't just finding collaborators, it was collaborators who I felt could really be strong creative allies for me in unlocking the story and what was at the heart of it. I think bringing on my ASL masters was very key for me. I had two women, Alexandria Wailes and Anne Tomasetti. Alexandria worked with me in prep on the translation of all of the ASL, which was a very interesting process because there's no written form of ASL. So you're sitting across a table from each other and going line-by-line, discussing each piece of dialogue and what my intention was as a writer and finding the visual representation of that through sign. Then Anne Tomasetti took over when we were on set and she was next to me at the monitor every step of the way. [She] was really, in a way, my co-director on all of the ASL scenes in terms of watching the language and performance and even down to where we were putting the camera and making sure we always had signs in-frame and how we were covering those ASL scenes from a visual standpoint.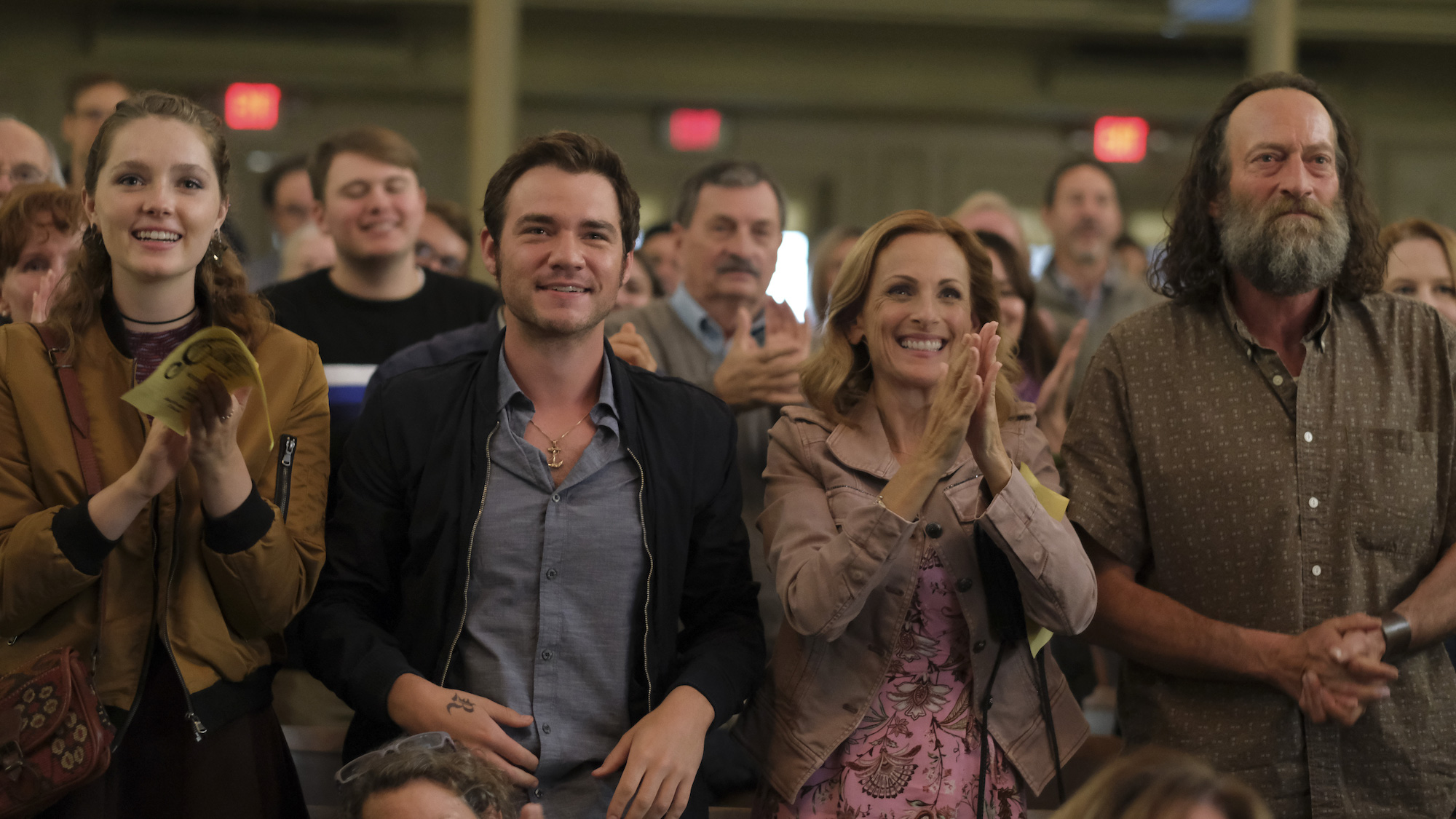 CM: Since you said there's no written form of ASL, I assume that also means there's no industry standard in screenwriting for how to write Deaf characters. Does each writer have to find their own way?
SH: Yes. I wrote in English. I let the dialogue come out the way it has for me always and because I started out as an actor, I think I'm hearing all the lines in my head in a way. Playing all the characters and listening to how a joke lands as I'm writing because I'm saying it out loud in my head. And there was a point for me where I realized I'm never going to hear these lines. These are going to be lines that I watched. That was an incredible process to have Alexandria work on with me because ASL is such a different language than English. It has different syntax and structure and grammar, but then there's also the way that emotion comes out via sign. It's not just about your hands, it's about your face and your eyebrows and the spatial relationship of where you're signing around your body. That journey of taking not just my words that I'd written as a writer, but my intention within a scene or with a character, or what they were emotionally trying to communicate, then my discovery process for both of us as we played with the signs. There are many different ways to sign something in ASL, there's not a one-to-one, This is the line in English and this is how you would say it. So it was an exploration.
And then there was another evolution that happened once we got on set and were working with Deaf actors, who of course had their own ways that they had worked on the scenes on their own and sign choices. So then it really became a conversation on set between Alexandria and Anne and Marlee and Troy and Daniel and I of, What is the right choice of sign for this character in this moment? Also, regionalisms; because just like there's a Boston accent that an actor would have to find, there are regionalisms to ASL. Local signs that a working-class fishing family would be using in this part of the country. It was an amazing process and it really was evolving all the time. Finding the way that jokes worked in ASL versus written was an amazing revelation because oftentimes they were so much funnier when they were signed [laughs]. And the ability to improvise for my actors, and the freedom that they were acting in their own language, that allowed a kind of freedom on set where Troy and Marlee could find a moment that was unscripted and that felt real to these characters in this family.
CM: In terms of casting, you spoke about going to Deaf West. Are there other ways where you had to cast a sort of wider net to find your actors since you were seeking out Deaf talent?
SH: You know what's interesting is there's a very deep well of actors within the Deaf community. There's Deaf West, the National Theatre of the Deaf, there's a lot of Deaf talent. I think going into it, I was asked a lot, "Are you going to have limited choices for all of these characters?" And what I found was there were many choices for each of the characters and that was wonderful because it allowed me to cast the people that really felt right for these roles and connected to these characters. Everybody knows Marlee Matlin because obviously, she's an Oscar-winning, incredible actress, but there are many women around that same age who are incredibly talented. The same is true for Troy Kotsur's character and Daniel Durant. I had many incredible choices for Leo, and Daniel I felt just really connected with this character and all of his frustrations and his role within the family and his desire to wake up his parents to the bad habits they'd fallen into with his sister. It was a wonderful audition process to open everyone's eyes — the producers, the casting directors — to how many talented actors there are within the Deaf community.
The hardest part to find was Ruby. That was actually the biggest challenge. People ask me about the deaf characters, but the Ruby character was really the challenge because she needed to fulfill so many different things. I needed someone who was an incredible singer, who had a voice that was special enough that a teacher would pull her out of a crowd and say, "You have to do this with your life." I also needed someone who was going to sign fluently like a native signer who's grown up with this as their first language. She needed to go out on a fishing boat and look at home gutting fish and sorting fish and running those boats, which is not easy to do. Also, she's in almost every scene of the film. And I wanted someone who was actually a teenager because I feel that on-screen when you're telling a story that's about that very precarious age where you're somewhere between child and adult. Oftentimes when you see a 28-year-old playing high school [age] I think it takes me out of the story because they don't feel authentic to me. So the fact that Emilia was actually 17 I think imbued the character with something really important. That was the journey. I saw maybe 100 girls for that part and Emilia really blew me away with her audition and I felt like the moment I saw her, I knew she was Ruby.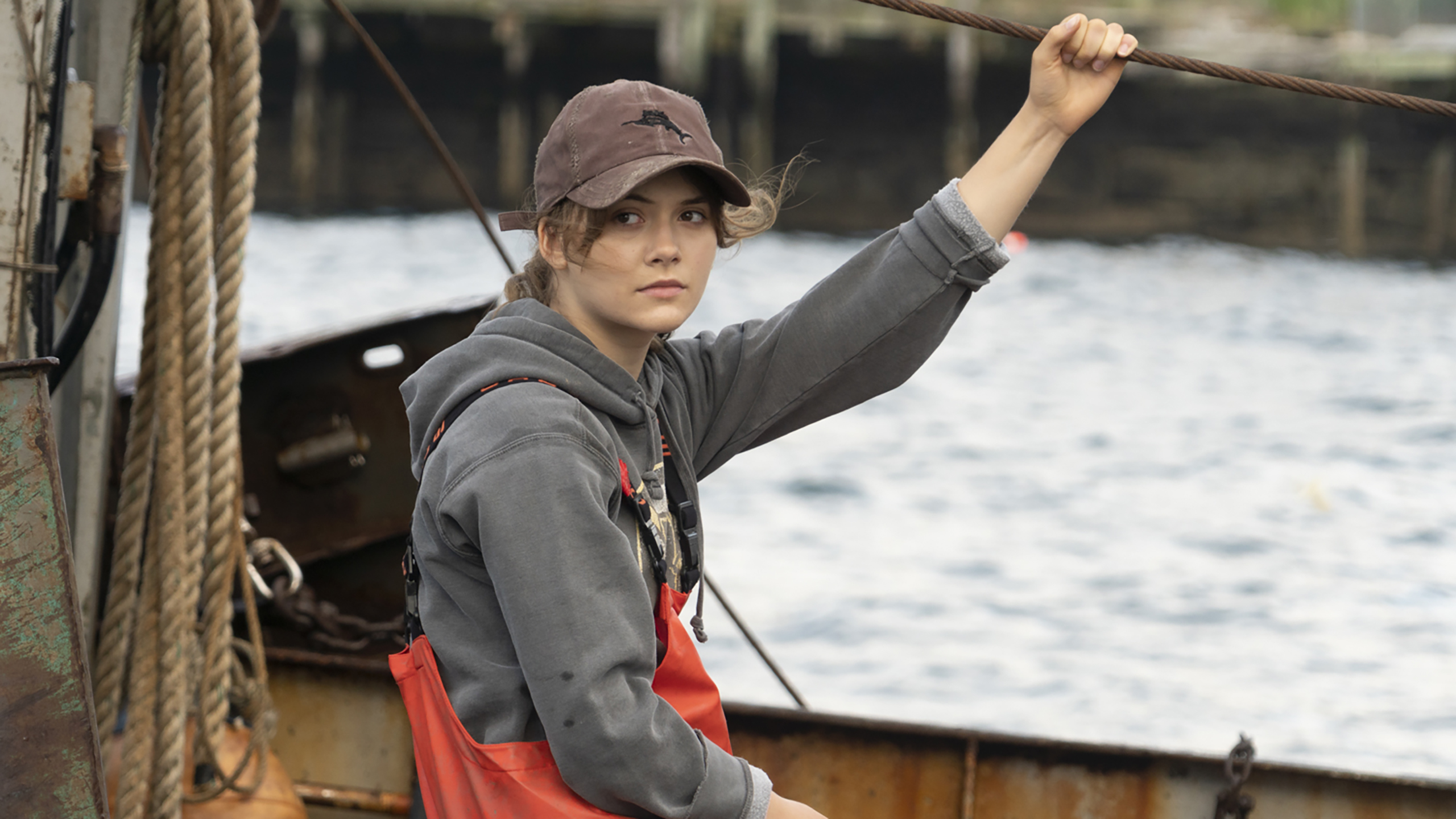 CM: Music plays a big part in the film, particularly with Ruby's storyline. How did you come to work with your composer and what were the themes you wanted to communicate through the music?
SH: The music is such an important part of the film. Obviously, the title has a double meaning in that a "CODA" is a child of deaf adults but a "coda" also signifies the end of a piece of music. I knew that music was going to be a very important part of the story also in how it would play against the silence. Rhythmically in the film, there's a lot of interplay between these silent ASL scenes and these choir scenes where the kids are performing these really fun choir numbers. Finding that rhythm with my editor [Geraud Brisson] in post was an interesting process of how to play with that and how to create a balance between the music and the silence during the first part of the film and actually walking the audience into being more comfortable in the silence. So towards the end of the film, there are actually long stretches of many ASL scenes in a row, but I think at that point the audience doesn't even notice that they're watching this family in another language because they've slowly been walked into that experience.
Then with the score, working with [composer] Marius De Vries and [music producer] Nick Baxter, normally when you score a dialogue scene you're using the score as support underneath the dialogue. It's there to help build emotion or create a path that gives you a feeling within the scene. When we tried to score these ASL scenes and played around with what it was like to put music there, it really overwhelmed the scene. Because I think the hearing audience is searching for something to connect to in the audio and the moment you put a piece of score there, it was almost like the audience is going to latch onto that and that was going to dictate the scene and the performance. What I really wanted was for the performance to live on their own and for people to be in the intimacy of those ASL scenes and the quiet. So we really, through the process, started to pull further and further back with the music until there really is almost no score under the ASL scenes. When there is score it comes right at the end of the scene because I didn't want it to take away from the experience of what it's like to be inside of those conversations. It was an interesting dance to play with the relationship between the silence and the music.
Also, for me, it was about exploring a deeper connection between music and ASL. It's been used a lot in Deaf stories, the irony of Deaf people not being able to hear music and I think there's a bit of an eye-roll in the Deaf community around that idea. But actually, the more that I studied ASL and dug into Deaf culture and being inside of ASL conversations, there's so much in ASL that is musical in a way that English or any spoken language is not. ASL is very rhythmic and melodic and emotionally expressive in a way that the spoken word can't be, but music is. So much of the movie is in ASL, so much of the culture on set became about ASL, and it actually felt like the language of ASL and the language of music had all these incredible parallels that were unlocked within the story. It felt like it really highlighted thematically what the story was about.
CM: To wrap things up, now that the film is being released, what's next for you?
SH: I have so much writing on my plate [laughs]. I'm writing two features right now, one of which is based on a book called Impossible and it's kind of a sci-fi love story. Then the other is Being Heumann, based on Judy Heumann's memoir. Judy Heumann is one of the prominent characters in Crip Camp and she is probably the foremost disability activist in this country. She was instrumental in the 504 protest and getting the ADA [Americans with Disabilities Act] passed, which is a part of our Civil Rights history that we don't learn about in school. So that's an exciting story about the 504. Then on the TV side, I'm in an overall with Apple and developing shows with them. And then I'm still showrunning Little America and we haven't shot season two yet. So I've got a lot of irons in the fire!
__
We want to thank Siân for talking to us about CODA! Learn more about the film at Apple TV+.
If you're an independent filmmaker or know of an independent film-related topic we should write about, email blogadmin@sagindie.org for consideration.