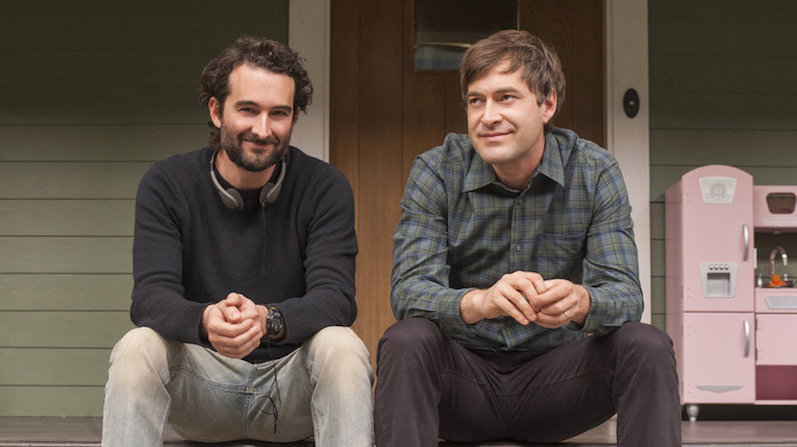 As much as filmmakers like Richard Linklater, Robert Rodriguez, and Kevin Smith defined the concept of "indie film" in the 1990s, the next generation of independent filmmaking could arguably be distilled into one word: Duplass. Louisiana-born brothers JAY DUPLASS and MARK DUPLASS found their filmmaking groove in the Austin film scene, churning out micro-budget short films with friends and family. The brothers' first feature, the $15,000-budget The Puffy Chair, brought them a new level of acclaim in 2005 – a Sundance premiere, a SXSW Award, Spirit Awards nominations, and entry into a new genre of mid-aughts indie film (alongside contemporaries like Joe Swanberg, Andrew Bujalski, Greta Gerwig, and Lynn Shelton) dubbed "mumblecore."
The Puffy Chair and their next festival favorite Baghead led to 2010's Cyrus, which brought the brothers mainstream attention (and their first opportunity working with name actors and a major studio). They followed those up by co-directing the films The Do-Deca Pentathlon and Jeff, Who Lives at Home. But Mark and Jay's status as an indie film powerhouse really kicked into high gear when they branched out into producing other filmmakers' works, shepherding an impressive slate under their Duplass Brothers Productions banner, including Colin Trevorrow's Safety Not Guaranteed, Charlie McDowell's The One I Love, Craig Johnson's The Skeleton Twins, Patrick Brice's The Overnight, Sean Baker's Tangerine, Hannah Fidell's 6 Years, Alex Lehmann's Blue Jay, and Pat Healy's Take Me. TV soon came calling and they created Togetherness, Animals, and Room 104 for HBO, and produced Netflix's hit documentary series Wild Wild Country.
Mark became known for his acting work as well, in Greenberg, Zero Dark Thirty, and FX's The League. Amazon's Transparent likewise brought Jay in front of the camera, which led to roles in Landline, Beatriz at Dinner, and Outside In (which the brothers also produced). An early output deal with Netflix showed the brothers were savvy in keeping up with the changing distribution landscape, expanding their reach far beyond film festival circuits and art house theaters.
The Brothers Duplass have now collected their filmmaking experiences – and many more of life's journeys – into a memoir, titled LIKE BROTHERS. The book is available now via Penguin Random House (and features a Foreword by Mindy Kaling, who cast both brothers on her sitcom The Mindy Project). In anticipation of their first book, Mark and Jay were kind enough to answer some questions for us in a joint email Q&A.
——
COLIN McCORMACK: Thinking back to your early days making DIY projects, what aspect of the filmmaking process is still just as exciting to you as it was during the leaner years?
MARK AND JAY DUPLASS: As we were preparing to take this book into the world, our publisher asked us to make a trailer for it. We had no idea how to do this, nor did we have any time in our schedule. So we set aside two hours in the attic of our office. Just the two of us and our cheap camera. We cobbled together a story as we shot it. We messed up, giggled, hit something exciting, ran around like idiots and shot the whole thing in less than 90 minutes. It's hard to curate that kind of experience, but we are always trying to stay close to the methodology of "We Are Two Idiots With A Camera And We Hope We Can Find Something Interesting, And Have Fun Doing It."
So many filmmakers aspire to a career path like yours. But has anything become more difficult as your budgets and names have grown?
It's extremely difficult to learn how to say no. For so many years we craved any opportunity at all, so when it comes time to say "No" we have a terrible time telling our internal engine to slow down.
You made The Puffy Chair with friends and nonunion actors but were already using the SAG Ultra Low Budget agreement by the time you made Baghead. What led you to becoming signatory on that film? Did it feel intimidating to take that first step?
It was a simple case of us wanting actors that were union, so we complied with the union. It was very easy to figure it out.
With Cyrus, it was not only your first time working with a studio, but also working with big name actors. From largely directing your friends prior to this, how did you prepare for your first day of giving direction to someone like Marisa Tomei?
We were very lucky that all three of the leads of Cyrus had seen our previous films, so they had a good understanding of what we were going for. We also explained our creative process in fairly painstaking detail before we got to set. So we were genuinely excited to get going. Maybe we were just naïve.
As your careers have grown, you have still remained loyal to places like SXSW, which helped you get your start. When you were coming up, were there filmmakers you looked up to as people who stayed true to "their roots" and helped filmmaking seem more attainable to you?
Richard Linklater was a big hero for us. He still is. We don't love all of his movies. Not sure even he does. But he was a guy with regular clothes and bad self-cut hair (like us!) that really inspired us. We felt that if he could make films and be an artist, maybe there was space for us, too. We'd like to think that aspiring filmmakers and artists see us that way as well… "If these idiots can make it…" kinda thing.
In addition to filmmaking, you both have become more prolific as actors as well. Has your process as a director (specifically in how you work with your actors) changed since you began working more in front of the camera?
Every time we go on set we learn something. We've both benefited greatly from being on set with other directors.
Jill Soloway talked to us about how it took some convincing to have Jay read for his part on Transparent. Did either of you expect to be acting as much as you are now?
I don't think we had any expectations at all coming into this industry. We generally feel so lucky to have carved out our little corner of the sandbox. And while it's a surprise that both of us are working in front of the camera, it's just as big a surprise that we are working at all in this industry.
In addition to the artistic side of filmmaking, there's the business side. You have been able to keep your budgets low in part because you offer back-end deals to many of your cast and crew. How did you develop the business sense to come up with a model that worked for you?
It was pure survivalism. Almost as if our artistic selves were enacting natural selection. We felt that if we had to make movies inside the studio system, with all its red tape and political maneuvering, that we wouldn't last very long. So we had to come up with a system that worked for us. It just so happened to be the very system we started with. Make things as cheaply as you can so you can own them and do exactly what you want.
As you've become more prolific on the producing side making a lot of other directors' movies, how do you seek out or find the filmmakers you want to work with?
It's a mixed bag. Some are new filmmakers we meet on the festival circuit, or whose work we see and reach out to. Others are longtime friends or collaborators ready to take a step into filmmaking. A good portion are original ideas we have that we bring to young artists that we admire and that we would like to work with because they're either inspired as hell or really, really lovely to be around. Ideally both!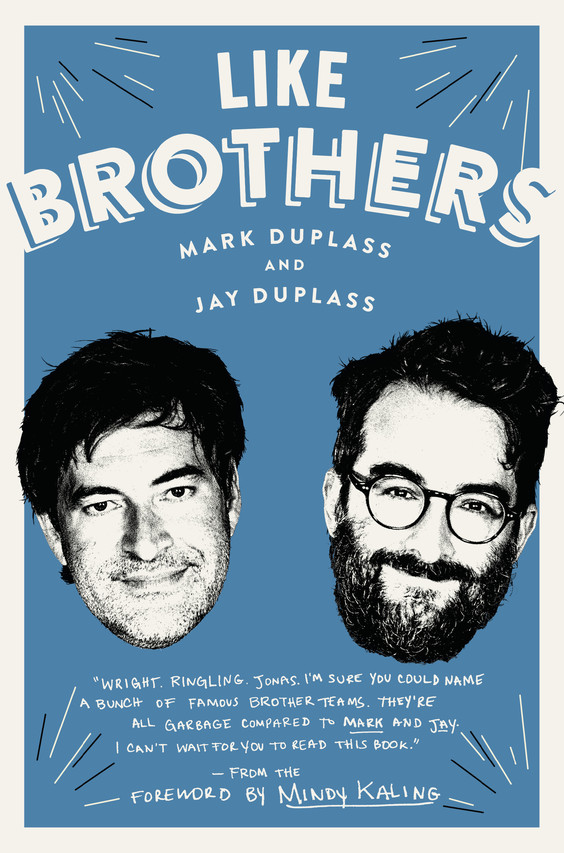 Through the years you've both done your share of interviews, conversations, and keynotes to impart your wisdom to aspiring filmmakers. What issues had you not delved into prior that you were excited to talk about in book form?
The intensely complex nature of our lifelong collaboration.
How was your writing process for this book similar to or different from your writing process for screenplays and TV scripts?
We know how to write scripts. We don't know how to write books. 🙂 Genuinely. It was thrilling and daunting but very inefficient. It hurt sometimes but mostly it was like being 13 years old and picking up a pair of drumsticks for the first time.
Has the book tour felt similar to going on the film festival circuit?
We don't know yet! We are on the plane on the way to start the tour. We'll see.
Finally, if you could challenge any other filmmaking siblings to a do-deca-pentathlon, who would it be?
For pure fun in the sun, it would have to be the Zellner Brothers. But there's a small part of us that would love to see Ethan Coen try out the long jump.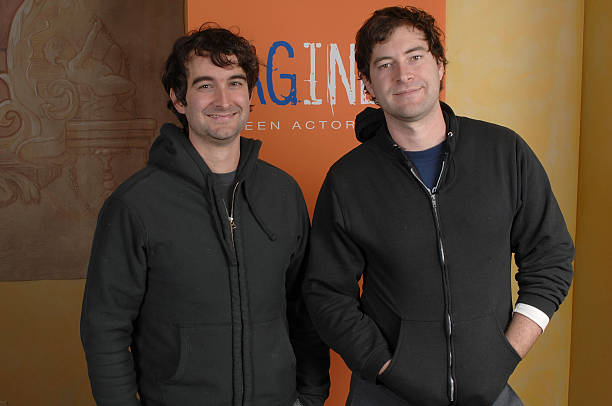 __
LIKE BROTHERS is now available via Random House Publishing. You can meet Mark and Jay on their book tour or sign up for their newsletter at their website. Thanks so much to the Duplass Brothers for taking the time to answer our questions!
If you're an independent filmmaker or know of an independent film-related topic we should write about, email blogadmin@sagindie.org for consideration.