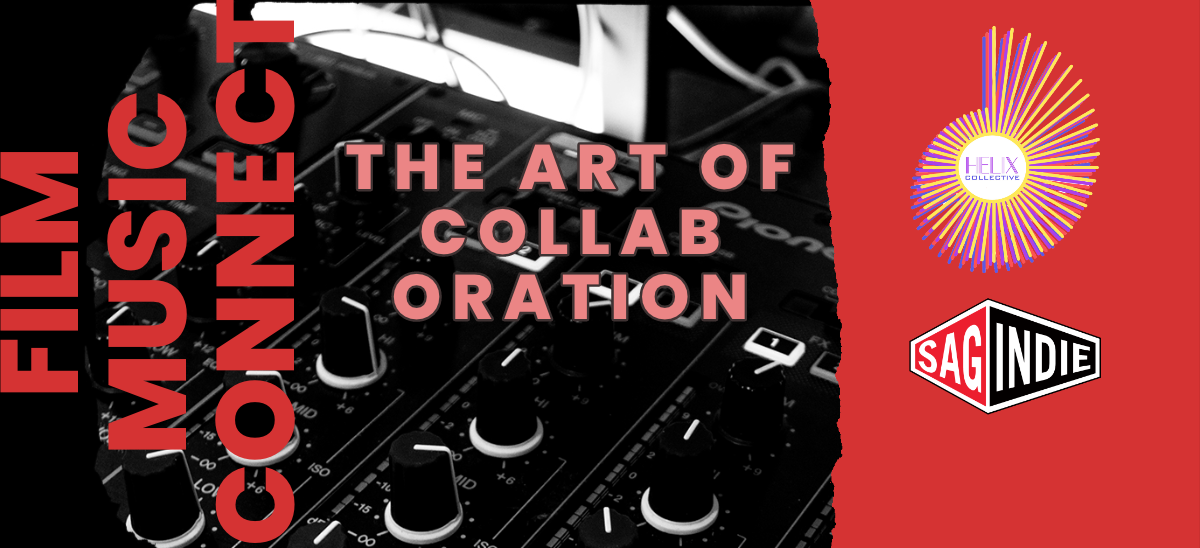 In 2021 – for the second year in a row – SAGindie and Helix Collective's FILM MUSIC CONNECT initiative paired indie filmmakers with the composer that could bring their ideas to life in sound.
Starting with a workshop led by Phil Popham of Helix Collective on how to choose the right composer for your project, four filmmakers were selected to participate in Film Music Connect 2021. The makers of August Visitor (Ifeyinwa Arinze), Future Fred (Brent Katz), The Promposal (Traci Carter Holsey), and SILT (Emilie Upczak) then got to work reviewing a set of composer reels to find their right match. They connected with their composers Michael Paraskevas, Annie Rosevear, Cora Chung, and Nathalie Bonin. And what happened next?
This virtual panel will highlight how these filmmaker/composer teams worked together and got their projects to the finish line. The panel will screen clips from the films, feature insight from the filmmakers and composers themselves, and explore the entire process and what everyone on the teams learned along the way.
Wednesday, May 4, 2022
5:30pm PDT
Watch the full recorded workshop here!
Film Music Connect 2021 Projects
AUGUST VISITOR
When her widowed mother has a male friend over for dinner, an observant Nigerian American teenager acts out, which leads her to a deeper perception of her mother.
Director: Ifeyinwa Arinze
Composer: Michael Paraskevas
FUTURE FRED
A guy travels back in time to save a woman he saw in a coffee shop 10 years ago.
Director: Brent Katz
Composer: Annie Rosevear
THE PROMPOSAL
A high school senior is forced to quarantine with her overprotective mother weeks before her senior prom.
Director: Traci Carter Holsey
Composer: Cora Chung
SILT
A Native botanist, grieving the death of a beloved aunt, travels alone to northern Mexico, where she is nourished by images of the last trip they took together traversing the Colorado River.
Director: Emilie Upczak
Producer: John Otterbacher
Composer: Nathalie Bonin
—
About Helix Collective
Helix Collective are classical musicians busting out of the traditional mold. From crossover dance music, to storytelling, to film, television, and video game music, the Los Angeles-based ensemble takes the best of classical chamber music and makes it the life of the party. Helix has collaborated with film, T.V., and video game composers Jeff Russo (Fargo), George S. Clinton (Mortal Kombat), Layla Minoui (Vamparina), Jeff Cardoni (Silicon Valley), Eimear Noone (Video Games Live), Jeff Beal (House of Cards), Julia Newman (BONES), Laura Karpman (Lovecraft Country) and many more. Helix Collective produces the Los Angeles Live Score Film Festival, a live score-to-screen film festival that pairs film composers and indie filmmakers.
About SAGindie
SAGindie promotes the working relationship between professional actors and passionate independent filmmakers. Since its formation in 1997, SAGindie has been traveling to film festivals, trade shows, and conventions spreading the word: Just because your film isn't produced by a studio doesn't mean you can't use professional talent. As a free resource, SAGindie offers filmmakers clarity and kinship by guiding them through the SAG-AFTRA signatory process, making it even easier to hire professional actors, regardless of budget. Through its Movies & Music program, SAGindie promotes the collaborative relationship between indie filmmakers and music professionals.
__
SAGindie's Movies & Music program is designed to bridge the gap between the filmmaking and music worlds. For more Movies & Music content, click here.