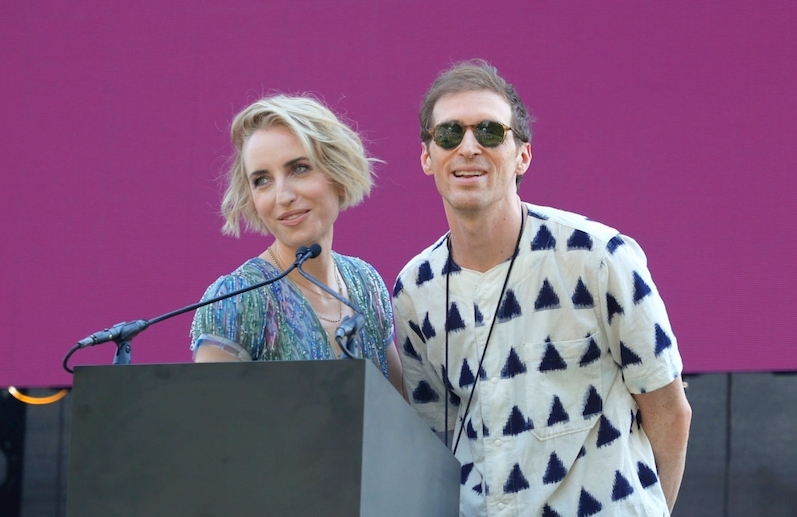 Actors/filmmakers/spouses ZOE LISTER-JONES and DARYL WEIN did what a lot of people said they would do during the early lockdown days of the COVID pandemic: they got productive. Collaborators for over a decade (including the features Breaking Upwards, Lola Versus, Consumed, and Band Aid), the duo took advantage of the empty Los Angeles streets and clear calendars, tapped into their indie roots and their 2020 anxieties, and made a low-budget comedy about the end of the world.
Taking place on the day an asteroid is set to obliterate the planet, HOW IT ENDS finds lonely Angeleno Liza (Lister-Jones) walking across town on her way to an apocalypse party, running into an array of familiar faces on her journey, played by Fred Armisen, Whitney Cummings, Charlie Day, Helen Hunt, Nick Kroll, Logan Marshall-Green, Lamore Morris, Tawny Newsome, Bradley Whitford, and Olivia Wilde, among others. Tagging along for Liza's last day is her imaginary younger self (Cailee Spaney) urging her to tie up some personal loose ends before the big kaboom.
How It Ends premiered at the 2021 Sundance Film Festival and was released this week in select theaters and on digital platforms, courtesy of American International Pictures. [UPDATE: The film is now streaming on Paramount+ and Prime Video.] We chatted with writer/director/producer/editor Daryl Wein and writer/director/producer/star Zoe Lister-Jones about making a movie during an unprecedented time.
——
COLIN McCORMACK: At what point during lockdown did you guys start to conceive the idea for the movie, or the idea to make a movie?
DARYL WEIN: We started conceiving of it pretty early on, after a couple of months in lockdown. We were feeling probably a lot of the same feelings you and everybody else was feeling, quite depressed and sad by the state of the world and everything that was going on. And so we started to have a conversation about what it would look like if we tried to make a film during that time and channel those feelings into a work of art and if that was even possible. So many of those emotions that we were experiencing was what we channeled into this story, which isn't about the pandemic but there's definitely thematic cross-over in terms of a character who feels like she doesn't want to leave the house, is apocalyptic, and desperate to want to connect with other people but a little bit too afraid to do so. So we started writing and talking about different premises that could maybe work within the confines of the pandemic and came up with what you now see.
CM: Was it a lengthy pre-production period or were things able to fall into place quicker because there were fewer projects being made in town?
ZOE LISTER-JONES: It wasn't a very lengthy pre-production period. I think Daryl and I in general are, as producers, very ambitious and impatient [laughs], for better or for worse. But I think in this circumstance, our anxieties and restlessness worked in our favor because they were definitely a driving force to get this thing made out of just sheer necessity. Like it really was a lifeline at such a harrowing moment for all of us. So we started writing and then started calling our friends and seeing if they would be down to take part in something that was semi-experimental in nature. And luckily, they were all available so that was a great benefit to us that they were not all working as they would have been if not for lockdown. Then we started shooting. We conceived of it, shot it, Daryl edited it alongside Libby Cuenin, and then premiered it at Sundance all during quarantine. So it was all pretty fast.
CM: Yeah, it does seem like COVID was a time when filmmakers and actors who were maybe used to larger budgets or bigger productions were tasked with scaling things back like the early indie projects they started with. For you guys, was it easy for you to transition back to a scrappier way of doing things?
ZLJ: I had just come off The Craft: Legacy, which was a studio film. It was really nice to return to both Daryl and my guerrilla filmmaking roots because there is such a purity to the artistic process when you distill it down to a crew of four people. There's so much creative freedom and immediacy to the work, which was really exciting.
CM: Does it feel like you were your own gatekeepers at that moment in a way because the industry as a whole was in such flux at the time?
DW: Yeah, I mean, we didn't have to answer to anybody, which was great. Our production company Mister Lister Films made the film and we did everything on our own, so that was liberating and exciting, but obviously makes it very challenging because we have to wear a lot of hats.
CM: What did the script look like? Was it a completed screenplay or an outline you worked with your actors to flesh out?
ZLJ: It was a hybrid. We wrote a very detailed outline that then from the outline – I would say about half the movie – was written outright. So all of Cailee and my scenes, my scene with Bradley Whitford, my scene with Helen Hunt, my scenes with Logan Marshall-Green, were all written and we stuck to the script pretty strictly in those scenes. And then with Nick Kroll, Olivia Wilde, Fred Armisen, Lamore Morris, Tawny Newsome, those were all improvised off of a very structured outline. It was a really beautifully collaborative process with the actors and we were working with such comedic heavyweights that it was really exciting to have that freedom.
CM: Did you guys go through a traditional casting process for any of the actors, or was everyone there through a personal connection of some sort?
DW: Yeah, everyone was someone we either knew, fortunately, or had worked with. So we went directly to them.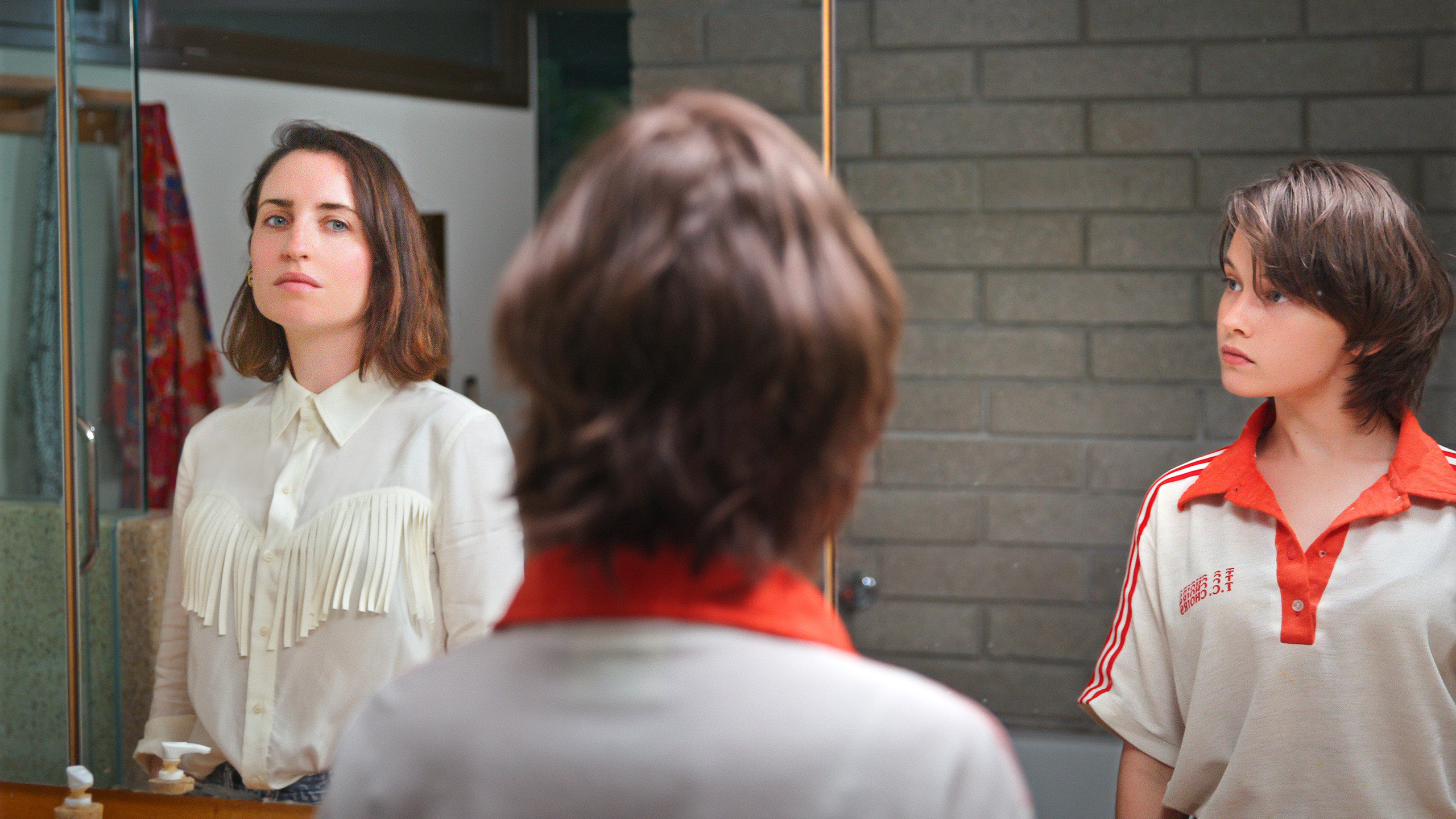 CM: You can tell from the film, the streets of LA are emptier than usual, which seems like it would be freeing. What was it like filming around the city during that time?
DW: It was amazing.
ZLJ: Yeah. You know, the state of Los Angeles and of the world was very sad. It was so surreal to see streets empty of cars in Los Angeles. But I think in many ways we wanted the film to serve as a time capsule of this singular moment in history and I think it does. We did some work in post to remove some stragglers or cars here and there, but it was pretty wild to be able to just walk in the middle of the street.
CM: Are there parts of this process you think you'll keep on future projects or is that pandemic-era way of filmmaking for pandemic times only?
DW: I think it is an approach that we'd love to incorporate as best we can in future projects, just because it engendered such a sense of intimacy with everybody and the actors. And it's great when there are not as many people because I think the actors feel more free and it takes us less time to set things up and move around. It can be a little bit more loose and spontaneous, which is really fun. You don't have as many bells and whistles, so it changes the scope of a production, but what it enhances for everybody involved makes it a really worthwhile thing to try and bring back in some way, shape, or form again.
CM: How many days of principal photography were there?
DW: We shot over the course of three weeks, but on and off. It was piecemeal.
CM: Was that based mostly on whichever actor's availability? Like who was around so you could pick up shop and go to them?
DW: Yeah, it was very much based on when people were available, so it wasn't a traditional schedule where we worked every day.
CM: What was the turnaround time to get it ready for the Sundance submission deadline?
ZLJ: The editing process was three months about?
DW: Something like that, yeah.
CM: As you were working things out in post-production, during when things were still largely locked down, what did that mean for test screenings for friends and family or getting feedback? Were you able to watch it with a large group of people at any point?
ZLJ: We did a couple.
DW: Not anything big.
ZLJ: We had like two friends at a time who were in couples come to watch it in our backyard to get some outside eyes. Generally, both when Daryl and I have made films together and when we've made them individually, we do a lot of friends and family test screenings and we weren't able to have that at our fingertips in this scenario. But we got a few outside eyes from some trusted people.
CM: Since this film, have you returned to any sets with bigger or fancier amenities, and if so does it feel like it's something you've missed or like it's an unnecessary splurge?
ZLJ: You know, it's funny, I feel like no matter how big the budget you're working with as a filmmaker, you're still always having to cut corners and pinch pennies. And I think that those tools always come in really handy in terms of borrowing them from the more guerrilla experiences that we have in our back pocket. In producorial [terms], there were definitely things to learn. I think that there is something really edifying to seeing how little one needs to make a film [laughs]. Not to say that Daryl and I are not inviting large budgets in our future! But it's always a really interesting experience to cut the fat and see how nimble on your feet you can be.
CM: The Sundance premiere was virtual, which must have been exciting in its own way. But I understand you guys made some special deliveries to your cast and had a virtual party for Sundance?
DW: Yeah, we did. We brought everybody pizza and watched from the comfort of our home on television, which is different from being in Park City with all the fun excitement and seeing it on the big screen, which is a one-of-a-kind experience. But it's also nice to not leave your house, ya know? [Laughs]
ZLJ: We partnered with our favorite restaurant in LA, called All Time, and Acura sponsored this great pizza delivery situation. It was a sweet way of celebrating, being able to drop a little nosh off for all of our actors who were also not able to go have the full experience at Sundance. So we tried to make the most of it and it was really fun. It was really cool, then, to go to Tribeca and be there in the flesh and see it with an outdoor audience for the first time.
CM: Yeah, it does seem like the perfect movie to see outside too. A journey across this town while something is plummeting from the sky. Seems perfect for an outdoor screening.
DW: Yes, exactly. It will be fun to see it outside on Saturday. It's playing at Street Food Cinema in LA.
CM: Before things locked down, were you guys in the middle of projects that have since picked back up after How It Ends was completed, or are you on to new and different things?
DW: We're both working on different projects right now, trying to figure out the next thing. It's always a juggling act of finishing one thing and trying to get some other stuff going. So stay tuned!
ZLJ: Yeah, we've got some things we're working on that I think are mostly from post-How It Ends. But there are also a couple of things from before. It is always a juggling act.
CM: When you're an actor and filmmaker, writer/producer/director, you wear all these hats, are you strategic in which avenue you want to pursue, or does it depend on the project how involved you want to get?
DW: Zoe and my main focus, we're writing and directing, and Zoe's acting more. I think we love to do all three. And we also produce, but we're mostly producing out of necessity. For me, it fluctuates, but they all kind of go together.
ZLJ: I think it's obviously a real hashtag-blessing to be able to explore so many different facets of film and television making. It's really cool to be able to wear all those different hats and to wear them in different capacities. I love being a creator and being able to act in my own work, I also love writing and directing things I'm not acting in, and I love acting in things that I'm not writing and directing. So it's nice to be able to shift gears in all those different ways.
__
A big thanks to Zoe and Daryl for talking to us about HOW IT ENDS! Learn more about the film on its official website.
If you're an independent filmmaker or know of an independent film-related topic we should write about, email blogadmin@sagindie.org for consideration.