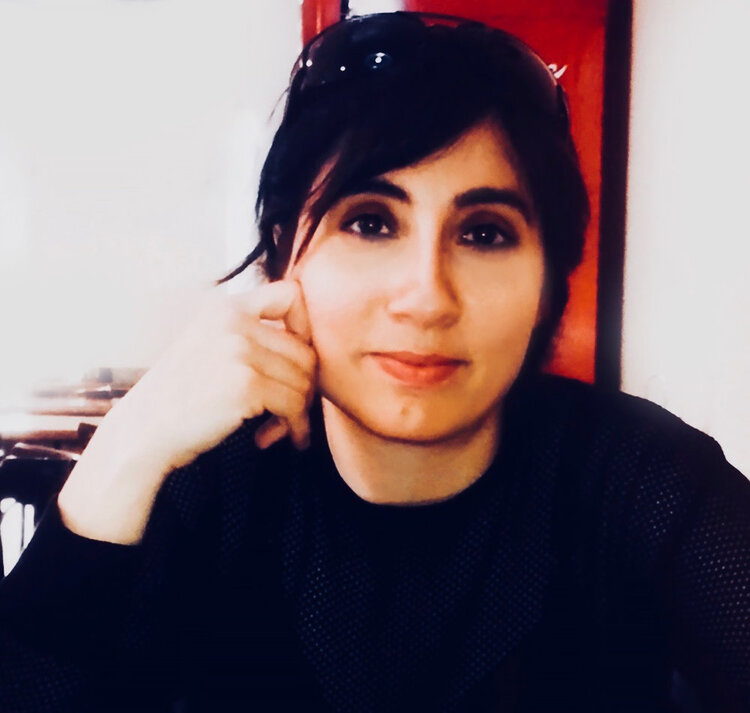 CARLA PATULLO is a composer, songwriter, singer, and filmmaker based in Los Angeles. Patullo has toured globally with her band White Widow and as the musical director for comedian/musician Sandra Bernhard's 2011 album tour, I Love Being Me, Don't You. Patullo's music has won awards from the Los Angeles Independent Film Festival, Indie Fest, the Garden State Film Festival, and the Global Music Awards. Her short film Lotte That Silhouette Girl — which she co-wrote, co-directed, produced, and scored — took home prizes at the American Documentary Film Festival, Tallgrass Film Festival, and Rome International Film Festival.
As a songwriter, Patullo's compositions have appeared in TV series including The Ellen DeGeneres Show, Skins, and The Young and the Restless. She created original film scores for the 2016 Spirit Award-winning feature Spa Night, the 2017 HBO short My Name Is Maria De Jesus, and the 2019 SXSW horror-comedy Porno (which was released via Alamo Drafthouse Virtual Cinema on April 10, and will hit VOD platforms on May 8). Patullo is a fellow of the Sundance Film Music and Sound Design Lab and the Nautilus Composer-Librettist Studio.
——
What are your earliest music memories/influences?
CARLA PATULLO: My family had immigrated to the U.S. from a small southern town in Italy. And when I was a kid, my grandmother loved to sing all of the Italian folk songs. She wasn't a professional singer, but she was very passionate and entertaining! One day she got me a little toy piano and I immediately started composing my own songs. I really began writing before I could play anything or had any training. My parents noticed how much I loved it and so they let me take piano and voice lessons. My cousin Pete played the saxophone and inspired me to also pick that up, and I joined the school band. I had a very cool band teacher in high school who noticed my interest in composition and arranging and she helped me develop those skills. I got involved in anything I could! I was in the high school Jazz Band too, and I was the lead singer for a touring accordion orchestra. (There were a lot of accordions!)
What brought you to the film side of music?
CP: Well, I formed my band White Widow in college, and after the release of my first album, I signed a publishing deal, which led to many of the songs finding their way onto TV shows. It was a fun experience to see my music set to crazy scenes in dramas and soap operas, and it was also a good way to make money at the time, which helped my band while we were on tour. Eventually, I began to work with my publisher to write songs that were specifically written for TV. And the more I did that, the more I thought about visuals when I composed.
What really pushed me into the artistry of film scoring, was the experience I had in the theater/performance world. I began music directing for Sandra Bernhard, and as a musical director, I put together arrangements for her one-act shows and that's where I began thinking about how music can support a story. Because of this, I tried something a little different with my next White Widow album. It was titled A Psychological Thriller and the songs all fit into the film genre. The album told a story from start to finish about a hotel murder that happens within the main character's dream. Two super talented animators, Electric Wonder in Brooklyn, created an animated film synced to the album, and we created a live show, projecting the film while my band performed on stage. I played and sang with the click track in my ear to stay in sync with the picture — it was a real rush and ended up being an incredibly satisfying project and experiment! And that decided it — I had to get into film composing.
In your opinion, what's the gold standard of movie music (a particular film's score, a memorable film scene paired with perfect music, a great musical sequence)?
CP: I really love scores that build thematically, and also serve as narrator when needed. I am a big fan of Alexandre Desplat. His opening sequences are masterpieces, specifically the opening sequence to the film Birth (2004). The scene starts off black with some dialogue and then the music cuts in while it's still black. Eventually, the picture comes to the screen with a man running in the snow, but the mystical, wintry tone had already been set with the music. I won't give away the end of the scene, but I'll just say that it goes somewhere unexpected and the music provides a narrative that isn't yet present in the visual.
I am also a big fan of Thomas Newman, who I was lucky enough to have as an adviser at the Sundance Film & Music Lab. His recent score for the film 1917 is filled with beautiful narrative subtleties and themes. I had actually listened to and loved the score before I saw the film, but when I eventually saw it in the theater, I was really moved!
How did you become involved in producing and directing films as well?
CP: I simply became fascinated with Lotte Reiniger, a German film pioneer who created beautiful stop-motion silhouette animations. The first film of hers that I happened across was her 1922 silent animation Aschenputtel (Cinderella). I instantly fell in love with the shadowy world that Lotte created in this film. So much so that I decided to create a new re-conceptualized version of the film by composing a narrative musical score titled Cinderella A Shadow Ballet. After that, out of curiosity, I read more about Lotte, and I discovered that she invented the multiplane camera while creating the earliest animated feature-length film in 1926, a decade before Disney!
When I took Cinderella A Shadow Ballet out to film festivals and animation schools, it became apparent to me that she had been written out of history. Most people at the screenings had never heard of her, not even the animation students! So I decided that I needed to make a documentary to tell her story. I collaborated with an animator, Elizabeth Beech, to make the short film Lotte That Silhouette Girl, and now we are knee-deep working on a feature-length version.
For you, what makes for the best collaborative environment when working on a film?
CP: The best collaborative environment is when a director comes with an idea and is open to bouncing ideas off each other. That way, we can both go places where we wouldn't have gone alone. I think that is the really special ingredient to creating a unique voice for the score/film — having two independent minds overlap and feed off one another.
How do you balance your own creative voice with the voice/vision of the director you're working with?
CP: I think of it being very similar to starting a band together, perhaps because I came from that world! There are all these elements in a film, and in a band, you take a group of players and create a sound that is the band. That's what we are doing with a film — we're creating a voice and a tone that is the unique mix of the elements within a particular film and a specific team of people.
Usually, I like to start by sharing sounds with a director, then we build a palette of instruments and themes together. I try to stick to the palette as I compose the cues, only giving myself more freedom to break out of that box when a scene really calls for it.
If you have a signature style, how would you describe it?
CP: My primary instrument is voice. I compose with my voice, and I think that really impacts my phrasing and gestures, as well as my orchestrations. My vocals end up making it into many of my scores, in overt and subtle ways. Sometimes you might not know that a particular sound is my voice because of the way it is blended or manipulated. Sometimes I'll replace a vocal melody with, say, woodwinds or another instrument, which gives it a particular style.
Is there a film genre you haven't worked in yet that you're most curious to try?
CP: I am very excited about hybrid documentaries at the moment and would love to work on more of these types of films. They are typically very experimental and artful, and I really enjoy occupying the space between two opposing or contradictory worlds.
What's your preferred software to use in composing music?
CP: I compose in Logic and record and mix in ProTools. I will also use Reason and Ableton occasionally when the film calls for it — for instance, some of the more electronic scores I work on.
Do you belong to any industry associations? (If so, how have they been a useful resource in your career?)
CP: BMI is my PRO, and I have been fortunate enough to be a part of some of their film music programs, which have been amazing learning opportunities. I participated in their Composing for the Screen Workshop in New York with Rick Baitz, and I was also a fellow for the Sundance Film Music and Sound Design Lab. Through both of these programs, I was able to meet BMI's Doreen Ringer Ross who has been so supportive. Last year at SXSW, she came out to show her support at the premiere of the film I scored through the Sundance Music Lab, Porno, which really was an honor. She has been a part of so many great composers' careers.
The Society of Composers and Lyricists is another organization that I have belonged to for many years. It's been a great space to meet and support fellow composers in the LA community.
As far as the wider film industry (not just music-related stuff), I love being a part of SAGindie and the IDA. which have both been excellent resources to connect with filmmakers. They have great events all year like screenings and Q&A's.
Having performed music alongside people like Liza Minnelli, Rufus Wainwright, and Justin Vivian Bond, did you learn any lessons from seeing them in action up close?
CP: Well my experience with Liza was one of the most incredible moments. I was touring with Sandra Bernhard at the time and music directing her shows, and we ended up doing a really big night in New York at Town Hall with Liza, Rufus, and Justin. Sandra and I ended up rehearsing with Liza in her New York apartment, and I remember feeling like, This is unreal. I was amazed by how focused and entertaining they were, even under pressure. It was a very fun time!
What's one piece of advice you'd offer to a low-budget filmmaker when it comes to the music of their film? (i.e. something that often gets overlooked or misunderstood when it comes to film music?)
CP: To really think about what they want to use their music for in a particular film. Don't just think of music as a filler, or as something that can string scenes together, or just as a way to fix transitions. What can the music add or do to the film to help tell the story? What are your favorite aspects of the story, and how can you manifest those aspects into something more powerful, more emotional, or more moving?
Do you have any upcoming projects you're excited about that you can share?
CP: I do — in three different mediums actually. There's Shadowmaker, a hybrid feature-length doc about Lotte Reiniger that I mentioned before. Also, there's a new album tentatively called So She Howls that I have been working on this year. And then the librettist Cory Hinkle and I are collaborating on a musical called Hurricane. I also have a new LGBT documentary coming my way in May that I'm excited about, and a meditative horror genre album coming soon too!
__
To learn more about Carla Patullo and her work, visit her website at carlapatullo.com.
SAGindie's Movies & Music program is designed to bridge the gap between the filmmaking and music worlds. For more Movies & Music content, click here. If you know of a film music professional we should profile, email blogadmin@sagindie.org for consideration.