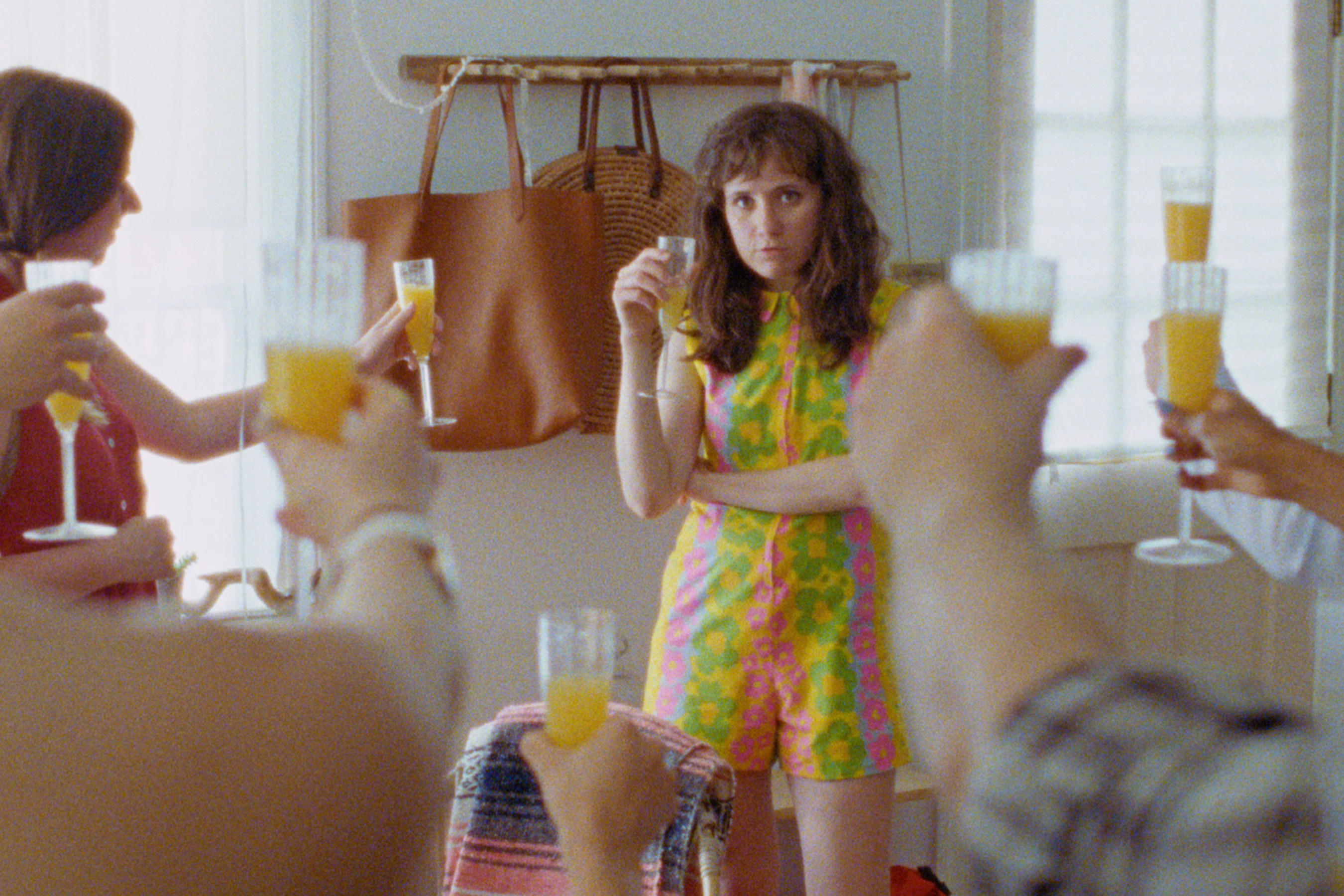 As a performer, NOËL WELLS knows her way around an ensemble. Her sketch and improv experience led to getting cast on Saturday Night Live for the 2013-2014 season. In 2015, she appeared as a regular in Aziz Ansari's Emmy-winning Netflix series Master of None, and she has popped up in the casts of independent films including Dreamland, The Incredible Jessica James, and Infinity Baby. But in the new film MR. ROOSEVELT, Noël Wells takes the lead. Not only as the star of the indie feature, but as its screenwriter, director, and executive producer as well.
Mr. Roosevelt finds Wells (in her directorial debut) as a struggling L.A. comedienne named Emily. The death of Emily's beloved cat Mr. Roosevelt sends her to Austin, Texas, where she's forced to stay with her ex-boyfriend Eric (Nick Thune) and his impossibly put-together new girlfriend Celeste (Britt Lower), for a visit that sends Emily a bit off the rails. The film premiered at the 2017 SXSW Film Festival, where Texas native Wells won the Louis Black "Lone Star" Award (as well as the Audience Award for Narrative Spotlight). The film went on to win Best Narrative Feature at BendFilm Festival, the Founders Prize for Best US Fiction Film at the Traverse City Film Festival, and a Grand Jury Prize at the Dallas International Film Festival.
Mr. Roosevelt is playing now in select theaters, and will be released in Los Angeles on November 17, and New York on November 22, via distributor Paladin. [UPDATE: Mr. Roosevelt is now available on Netflix.] We had the chance to speak with Noël Wells about making her first film.
——
COLIN McCORMACK: I wanted to ask about coming up with the character [of Emily]. I think some people would expect a comedian and SNL alum to write a big, broad comedic character as a star vehicle. What made you want to write this more grounded character for yourself?
NOËL WELLS: I think I just like things feeling a little bit more realistic. There's definitely a way to do broad characters, but I'm always looking for the real and the humanity of somebody. So if you have a big broad character, why are they acting that big and what is actually driving them? But to me, I still feel like Emily is a little bit of a cartoon of a person, but at the end of the day she's a girl and I think a lot of people know an Emily in their life. I think it's more relatable.
CM: Even if you're not involved in the entertainment industry, there are still elements of her that would be very relatable to viewers.
NW: Yeah, she's a person that is suffering from a lot of things people her age are suffering from. So even if you don't know what it's like to try and be a comedian, I'm sure you know what it's like to try to get hired at a magazine or try to become a doctor. Those people that do those things in real life, they're just normal people.
CM: You came up with the character first and then the plot?
NW: Yeah, I kind of started writing this character when I was in college. At the time the story was much different. She was still coming home, but she had a sister and her sister was pregnant and she was staying in the baby nursery over a year. So the idea of the character was still very much the same, which was sort of a self-absorbed, self-pitying person who thought that things would be a little bit different for her now and she hasn't grown up and is in an arrested development.
CM: The film kicks off with a really fun audition scene. What was the casting process like for you as the decision-maker in auditions?
NW: I really like doing auditions because I feel like [as] an actor, I really know how terrifying and inorganic auditioning is. I really let actors do it over and over again and try and get them to feel comfortable around me. We held lots of auditions for lots of the parts. Some people got parts because I had seen them do things before and I knew they could do these characters, but other people auditioned. I really enjoy casting. It's also interesting because being on the other side, you do start to understand that most of the casting process doesn't even have to do with whether you're good or bad, it's really just who fit this particular character. I think knowing that makes auditioning a little bit more fun personally, for me. For actors, you can come in and audition and you may not be right for the part, but if you do a great job I'm thinking about you. I'm like, Wow, that person was really great. Not right for this, but maybe I can write them a part in the future.
CM: Watching the film, I wondered if maybe the writing and casting of the Celeste character was one of the hardest ones. Because it seems you really had to balance the "hateability," whether it's just in Emily's head that she's this terrible person or whether she's going to be performed as someone who's annoying, or well-intentioned. How did that come about with casting Britt Lower?
NW: First of all, I think it helped that she had so much comedy experience. I think she went to college for dramatic acting then got into improv and started getting cast in comedic roles on television. So since she had that sense of what makes that character funny, she was always able to toe that line. And also as just a straight actress – I don't want to speak for her – she was always thinking of Celeste as a real person, never playing necessarily for the comedy or the drama. So that coupled with the writing, which was also toeing that line, and then you get to edit it in a certain way and the balancing act comes from all the pieces playing together.
CM: I'm sure you get asked a lot about improv, but I'm more curious about it because you were shooting on film. When you're shooting digitally, you have endless takes if you want to riff. As the performer and the director and shooting on film, was improv a [possibility]?
NW: The movie was very tightly scripted and most of the people doing the movie liked the script, so it was very easy to just do the scripted scenes first. But everybody in the movie had comedic backgrounds, so there was no part of me ever thinking, Hey, you have to say the lines exactly as I've written them! So, often times people would change in the moment how they said something; or the way the words were originally written, they would put it into their own words, or they would give a button to the scene. And I think that was just the right amount of improv. Sometimes you do shoots where people expect you to improvise everything, and as an actor that becomes a burden because you don't get to actually play with the character. You're worried about whether you're going to say the funniest thing that's going to elevate it. So we were already starting from a place where we knew what we were doing, then it just sort of happened naturally. Most of the movie was scripted, but some of my absolute favorite things in the movie were actually spontaneous and improvised.
CM: You were living with the character for so long – like you said, you started writing her when you were in college. How were you able to stay passionate and stay fresh once you finally got to set and it was time to make her a reality?
NW: That was kind of the fun. She evolved through the whole process. I wrote her in a certain way; I always imagined her to be something and then when I started acting it, it's sort of like when you cast people for the roles, they necessarily change the character you had in your mind. I had written the character, and when I started performing her and was with the other actors, she started changing. You just kind of have to roll with it. I think if I had been militant about how she was coming out it would have been a much more frustrating process. I always imagined her to be maybe a little more sardonic and a little bit more biting [laughs]. And through editing, and maybe because I was directing at the same time, she didn't come out the way I thought she would. But I think it worked out for the best.
CM: I also was curious about how you and your art department decorated Celeste's house. When she's described as a "Pinterest board come to life," how do you make that real without spending your entire budget at Anthropologie or something?
NW: We had no budget for that part, and it was a really big concern. So we all knew we'd have to find a house that was basically already decorated like that. We did a bunch of location scouting, and then a friend of mine posted a picture of himself with an interior decorator in her house and it was beautiful. I was like, Holy crap, that has to be Celeste's house. It is so perfect! We contacted her and she agreed to let us film in her house. Her name is Claire Zinnecker. She's like Celeste in that she made everything in the house. She's this powerhouse, like, How do you exist? You're too amazing. And not only that, she was so nice.
CM: When you decided to shoot on film, were there potential financiers or other people trying to steer you towards digital, or was everyone pretty much on board with your vision from the get-go?
NW: I didn't know how they would react to it. My producers were Beachside, and they like supporting first-time filmmakers and I think they're in the business to help them and nurture them. And so when I presented it to them I think everyone was a bit wary, but they had all seen my film photography and they understood why it was so important. Then my cinematographer Dagmar Weaver-Madsen also started really championing the idea of film and everybody just put their heads together. [We] looked at the numbers, we figured we could make it work, and we all made it work. It was really crazy. It was a very cool thing that everybody jumped into the whole idea and got on board with it.
CM: Kodak has been more proactive in doing outreach to independent filmmakers as well, right?
NW: Yes, and we couldn't have done it without Kodak working with us and helping us make it financially viable. They've been supporting us from the beginning of the film. We also worked with Cinelicious, who helped with the post process, and FotoKem. Everybody was doing their best to make this a viable option for our budget level.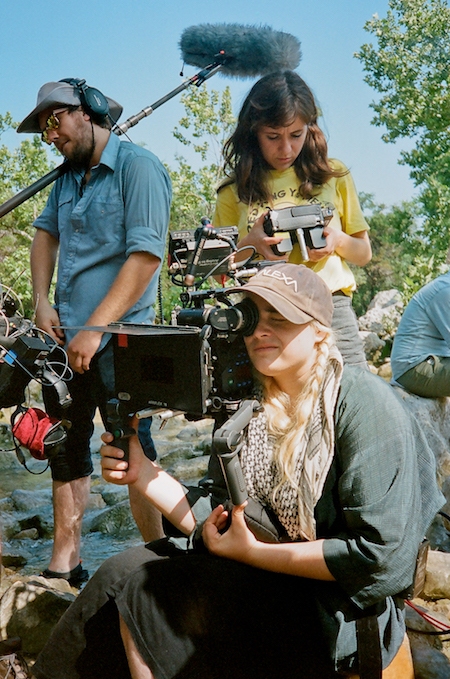 CM: Could you describe what the first day on set was like for you? You'd made a lot of internet videos and you'd been cast in other people's shows and movies, but what was it like stepping onto set as the writer and director and star of the film?
NW: I've always been really bad at call sheets. So I went straight to set, since I was the director. But then I was also the actor, so I was supposed to go to base camp. So my first day I showed up on set and I was looking at what everybody was doing, and I [asked], "Where am I supposed to be getting dressed at?" Everybody was like, "Not here!" I was like, Oh crap, I did this all wrong! So that was very funny and also realizing I am literally in two places this entire shoot. It was complicated, it was hard, I didn't know exactly how to give orders or tell people what I wanted, and by the end of the day when we started shooting scenes in the bedroom with me and Nick, it started to come together. But yeah, it was definitely a little bit of a rocky first day [laughs].
CM: How many days did you guys shoot?
NW: We shot 20 days in Austin and two days in L.A.
CM: L.A. and Austin are both very big but very different filmmaking hubs. What was the difference for you in shooting between the two cities?
NW: The biggest thing that I noticed was that Austin is a little bit more laid-back. I think in L.A. everything is bound to business, and Austin is just a little more laid-back and it's more communal. They both have their pros and their cons. When you're running out of time, it's great to have people that are just rushing through things, but then if you want to have more of a communal and family experience, I think there is something of a middle-ground to be had in both places.
CM: Filming in Austin, which is such a music-centric town, was there extra pressure that you would have to have great music for the film?
NW: [Laughs] No, I wanted to have good music in the film because I like music. It was really cool, a lot of the songs I had-– before we started filming, I had made this whole playlist for the film. I had songs in my mind, like, Oh if we could get this song, this should play in a scene. And I think we got like four of them, so it worked out great.
CM: And in terms of the score, did that come into play after, or was some of that pre-existing music as well?
NW: All of the score was scored by Ryan Miller. The only thing that I ever had in mind was in certain scenes with Emily and Celeste, I always wanted it to feel a little Rosemary's Baby-ish. Even though we didn't have the score beforehand, if I ever wanted to get in the mood or just remind myself, I would just listen to the soundtrack of Rosemary's Baby. And also any of the scenes where Emily is having her flights of fancy, where she's having a moment – when she's dancing in the apartment or she's riding her bike – I always wanted it to feel like a Steven Spielberg Amblin vibe. As though it's this big adventure, and then I always knew that it would get cut-off. So I'd always listen to the soundtrack from E.T., and she would feel [big] and then she'd get chopped off at the legs. Those were the notes that I went in with the composer. He ran with that and did his own stuff.
CM: I also wanted to ask about the opening credits, which I loved. It seems like that's probably way more labor-intensive than most viewers watching would think?
NW: The opening credits are my favorite, they were created by Teddy Blanks. He used pictures I had taken while I was in Austin, and he had this idea to cut out circles in the images and we combined that with a stop-motion aesthetic loosely based on some animations I did in college. We both wanted it to feel "home-made," but he streamlined the process digitally, so while he used real elements and paper, it was mostly animated on a computer.
CM: What was the editing process like for you? Were you used to editing your own performances because of the internet videos you'd made before, or was it still a weird experience? I've talked to other actor-directors who sort of have to power through their cringing of watching themselves blown up [on screen] for hours and hours of the day.
NW: I've been editing my own things for a long time so I'm used to just being like, Ugh, I hate the way that I look and I hate that I'm messing all this up, but I gotta just do this. [Laughs] The only hard part of this process was it was the first time of me working with another editor. I worked with Terel Gibson. He was editing, so it was hard for me only in the sense that if I wanted something, instead of just doing it myself I had to find a way to articulate it to him. But we just got into a really good pattern and the way I would keep it un-personal and not beat myself up and be able to show up every day working on this movie – because I'm looking at my failures as an actor and as a director – was [to] separate out the person who was doing the acting. I would just be like, "Why are you doing that?" Instead of, "Why did I do that?"
CM: Was it always the dream to premiere it at SXSW?
NW: My only plan ever was that I hoped audiences would get to see the movie. So I didn't really plan that, no. The timing worked out great and they gave us such a great showcase, so it feels likes, Yes, that is always where we were destined to go, but there was no forethought in that.
CM: Did you intern or work for SXSW when you were in college?
NW: No.
CM: Maybe I'd read you were there – because one of your famous impersonations on SNL was Lena Dunham, and I'd read something that you sort of thought when Tiny Furniture came out [at SXSW, where it won two awards], there was only room for one and she took [your] "spot," and that set you back a little.
NW: Oh yeah. I was in college working in this computer lab where I was like an A.V. technician. People would work on their computers and if they needed help troubleshooting a program or their computer or their hard drive, I was the one that would help them. And I remember I was at my desk and the news came out. I was 23 and [the news] was like, A 23-year-old has won SXSW! It was a movie she wrote! And directed! And it was about her [character] after college, and I had basically been working on that movie – my version – and I was like, Well, she did it. [Laughs] That's just because I didn't have a lot of self-confidence and perspective. And then I saw the movie and obviously, it's so much different than anything I would ever make.
CM: For sure. And I do wonder– I'm just going to venture a guess that most male filmmakers don't see someone else succeed and think, Oh well, there goes my shot. There's only room for one.
NW: Oh no, not at all. I think they're like, I can't wait to beat him! [Laughs] Just as a human being who's decided to be creative, for most people that's not an easy thing to think that you're allowed to do. And on top of that, not having a lot of support as a woman growing up, or anybody around me saying that was possible or even an option – that does make it complicated. But I think, as we're seeing, more and more people are doing it and people are now being encouraged to support women and treat them like they're capable of doing these things, even though they've always been capable.
CM: Who were some of your favorite filmmakers growing up? Either as a kid or when you were studying film, who did you take inspiration from?
NW: When I was a kid I loved the Coen Brothers and I loved the Farrelly Brothers. When I went to college I was really into Stanley Kubrick, and I started watching really good Woody Allen movies. Now I really love Mike Mills and I love Noah Baumbach. It's hard because for some reason I never thought I could idolize people. So if anything, those are my favorite movies but I never really thought about the filmmaker.
CM: What are you working on next? Do you have things lined up more on the acting side or are you working on your next writing or directing projects?
NW: It's always just sort of all happening. I don't have any immediate things that I'm acting in, but I'm going back out. I don't have anything that's finished that I'm writing, but I'm writing on a couple things. For the most part, I'm still working on Mr. Roosevelt. It's an indie film and it's still just such a small operation, so if I wasn't doing it, probably nothing would be happening with it. I mean, everybody's working on it, but you know what I mean – it's still such a labor of love.
CM: How has the rollout been for you? Do you think that since you have a following from your online videos, do you think will help leverage some eyeballs toward the film hopefully?
NW: I don't know. I think that's yet to be seen. I feel like when I started making the movie two years ago, nobody was paying any attention to it. I remember it felt like nobody really thought that I was really making a movie [laughs]. And now that I made the movie, people are like, Oh! She actually made a movie! If that makes any sense.
CM: Is that resulting in meetings or more inquiries of, "Hey, what's next?" Are people maybe now approaching you or seeing you as, Yes, she's a director. She has a film. It's coming out. It's a reality?
NW: Yeah, I think now if I want to make my second film it's going to be like, Okay, but when do you want to? I think it's going to be that much easier. Before this first movie, it was like, Is it going to happen? Is it possible? I think the next movie will be like, When is the script going to be done and how soon can we shoot it?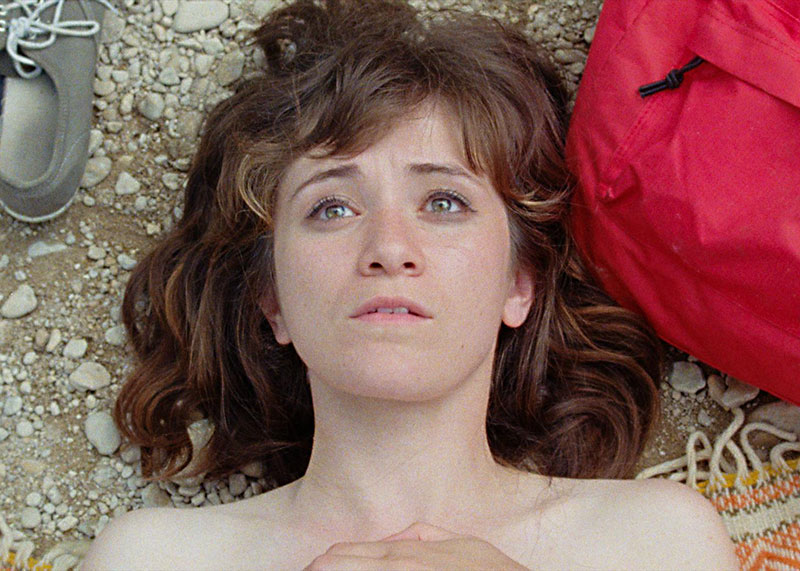 __
Learn more about MR. ROOSEVELT at mr-roosevelt.com, follow the film on Facebook, or follow Noël on Twitter at @RealTomHankz.
If you're an independent filmmaker or know of an independent film-related topic we should write about, email blogadmin@sagindie.org for consideration.