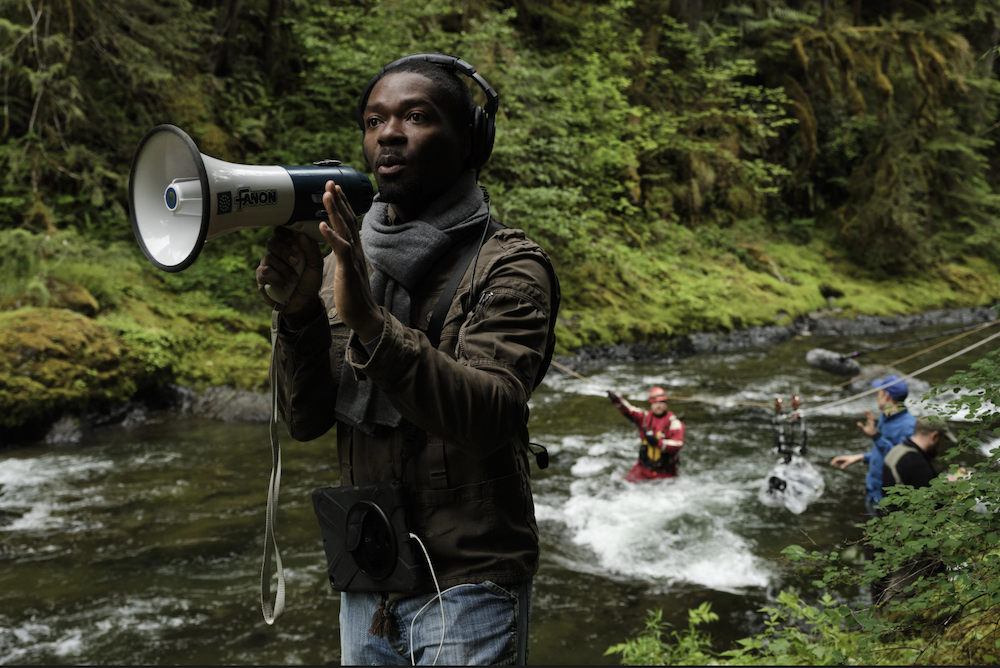 As far as acting résumés go, they rarely get more impressive than the one belonging to DAVID OYELOWO. A Golden Globe, BAFTA, Emmy, and SAG Award-nominated actor – not to mention an Officer of the Order of the British Empire (OBE) – he has worked with some of Hollywood's most notable directors, including Steven Spielberg, Christopher Nolan, Lee Daniels, Mira Nair, Anthony Minghella, and Ava DuVernay. Beginning his career on the stage with the Royal Shakespeare Company, Oyelowo has starred in everything from Oscar-winning biopics (Last King of Scotland, Lincoln, Selma) to low-budget indies (Middle of Nowhere, Nightingale, Five Nights in Maine) to VFX-heavy blockbusters (Rise of the Planet of the Apes, Interstellar, The Cloverfield Paradox).
With this array of experience, Oyelowo certainly has the knowledge to expand his talents into new filmmaking territories, which he did when he began producing back in 2014. He's now undertaken a new endeavor with his feature debut as a director, THE WATER MAN. The family adventure film – about a boy's fantastical journey into the Oregon wilderness to save his ill mother – premiered at the 2020 Toronto International Film Festival. Starring alongside Oyelowo are screen veterans Rosario Dawson, Maria Bello, and Alfred Molina, as well as young talents Amiah Miller and Lonnie Chavis.
Executive produced by Oyelowo's The Butler and Selma co-star Oprah Winfrey, The Water Man will be released in theaters on May 7, courtesy of RLJE Films. [UPDATE: You can now stream the film on Netflix and Hoopla.] We were lucky enough to speak with actor/director/producer David Oyelowo about his new film and his impressive career in front of – and now behind – the camera.
——
COLIN McCORMACK: How did The Water Man first land on your radar? Did it come to you as an acting project or a directing project [first]?
DAVID OYELOWO: It came to me partly because I was looking for something like it. I had grown up loving films like E.T. and The Goonies and found myself scratching my head why I was struggling to find films of that nature for my kids now that I had become a father myself. When The Water Man came onto the Black List in 2015 as an unproduced screenplay that was up for grabs, I jumped all over it. But at that stage, it was more as a producer – because as a producer you can bring things to fruition – and I really wanted to play the father to the character that Lonnie plays in the film, Gunner. As the years went on and we continued to develop the project, we actually got a director and then lost our director just before we were about to get the green light to go. So I kind of jumped into the director's seat out of necessity, really.
CM: You had directed a short film before. How different or similar was your experience directing that versus jumping into a feature?
DO: Quite different from a short film – the obvious difference being it's less time, money, and work because it was a shorter film. But [it was] the ambition of The Water Man, as well. This has kids in it, which my short film Big Guy didn't have. It has animals. It has very, very treacherous terrain in the forest. It has VFX. It has so many components I hadn't yet had the opportunity to be the driver for when it came to a film, so the difficulty quotient went up quite a bit.
CM: Yeah, this definitely wasn't one of those "two characters in one room talking" type of directorial debut.
DO: No! Which is what we're used to seeing. I honestly think if I hadn't had this unexpected opportunity to direct it, maybe I would have understandably gone for something a little smaller, less ambitious, and more manageable. But the truth is, I've had the kind of career as an actor where I've been on a bunch of sets, I have done movies that have relied heavily on VFX and I've done bigger movies with bigger budgets. I've worked with kids on films like Don't Let Go, Come Away, and Queen of Katwe, two of those films I produced myself. So I did have bits of experience, all of which definitely came in handy for The Water Man itself.
CM: In hindsight, do you think that the quickness with which you had to jump in and fill in for the director was a blessing, where you didn't have months or years of overanalyzing, prepping, or trying to hype yourself up or maybe psych yourself out?
DO: Yeah, that's a good question because I think maybe if I'd had too much time to consider it, I may have second-guessed myself and not jumped in. You know, the film is also at a budget level that is not the norm for a first-time film and that's a lot of responsibility. But I literally had a two-week window to make a decision, because if I didn't we were going to lose Lonnie for the window we had him because he does the TV show This Is Us. So I didn't have much time to think about it. There is definitely something to be said for feeling the fear and doing it anyway. And I can definitely say on this side of the experience that I'm very, very glad I took the plunge.
CM: When I talk to actors who turned to directing, I obviously like to hear the lessons they learned from directors they've worked with. One interesting thing about your career is you have worked with a handful of other actor-directors (George Clooney, Nate Parker, Kenneth Branagh). Is there anything you've learned from those multi-hyphenates in particular?
DO: Yeah, I have learned and seen that it takes a very specific kind of individual to do that. I think you have to have a little bit of crazy in you, if I'm totally honest [laughs]. It is definitely not for everyone. But there are also things that really help you in that endeavor. I spoke to Nate Parker, I spoke to Mel Gibson. I actually shot The Midnight Sky with George Clooney after [The Water Man]. And I had done As You Like It with Kenneth Branagh, and that's actually where I met Alfred Molina for the first time. In talking to Nate Parker and Mel Gibson and Joel Edgerton, who I talked to as well – all of who have directed brilliantly on films they were also in – they all gave me great bits of advice. I think the common piece of advice is, especially when it's your first film, you should be the only novice on that set; make sure everyone else is very adept and experienced at what they do. Make sure you communicate your vision to them in a very clear way and then empower them to take flight; let them make you look good by taking your vision and combining it with their experience. Don't try and micromanage them because the fact of the matter is they know more about what they're doing than you know about what you're doing. So I think being an actor-director, especially when it's your first film, does require an element of humility.
CM: And any director has to lean on their collaborators, but even more so when you simultaneously have to be in front of the camera as one of the actors. How did you assemble that team of crew and the people you'd be relying on?
DO: Well, one of the best decisions I made was that I made sure to have my wife [Jessica Oyelowo] there with me. She knows me better than anyone and one of the things I was concerned about was I would be so preoccupied with everything else that has to go right with the film that my performance might end up being one of the weakest parts of the film because I was so distracted. So I had her there. I also had brilliant producers in the form of Carla Gardini and Monica Levinson as well, just to keep an eye on my performance. Prep was the other thing. I really focused heavily on prep with my cinematographer [Matthew J. Lloyd] and with my production designer [Laurence Bennett]. We rehearsed for a couple of weeks before we started shooting so that it just took a little bit of pressure off the day and gave me enough headspace to make sure my performance was okay and also have the space to react to any unforeseen elements, which of course on a film set there are every single day.
CM: Speaking of performances, what was the casting process like for you? It's always interesting to hear how an actor approaches casting from the other side of things.
DO: Well, Lonnie we already had from the director who left the project. But I had a really incredible experience casting this film. Like I said, Alfred Molina I had worked with on As You Like It, but he had also starred in my first real toe-dip into directing, which was the short film Big Guy. Then he had also been in a film I produced and starred in as well called Don't Let Go, so I knew him very well. He found out I was going to be doing this and I remember speaking to him on the phone and him saying, "Well, do you have need of a fat Italian to stand in a doorway?" [Laughs] And I said, "Okay, well I have no fat Italians in this film but I do have a quirky character you might be interested in." And that's how he became Jim Bussey. Rosario Dawson I had met at an awards thing and she had expressed how much of a fan of mine she was, which was a very nice thing to hear. She had always been someone I thought would be great in this role. There's a sort of light that she brings that this role really needs in order for us to understand why Gunner, the character that Lonnie plays, why he's so intent on saving his mother. So she was a brilliant, brilliant addition to the cast. Then Maria Bello I met at the Sundance Film Festival. We just got to talking at an event and I told her I was about to direct a film and she said, "Look, I like the things you put into the world. I want to be in your movie." I said, "Well, I have no role for you, I'm afraid." And she said, "Listen, I want to be in your movie." So when Maria Bello wants to be in your movie, you just have to figure it out and so I changed the sheriff role from a male character to a female character and that's how Maria came to be in it. And then my wife Jessica plays the bookseller in the film and it wasn't too difficult to persuade her to be in the film as well.
CM: You mentioned you've worked on some projects with child actors before. What was your approach to directing the child actors? Was it all that different from how you were directing the other adults?
DO: I've been incredibly fortunate with the films I've done with children actors. You have someone as brilliant as Storm Reid in a film like Don't Let Go. In Queen of Katwe, those kids from that Ugandan slum were not actors but Mira Nair put them through a few months of acting boot camp and there's a freshness and an openness that they have by virtue of not being professional actors. That's something that I'm always looking for. Sometimes you get child actors who are so rehearsed and so well-trained that that childlike element has almost been trained out of them. The thing that was really amazing about Lonnie and Amiah is that not only were they very technically proficient and they already had experience as actors, but they were 11 and 13 at the time we shot this film and you completely believe them as those ages. Sometimes kids have had so much experience being professional actors that you almost can't believe that they're the age they are. That was absolutely necessitous because you needed – especially with Lonnie's character – for him to be young enough that he could believe in the Water Man but old enough that he was able to go out into the forest with this girl and go on this adventure. That's why I had to jump in and direct it in that timeframe because we knew in six months, a year, Lonnie wouldn't be able to play the role anymore. What you're really looking for in kids, especially in a film like this, is a high level of emotional intelligence. Sometimes family films that have kids in them talk down to the audience, they talk down to the young actors in it. I wanted to create a film where they were dealing with real-life themes and situations but there was also a space for magic and fantasy.
CM: Given your career and the number of projects you've worked on as an actor, at the end of the day was there still something that surprised you about directing a feature?
DO: I think the thing that threw me – I wouldn't say it surprised me – was how tricky it was sometimes when I would have, say, the morning [where] I wasn't on camera myself, I would really get into the groove of directing and then suddenly the costume designer would come up to me with my costume. And I had to get in a little tent that they set up for me by the monitors and change and then suddenly be in the movie. That was really quite a schizophrenic situation. And if I'm totally honest, I enjoyed more the days where I could just focus on the directing, especially as it was a new muscle I was flexing in a sense. It was the one I was really enjoying, being a part of every aspect of the storytelling. So that was sort of an unexpectedly shocking part of the process, those days where I would hit my [directing] stride and then suddenly had to be in the movie as well.
CM: To wrap things up, as an actor or as a new director, what's next for you?
DO: Directing-wise, I'm going to wait and be very picky about the next thing because the reality is when you direct a movie you end up spending a lot of time with it, so it must be something you're passionate about. Thankfully, I'm blessed to have a day job as an actor and I really love doing that and I love the ability to go from project to project. So I'm focusing on the acting right now, but also producing. The Water Man was the sixth film I've produced. I just did another one – the one with Nate Parker – called Solitary, which he directed and I produced and I star in. I think producing, writing, directing, acting, I just love every aspect of storytelling. I have Peter Rabbit 2 coming out in June. I'm currently shooting a thing for HBO Max and the BBC called The Girl Before with Gugu Mbatha-Raw, so I'm here in the U.K. doing that. I'm just keeping busy telling stories.
__
A big thanks to David Oyelowo for talking with us about THE WATER MAN! Learn more about the film at thewatermanmovie.com.

If you're an independent filmmaker or know of an independent film-related topic we should write about, email blogadmin@sagindie.org for consideration.