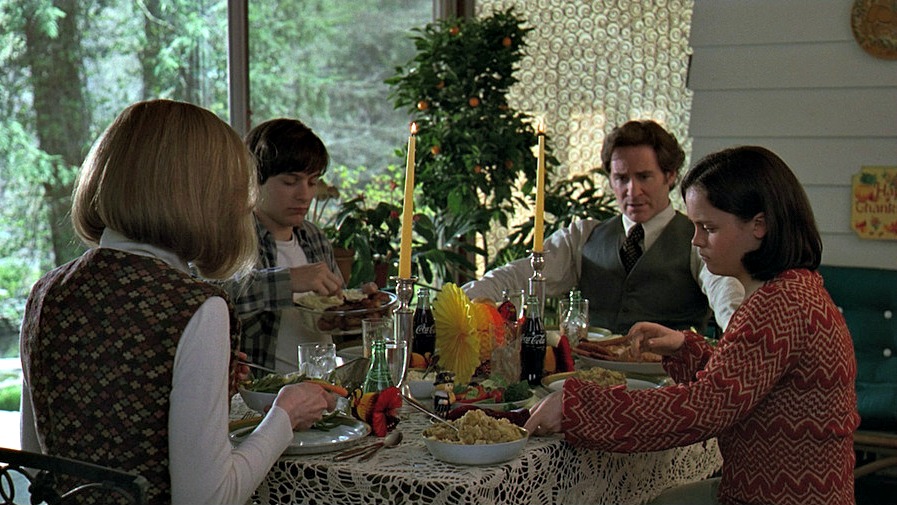 [UPDATED 11/21/17]

It's easy to forget judging by retail store decorations, but there is actually a stretch of time in between Halloween and Christmas. The greeting cards may not be as clever and the animated TV specials are a little less abundant, but Thanksgiving is that special time of year where Americans are able (no, expected) to gather with loved ones, eat more food than we should, watch football even if you're not a fan, and – of course – give thanks.
While it doesn't need to be late-November for us to be thankful for indie films, those always seem to land pretty high on our list this time of year. So if you're looking for a movie to add into your own Thanksgiving Day tradition, we have some ideas for you…


If holidays are about spending time with family, Krisha takes that theme and runs with it. The production was a real family affair for writer/director/actor Trey Edward Shults, whose mother, aunts, and grandmother all co-star as his family members in the micro-budget Spirit Award-winning film. Krisha centers on a woman battling past addictions during a Thanksgiving family reunion. And if there's anything that threatens to ruin even the most well-seasoned turkey, it's a drunk aunt and decades of pent-up familial animosity.
Actor/filmmaker Peter Bogdanovich plays a loaded (money-wise and booze-wise) family patriarch in another Thanksgiving family reunion ('tis the season, no?), with Cheryl Hines as his second wife and three grown children (Alicia Witt, Sonya Walger, and Ashton Holmes) who have descended upon his Pasadena home hoping for a cut of Poppy's money. Written and directed by Will Slocombe, the film weaves together family dysfunction, political commentary, good old-fashioned greed, and (of course) a Turkey Day feast.
Katie Holmes is the family outcast who decides to host her suburban parents (Patricia Clarkson and Oliver Platt) and siblings (John Gallagher Jr. and Alison Pill) along with her boyfriend (Derek Luke) for a New York City Thanksgiving. Only family angst, wacky neighbors, and an impossibly-small kitchen stand in her way of proving to her parents that she's doing just fine on her own. For any twentysomething who has struggled to defrost their first turkey (that shit takes FOREVER), this is the Thanksgiving movie for you.
Possibly the melting-pottiest Thanksgiving movie ever, following various families of Latino, Vietnamese, Jewish, and African American descent as they prepare a holiday meal with their own cultural twists. The film features an ensemble cast of powerhouse actresses (Alfre Woodard, Julianna Margulies, Kyra Sedgwick, Joan Chen, Mercedes Ruehl, Lainie Kazan), and along with a female British-Indian director (Gurinder Chadha) and a Japanese-Basques-American co-writer (Paul Mayeda Berges), it's got a little more flavor than your average, white bread Thanksgiving movie.
Ang Lee's look into the lives of husbands, wives, children, and neighbors over Thanksgiving weekend in 1973 suburban Connecticut. An all-star cast (including Kevin Kline, Sigourney Weaver, Joan Allen, Tobey Maguire, Christina Ricci, Elijah Wood, Allison Janney, and Katie Holmes) shines and the neighborhood drama unfolds with extramarital affairs, key parties, teen sex, family tragedy, Watergate, and bell-bottoms. And don't miss Ricci's dinner prayer – her best Thanksgiving-themed rebellion since Addams Family Values.
Parker Posey stars as the off-kilter Jackie-O who, when not obsessing over the Kennedy assassination, is obsessing over her twin brother Marty (Josh Hamilton). So Jackie is not too pleased when Marty brings his new fiancée (Tori Spelling) home for Thanksgiving to meet the family. And what a gloriously demented family it turns out to be. Director Mark Waters offers a dark and stormy comedy (based on Wendy MacLeod's play) for all the twisted pairs of siblings out there, who always seemed a little too close…
1997 was a big year for Thanksgiving-set indie films about dysfunctional New England families. And like The Ice Storm and The House of Yes, Sundance '97 hit The Myth of Fingerprints has a standout cast, led by Blythe Danner and Roy Scheider (who snagged an Independent Spirit Award nomination for his performance) and a who's-who of familiar faces like Julianne Moore, Hope Davis, Noah Wyle, Michael Vartan, and James Le Gros. Produced by James Schamus, the film was the first feature for its 26-year-old director Bart Freundlich (the future Mr. Julianne Moore).
The low-budget hit that put Spike Lee on the map, about Nola Darling (Tracy Camilla Johns) and her three boyfriends: Nice guy Jamie (Tommy Redmond Hicks), vain and cocky Greer (John Terrell), and motormouth Mars Blackmon (Lee). Struggling to commit to just one guy, things come to a head in a memorable sequence where Nola invites all three men over for Thanksgiving dinner, where they boast and bicker to see who will win out in the end. Keeping in line with the consumerism that kicks off after Thanksgiving, Lee spent the next few years reprising his Mars Blackmon character as a commercial spokesman for Nike Air Jordans. In 2017, Lee remade the film as a Netflix series, with a release date of (you guessed it) Thanksgiving Day.
A hitchhiking hippie (Arlo Guthrie) and his buddies catch hell for littering on Thanksgiving in the movie adaptation of Guthrie's 18-minute-long hit folk song (which itself was based on a real incident). What starts as an innocent, all-are-welcome holiday feast at Alice's commune-like restaurant devolves into a battle between the establishment and the counterculture, from director Arthur Penn (who brought some counterculture to the mainstream with his previous film Bonnie and Clyde). Guthrie's nemesis, Police Chief William "Obie" Obanhein appears in the film as himself, the actual officer who arrested Guthrie for littering on Thanksgiving Day in 1965.
WHAT INDIE FILMS ARE YOU THANKFUL FOR THIS YEAR?
——
If you're an independent filmmaker or know of an independent film-related topic we should write about, email blogadmin@sagindie.org for consideration.