We all live busy lives and it can be tough to hunker down and skim the internet for must-read articles about filmmaking and the movie industry. Luckily, we've done the work to narrow down some of the week's good reads. So please peruse at your leisure.
This Week's Good Reads (Week of April 29, 2019)
Breaking Ground: A brief history of Film at Lincoln Center via legendary programmer Amos Vogel (via Amos Vogel for Film Comment)
Happy 50th, Film at Lincoln Center!
Boyz N the Hood Producer Stephanie Allain on John Singleton: 'He Changed History' (via Stephanie Allain for Variety)
A remembrance of the groundbreaking writer/director from the producer who gave him a shot.
"In the Advanced Portion of the Class, We'll Set You on Fire": Stunt School at Age 33 (via Kim Constantinesco for Filmmaker Magazine)
A stunt performer takes us to school.
Who Can Play What Roles Now? 10 Top Decision-Makers On the Politics of Casting in Hollywood (via The Hollywood Reporter)
Industry creatives talk casting, color, abilities, and more.
How a 19-Year-Old From New Orleans Made the Most Exciting Black Film So Far This Year (via Tambay Obenson for IndieWire)
Meet breakout filmmaker Phillip Youmans, who made his Tribeca Award-winning film while still in high school.
Sex, Drugs, Redemption and Filmmaking: A Candid Conversation With Abel Ferrara (via David Fear for Rolling Stone)
Catching up with the notorious (and very busy!) director behind Ms. 45 and Bad Lieutenant.
In case you were ignoring us (aka blatant self-promotion)
Film Independent Forum 2019 Highlights
See video clips from the filmmaker forum (where SAGindie returned as a sponsor).
Tribeca Film Festival 2019 Winners
See who won big at the NYC fest this year.
New Releases
Movies from our May Movie Picks out this week:
A video worth watching
If you couldn't make it to our most recent Movies & Music event, watch the full video of a director-composer collaboration discussion from women in the industry (via SAG-AFTRA Foundation)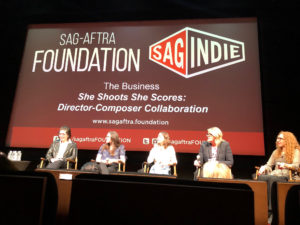 How 'bout you? Read anything good this week?
——
If you're an independent filmmaker or know of an independent film-related topic we should write about, email blogadmin@sagindie.org for consideration.