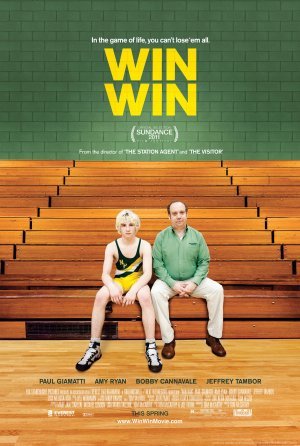 WIN WIN played at the 2011 Sundance Film Festival as a Fox Searchlight non-competition premiere. Paul Giamatti stars in this dramedy as family man Mike Flaherty. Flaherty runs a failing elder law practice, has two young girls, a loving, practical wife (Amy Ryan, The Office, Gone Baby Gone), and he coaches the unimpressive local high school wrestling team. His doctor recently told him to exercise as a form of stress relief, but, with money troubles piling up, and the future for himself and his family hanging in the balance, his worries increase. After enduring a panic attack while jogging with friend Terry Delfino (Bobby Cannavale, Will & Grace, The Other Guys), Flaherty knows something's gotta give; so, when an opportunity presents itself for Flaherty to cheat the legal system in order to benefit himself, he jumps at the chance. Writer and director Thomas McCarthy (The Visitor, The Station Agent) wrote this heartwarming film that proves that some filmmakers still put their story and its characters above all else.
At the start of the film, Flaherty represents old man Leo Poplar (Burt Young, Rocky) in a lawsuit against the state of New Jersey. Leo needs a guardian in order to continue living alone; otherwise, he will be placed in an old folks' home, which Leo does not want. A little out of touch, Leo cannot follow the legal proceedings very well, and Flaherty takes this opportunity to name himself as Leo's guardian, cash in on the government's assistance checks, and still place Leo in a home. Flaherty believes Leo will hardly notice the difference between his real home and the old folks' home, and no one, including the state, will be the wiser. Leo's grandson Kyle (newcomer Alex Shaffer) unknowingly enhances this idea when he shows up on the steps of Leo's old house, looking to live with his grandfather.
Flaherty has no choice but to bring Kyle to his own home and sort out Kyle's family drama. Kyle hints that he ran away from an absent and drug addicted mom and her loser boyfriend. This complication seems to make matters worse until Kyle accompanies Flaherty to wrestling practice. Kyle unwittingly shows off his outstanding wrestling skills (Shaffer is a successful high school wrestler in real life), and Flaherty uncovers an interesting fact about Kyle's past: he used to rank at the state level before he quit wrestling at his old school. In this new environment, however, Kyle's ready to take it up again. Flaherty is overjoyed, more money in his pocket and the solution to his team's dismal record. This truly is a win-win situation.
By throwing a wrench into the normative daily activities of the Flaherty household, Kyle's presence slowly affects the family for the better. Flaherty, a man who never was a bad person, just a good man who got a little selfish, warms up to Kyle and spends a good portion of the film digesting the choice that he has already made. But, Flaherty cannot undo what he has done, and, when it comes time, he will have to choose between money, possible disbarment, the abandonment of his family, and doing what is morally right. This film has a wonderfully light cadence that moves with grace to its inevitable, but not overly, predictable conclusion. Peppered with fun jokes and brilliant performances that are a pleasure to watch (notably Giamatti, Cannavale, and Shaffer), the overall result is a thoroughly enjoyable film. Win Win is a family-oriented dramedy that reflects modern family troubles: money, working through a recession, and not forgetting the important stuff amongst all of life's stressors, which can be a tough thing to do. This film is a reminder to take a step back and appreciate what you have.
Win Win is finally available for internet or dvd rental!
—–
In addition to her duties at SAGIndie, Ellen Tremiti is also a Contributor for Fanboy Comics, an independent comic book publishing company based in Los Angeles, CA. For more interviews, blogs, and reviews by Ellen and the FBC staff, check out the Fanboy Comics website or sign up for the e-newsletter, The Fanboy Scoop, by emailing subscribe@fanboycomics.net.