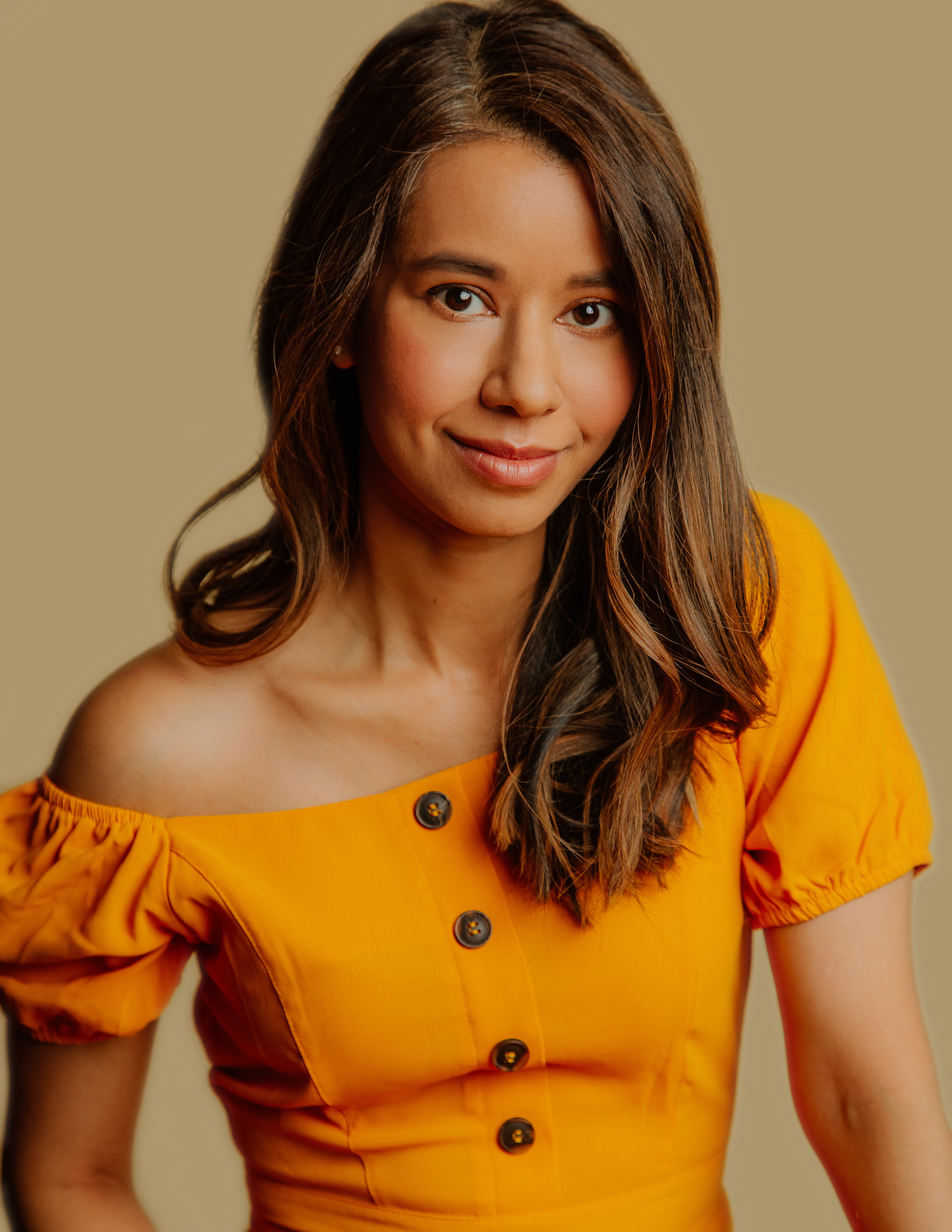 In an industry rife with gatekeeping, actor/filmmaker SUJATA DAY took the reins of her career by collaborating with like-minded artists and creating her own content. Acting professionally since the early aughts, Day's career got a jumpstart with the rise of New Media in the 2010s. With starring roles in the seminal web series The Misadventures of Awkward Black Girl (from Issa Rae) and The Guild (from Felicia Day, no relation), Sujata joined a new generation of creators bringing their stories to the screen on their own terms.
As her on-camera work continued – including a recurring part on HBO's Insecure – Day nourished her pursuits behind the camera as well, developing projects for Charles King's MACRO and Issa Rae's Color Creative. Her 2017 short film Cowboy & Indian sold to Universal for series development, and Day was selected as a Sundance Lab Screenwriting Fellow, Sundance Film Festival Influencer, and HBO Visionaries Ambassador.
All this led to her feature directorial debut, DEFINITION PLEASE. Day stars in the dramedy as Monica, a former child spelling bee champ caring for her sick mother (Anna Khaja), whose routine is upended by the unexpected arrival of her estranged brother (Ritesh Rajan). Co-starring Jake Choi, Lalaine, Parvesh Cheena, and LeVar Burton, the film premiered at the 2020 Bentonville Film Festival before a festival tour including CAAMFest (where it won the Best Narrative Jury Prize) and the Los Angeles Asian Pacific Film Festival (where Day won a Special Jury Prize for Fresh Narrative Voice). Picked up for distribution by Ava DuVernay's ARRAY, Definition Please arrives on Netflix on January 21. Sujata Day was kind enough to talk to us about her filmmaking and acting careers and what led to her newest feature.
——
COLIN McCORMACK: Growing up, was acting the main passion, or was writing and directing always something you wanted to pursue as well?
SUJATA DAY: Performing was my passion. As a kid, I took dance classes, I took voice lessons. All throughout middle school and high school, I was acting in our school plays and musicals. I was also an avid reader, so along with that, I would write my own short stories and would write songs. I don't think I was aware of screenplays in general, so that's not what I was writing at the time, it was more prose. When I went to college, I majored in engineering and graduated with my engineering degree but in the meantime, I was also once again acting in plays and musicals. That's where I actually took one semester of screenwriting and one semester of playwriting and really fell in love with both of those forms of writing. That's where I started focusing on honing my stories to a script format.
CM: It seems like your career took a different type of turn when the "new media" space started blowing up. You were a part of two web series that really left a mark, The Misadventures of Awkward Black Girl and The Guild. What did you learn from working in that space? Did it feel like it was new territory or was it like any other acting job at the time?
SD: It was definitely new territory. At the time – which now is 11 years ago – I had met Issa [Rae] on Twitter and went to her house for an audition. Which, of course, SAG actors should not be going to a house for any kind of audition [laughs].
CM: [Laughs] Issa Rae is the exception, not the rule.
SD: But Issa Rae wasn't Issa Rae at the time. So I went to her house, it was all fine, I left. She emailed me back and said, "You booked the job!" At the time, I was auditioning for short films and doing a lot of film school auditions at UCLA, Loyola Marymount, and USC, and acting in many of those to build up my reel. This just happened to be one of the many auditions I was going on at the time. When I booked the role, I was really excited but I wasn't aware [of the medium]. Both of the series you mentioned, Awkward Black Girl and The Guild, were at the forefront of scripted work in web series. It was really unknown territory. I had no idea who was going to be watching this on YouTube; definitely not my parents, I don't think my parents even knew what YouTube was. Because a lot of the actors on the set were not professional actors, they were just friends of Issa's from Stanford, we'd be shooting on weekends because everyone had day jobs. Then the episodes started coming out and we built an audience.
It was really delightful and inspiring to watch the audience build up and realize and recognize that there was an audience being completely ignored in traditional Hollywood. Issa was tapping into that and that inspired me. Issa was writing her Black girl stories so it inspired me to write my Brown girl stories and realize there is also a Brown, South Asian, Asian-American audience that is being ignored by traditional Hollywood. That jump-started me to write more scripts from a specific point of view. And I started selling shows to networks and studios and I filmed my short film, Cowboy & Indian, and my own creative juices were all about putting out content.
CM: What inspired the idea behind Definition Please?

SD: The initial inspiration for Definition Please was me winning my fourth grade spelling bee. I went onto regionals and I lost in the first round on the word "radish." I spelled it with two Ds instead of one. I've always remembered that moment. Then fast forward to 2015, and I'm in an Upright Citizens Brigade sketch-writing class and we had to write a sketch a week. I had a lot of ideas and one of my ideas was "Where Are They Now: Spelling Bee-Winners." So if you Google spelling bee winners, they're all doing smart, genius things. They work at NASA or they're champions on the World Poker Tour, they're doing really cool stuff. The button of my sketch was that this young adult had grown up and not reached her potential; she's still living in her parents' basement and she's sort of what we'd call a loser. So that four-page sketch was the impetus for the feature film Definition Please.
CM: Once you had a finished draft, what were your first steps in pushing the project forward?
SD: I had done the Sundance Screenwriting Lab in 2016 and went to the Sundance Film Festival for the first time in 2017 as one of the Sundance Influencers. And my friend Justin Chon's film Gook was premiering there that year. I was blown away by Gook, so I cornered him at his premiere party and I asked him how he got it made. And he said, "I just got my friends and family together and they all chipped in." I said, "Cool, that's what I'm going to do for Definition Please." So I started writing Definition Please in 2017, had a shooting draft by end of 2018, went back to Sundance in 2019, and Justin's next film Ms. Purple was playing at Sundance that year. So I kind of chided myself and said, "Yo, Justin had two films in three years! What am I doing with my life?" And I decided then and there I was going to shoot Definition Please in 2019, no matter what.
That was the decision I made at Sundance and something happened serendipitously at that moment. I got an email saying that one of the shows I had sold previously was being returned back to me with the rights and I was getting a huge check along with it. So I took that check – which I didn't even know was coming to me – and I was the first investor into my film. Then I went out and got more investors and assembled my team, my producers, my DP, my actors, and we shot the film in the summer of 2019 back in my hometown of Greensburg, Pennsylvania.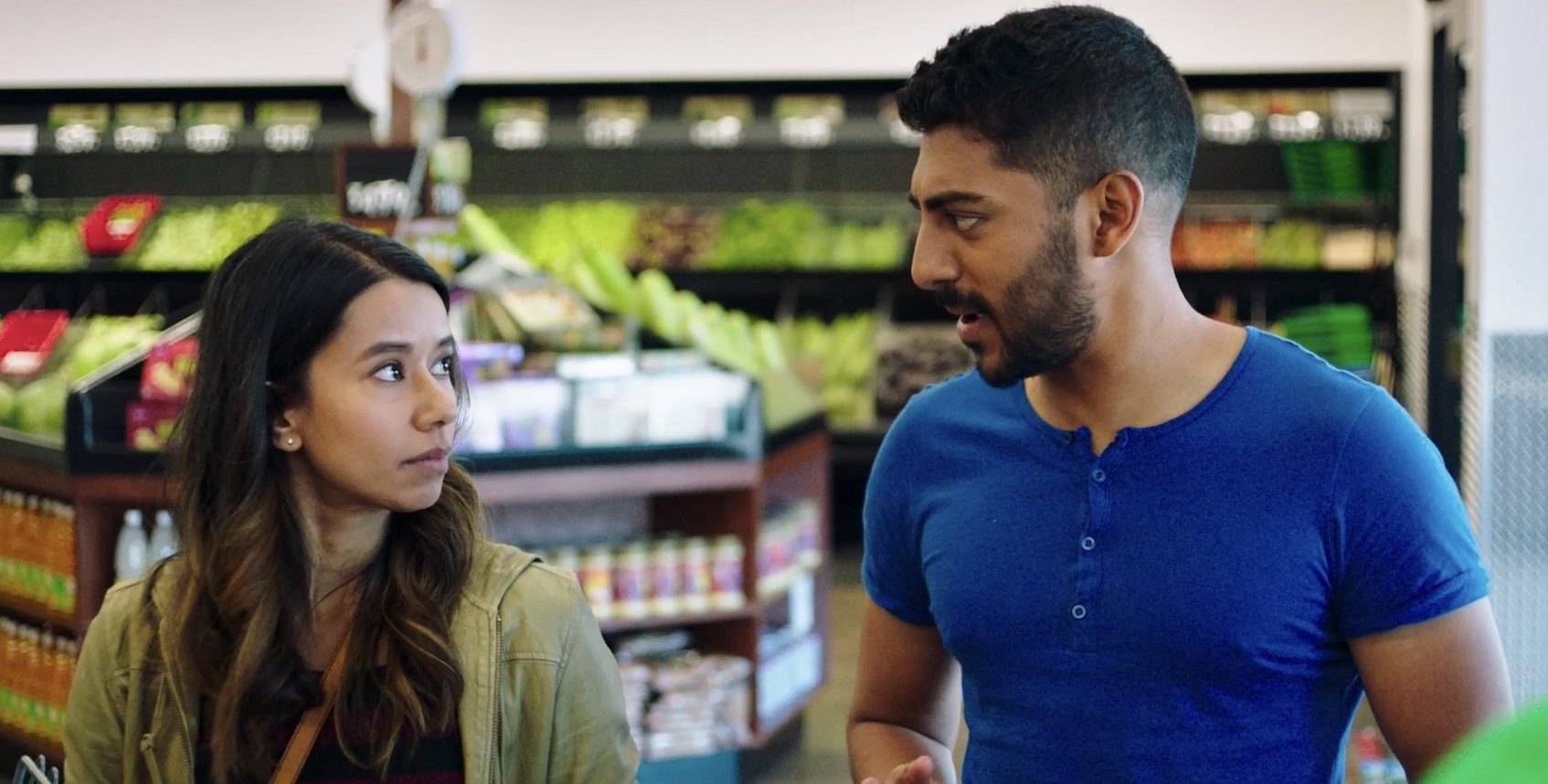 CM: I always love hearing actors/filmmakers talk about casting. What was it like to assemble your actors, being on the casting side of things?
SD: I personally do not like auditioning. I do not think I do my best work in auditions. It's always a stressful situation and I believe actors can prove [themselves] by the work that they've already done. So I didn't hold any auditions. I actually reached out to my community, which is an amazing Asian-American community in Hollywood, and I texted my friends to be in the film. Ritesh Rajan and I had met a few years back and I knew he would be perfect to play the role of Sonny, my brother. I took him out to dinner and talked about the movie and at the end of the dinner I said, "Will you play my brother?" [Laughs] That was the gist of that. He was like, "Well, I gotta read the script." And he did read the script and said yes.
With the casting of Anna Khaja, I had met her briefly at an event, so one of my friends put me in touch with her and she read the script. She is actually known for playing a lot of South Asian-American moms on screen. She has played Priyanka Chopra's mom on Quantico, she played Jameela Jamil's mom on The Good Place, she even played Ritesh's mom on Stitchers. So she read the script and she was really excited about it because it wasn't a stereotypical South Asian mom role. It really has nuance and there's something new that we're exploring in it, so she was excited to jump on board.
CM: What was it like filming in your hometown? Did you have every location thought out in your head during the writing, or were there still new discoveries to be made during the location scouting?
SD: There were certainly new discoveries to be made and every discovery was really exciting. We got the entire community involved, to be honest. It galvanized the people of Greensburg. We filmed it at my parents' house – my childhood home – and that was the main location. Our production designer, who is someone I went to school with, Kaitlin McHugh, used her treehouse as the treehouse setting, so that was fun. There is a kids acting camp/school in downtown Greensburg called Stage Right, so we talked to them and filmed one of our spelling bees at that school. And we used some of those children to be in the film as actors as well. That was really fun for them to actually see what goes down on a real film set.
There was a scene I love talking about. It's one of the louder scenes in the film, it's a confrontation scene, an argument. We were going to have to shoot it from 11 p.m. to 1 a.m. on a weeknight. We called the Pittsburgh Film Office and we asked to get a permit to shoot this scene and they said, "You don't need a permit, you just need to get permission from the people in the neighborhood." So I hand-wrote notes to eight or nine of the homes surrounding my home and taped the notes to their front doors. Just saying, We'll be shooting this scene. If you have any questions or problems, please call my producer at this phone number. And I think he got two phone calls. One was, "Can I be an extra?" And the other was, "What's it about?" They just wanted to know what the movie was about. Then as we were shooting the scene, some of my neighbors came out with lawn chairs and sat down and cracked open beers and just watched us do the scene. I was like, This is totally classic Greensburg. It was amazing.
CM: How long was your shoot?
SD: It was two weeks.
CM: You mentioned bringing on some local child actors. What's it like working within the limitations of having minors on set when you're on a tight schedule and a small budget?
SD: I had a really great assistant director, Ricardo Herrera, who kept things in check in terms of timing and we never went over time. We did keep in mind we were working with children and I didn't want to overwork anyone and made sure they had all their natural instincts available when they would be filmed. The kids always came prepared, they knew all their lines, I didn't really have to direct them very much. We would play improv games in rehearsals. It was really fun working with kids, I'd love to work with kids again.
CM: You had directed yourself in your short Cowboy & Indian. Did you come into Definition Please knowing your routine of juggling those two roles on set, or was it a new learning curve doing it on the feature level?
SD: I came in knowing exactly what I was going to be doing. For Cowboy & Indian, it was my practice run. Because I knew I wanted to do a feature in the future, I was like, "Okay, if I can write, produce, direct, and act in a short film, I can do it in a feature." I went into the pre-production phase of Definition Please very aware of what I did on Cowboy & Indian, which was once the script was a shooting script, we were not going to touch it. So then I can put my writer hat aside. And once we were casting, I made sure I was really focused on those aspects of it and was able to give it 100%. Then once I was on set, I was fully prepared in terms of knowing my lines.
All the other actors I worked with were aware we were on a tight budget and schedule and they all had to know their lines and come correct. And they certainly did and gave it 200%. It was actually easy to juggle both directing and acting because I have an amazing director of photography, Brooks Ludwick. We had done a bunch of movie dates before shooting the film and had a lot of conversations about what I wanted it to look like and what kind of shots I wanted to get, so I had ultimate trust in my DP. That helps because there was not going to be any time to look at playback on set, so I did not do that.
CM: What were some of your visual inspirations?
SD: It's handheld photography, so we looked at Wong Kar-wai films. We looked at Monsoon Wedding. We looked at a couple of other dramedies that inspired the writing of the script, like Duplass Brothers movies and Skeleton Twins and The Savages and You Can Count on Me. Just plugging into the independent feel of the script and the tone and making sure it was very grounded and real.
CM: [At a Movies & Music event] I heard the story of how you met your composer, but could you talk about how that came about?
SD: Amanda Jones, composer extraordinaire! She's amazing. We met at Sundance in 2019. We met at a party and just hit it off. When I was looking for a composer for Definition Please – the script is very music-forward and we needed to get a composer on board before we even started shooting – I believe I slid into her DMs on Instagram and asked her if she'd be interested. She read the script and was excited about it because a lot of the music cues are written into the script. And she started sending me ideas right away and sending me MP3s. It was a beautiful, wonderful collaboration with her where we'd go back and forth. She found singers in Mumbai and Kolkata to sing a lot of the songs that were in Hindi and Bengali. It was awesome playing the songs for my parents as I was getting them and having them say, "Oh, these are songs I would listen to in our language!" That was a really good co-sign.
CM: Once you were in post-production, what's it like to edit your own performance while also keeping the full story and everybody else's performances in mind?
SD: You have to put your ego aside and not worry about what your face looks like when you're ugly crying. It's all about what pushes the story forward. What is the best thing for the story and all the characters involved, especially since ours is a character-driven piece? I really detached myself as an actor and just looked at it as, This is a character. This is Monica on-screen. What serves her story and the people around her?
CM: What was the timeline of finishing the film and submitting it to festivals? Had the pandemic hit yet?
SD: Ohhh, Colin [laughs]. We finished the film in early 2020 and were set to premiere at the LA Asian Pacific Film Festival at the DGA Theater in late March, early April of 2020. Of course, that didn't happen. We lost our in-person festival run, but then we did a pivot – and I believe we made the right choice in doing the pivot – and moved forward with the virtual film festival circuit. We ended up premiering virtually at the Bentonville Film Festival. That started our festival run and we started racking up awards and building up a really cool fanbase as well.
CM: Have you been able to see the film in a theater in person yet?
SD: Yes, we did have our LA Asian Pacific Film Festival in-person screening in October of 2021.
CM: What was it like to finally see it and get the reaction with all those people in the room?
SD: It was actually one of the most incredible moments of my life. You make a film and you write jokes and you don't know if they're going to land. You don't know if certain dramatic moments are going to work. And I think five minutes into the film, the theater started laughing and there were definitely tears in my eyes when the laughter continued and the audience was getting all the jokes and the moments. It was surreal.
CM: In terms of seeing it [at LA Asian Pacific Film Fest] with an audience of people seeing themselves reflected on screen, I'm sure that was also moving.
SD: Yeah, to that end, throughout the festival run I was getting a lot of emails and direct messages from people I don't know saying it was their first time seeing themselves on-screen, so that was really special. That's always the goal. My goal for this movie is that I hope it inspires other young creators and writers and storytellers to not be afraid and to go out and tell their own stories. Because other people want to see them.
CM: How did the film get onto the radar of Ava DuVernay and ARRAY?
SD: I've known Ava for a couple of years. We've been at events together so we were already following each other on Twitter. I had invited her to the LA premiere and she contacted me a week or two after the premiere to ask if it was available for distribution.
CM: To wrap things up, can you talk about what's next for you as an actor, filmmaker, or both?
SD: I am actively in pre-production for my next feature. It's an absurd comedy along the lines of Adam Sandler, David Wain, Will Ferrell, one of those fun comedies. I'm really excited about it, we have a cool, funny Indian-American ensemble cast. I'm also pitching several TV shows at the moment as well. I wrote a few scripts over the pandemic, so that's what I've been taking out to the world. It's been busy, but it's been good.
__
Thanks again to Sujata Day for talking with us! Learn more about DEFINITION PLEASE at Arraynow.com, Sujata's website or on Twitter, Facebook, or Instagram.
This interview has been edited for clarity.
If you're an independent filmmaker or know of an independent film-related topic we should write about, email blogadmin@sagindie.org for consideration.