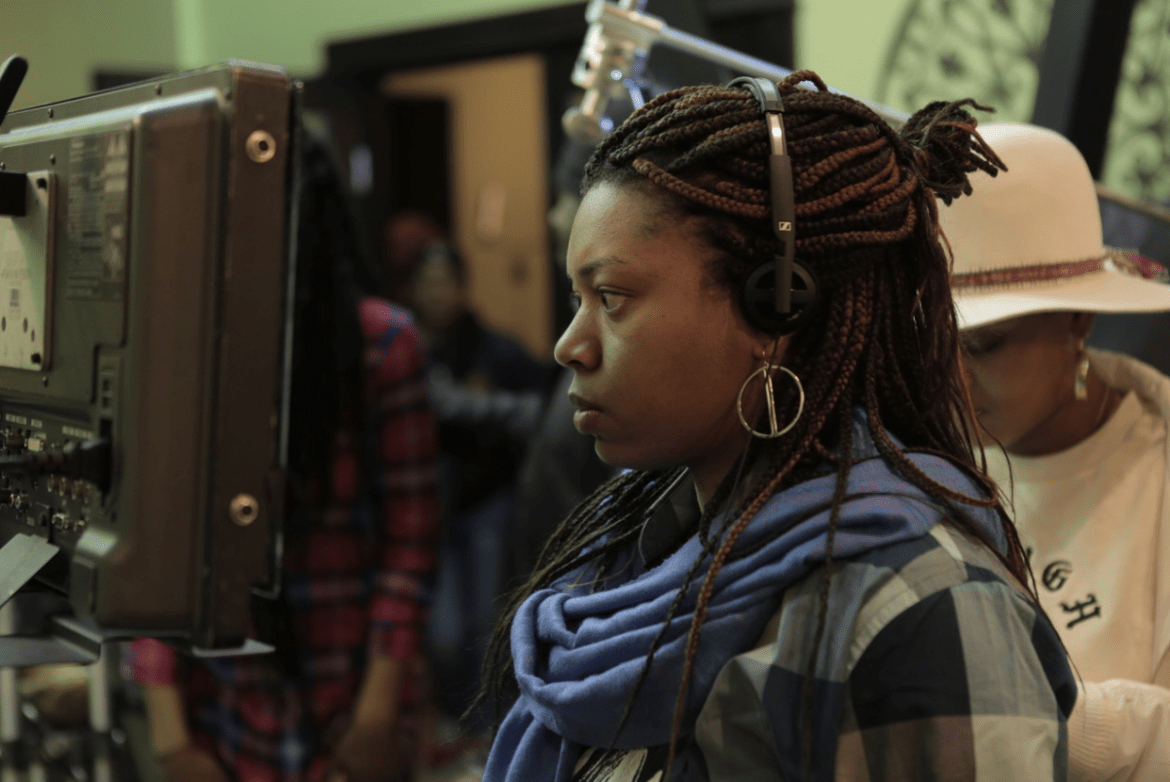 By the time NIJLA MU'MIN was ready to finance her feature film debut, she delved into a world where many filmmakers had tread before: crowdfunding. But it was hardly the first area of moviemaking Mu'min had experienced. She was a film student (at Howard University, where she won the Paul Robeson Award, before earning a dual M.F.A. degree from CalArts in directing and writing). She grinded it out as a production assistant (notably on Ava DuVernay's breakout indie Middle of Nowhere). She got a taste of the festival circuit with her short films Two Bodies and Deluge. The new media world came calling when Issa Rae Productions acquired Mu'min's short Dream. She earned no shortage of accolades, fellowships, and grants – including from Sundance, the Princess Grace Foundation, the Panavision New Filmmakers Program, the Islamic Scholarship Fund, and SFFILM. Nijla even became a film critic and culture writer, getting published in the Los Angeles Times, Vice, and IndieWire, just to name a few.
And when she tackled that crowdfunding campaign for her film JINN, Mu'min raised over $27,000 (which she wrote about for Filmmaker magazine). Jinn premiered at the 2018 SXSW Film Festival, where it won a Special Jury Recognition for writing. The film is a semi-autobiographical coming-of-age drama about 17-year-old Summer (Zoe Renee) dealing with school, first love, a passion for dance, and – most contentiously – her mother's (Simone Missick) conversion to Islam. Dorian Missick and Kelvin Harrison, Jr. co-star in the film. Orion Classics will release Jinn in theaters on November 15, with a VOD/Digital HD release the following day. [UPDATE: You can now stream Jinn on Kanopy.]
We spoke recently with writer/director Nijla Mu'min (who can also add TV to her repertoire, having recently directed an episode of DuVernay's OWN series Queen Sugar). She talked to us about casting young talent, the importance of networking, and more behind-the-scenes info about her feature directorial debut Jinn.
——
COLIN McCORMACK: As a former film journalist, you've been on my side of filmmaker interviews in the past so I was curious if there were any particularly memorable lessons or insights that stick out in your mind from back when you were interviewing filmmakers?
NIJLA MU'MIN: Wow, that's interesting. You know, sometimes the interview would kind of go off in another direction than I had intended and I had to decide quickly if that's what I wanted or if I'm going to try to reel the interviewee back to what I was trying to get them to talk about. Sometimes I did that and sometimes I didn't, but I think the magic of interviewing are those new, fresh insights that you're able to get in a conversation that come naturally or organically. That's what I got from my interviewing filmmakers is that I was always looking for something that was unintended but that could bring more life to the conversation.
CM: Some filmmakers I've talked to say that they don't pay attention to the industry as a whole or trends or weekend box office and things like that. But I'm wondering since you used to write about the industry whether as a filmmaker that's something you keep tabs on?
NM: Yeah, I think I used to keep more tabs on it when I did write about film and did write reviews and interview filmmakers. Because the films that I was writing about, I wanted to see how they did in terms of the box office and critical and audience reception. But now since I've been filmmaking and writing creatively mainly, I don't keep up with it as much because I know sometimes that doesn't really determine whether a film was good or not. These are small films and they're not able to succeed in a box office environment, so I don't know if knowing their box office numbers really matters. I know that their budget was so small that they can't really beat out Crazy Rich Asians. So for me, it's just about perspective and knowing that some films are just not able to have a box office life as other films do.
CM: With Jinn being a coming-of-age film, what coming-of-age stories resonated with you as a kid or teenager?
NM: As a kid and a teenager there was Love & Basketball, which really resonated with me, directed by Gina Prince-Bythewood. There weren't a lot of films that showed complicated portrayals of young black girls, ones that were a tomboy and had a family, but I related to that film as a young girl. That was more of a love story but it was in a way a coming-of-age story for the main character Monica. So I would definitely say that was one film that stuck out to me. Growing up, I was actually really into reading novels. I read a lot of contemporary black fiction growing up; that was where stories showed coming-of-age narratives that I missed in film that I related to. So I read a lot of books in order to make up for what was missing in movies and TV at the time.
CM: As you started on your journey towards a filmmaking career, between film school and going on the festival circuit with shorts as well as the fellowships and programs you were involved with, were any of those more helpful in terms of building a community or network of collaborators? Did they all equally play a part in that process?
NM: I definitely think they all played a part. I think going to film school was more beneficial in terms of strengthening my craft as a writer and as a director. I definitely became a better director and better writer by going through film programs and really engaging in that way. I built a sense of community just by going to events and being out and around Los Angeles in the different places that I lived. Early on, I just met people who were like-minded and wanted to make films and wanted to push this independent film spirit, so I aligned myself with those people and tried to continue to support them and they supported me. I think all of it – film school, networking, events – really helped get me where I am and to build a foundation for this film. Because when I embarked on this film I was able to go back to all of those people and organizations that I was a part of and let them know what I was doing and get their support.
CM: How did you get your producers on board?
NM: My main producer Avril Speaks was someone that I worked with previously on a short film that I did called Dream. She was the production manager on that film. I really loved working with her, and I kind of just sensed that she would be a great producer. She actually comes from a directing background and so when I started writing Jinn I sent her the script, she really connected to it, and I asked her, "Could you just help out? Maybe as an associate producer?" And she was like, "Yeah, when I have time." But then it quickly became an everyday partnership, we were like a tag-team duo and that's when we knew, Okay, you're the producer. I'm the director. And from then on, we've been working together. So that's how I got her on board. The other executive producers, as well as the associate producers, came on in different ways through people reaching out, reading the script and really liking it. But I really think it was that networking that I did and those community relationships that helped to bring on people who became executive producers and became producers during the production of the film.
CM: What were you looking for in a cinematographer and how did you connect to Bruce Francis Cole?
NM: In a cinematographer, I looked for collaboration. I looked for a reciprocal type of relationship. I don't want to just be the person telling you what to do and you just do it. Which is fine, I think that's a great relationship as well but I wanted to have a conversation with someone, I wanted their input. Because I think that's how beauty is accomplished in cinematography when you are connecting organically with another person and you can hear their ideas. At the end of the day, the director is going to make the choice of how they want their film to look, but having a creative conversation with a DP is really important so I sought that out. Bruce and I were able to have those conversations and able to work very quickly. We had an 18-day shoot; we didn't have a lot of time. It was an ultra low budget film and he was able to work very effectively within that type of production scenario. Not all DPs are able to work within the constraints that we had. He was able to and still produce really beautiful footage. So I was looking for that collaboration and I got that, and I was also looking for someone who could work in a very low budget setting and still produce some beautiful dailies. He was able to do that.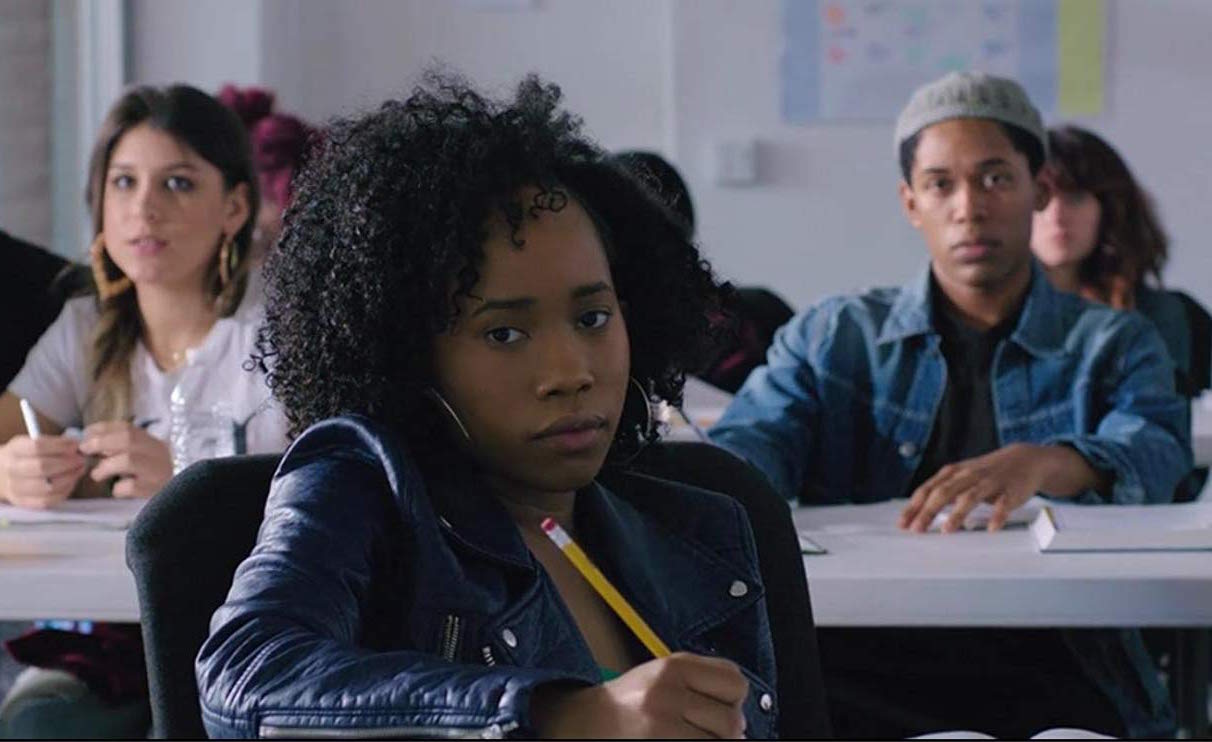 CM: The film has been described by you as somewhat autobiographical. But you grew up in the Bay Area and the film is set in Los Angeles. What factored into your decision to shoot in L.A.?
NM: I shot in L.A. because I had built more of a community here because I went to film school at CalArts and I had done a lot of work here. I knew people here; I just had more resources and more people to shoot a film in L.A. than I did in Oakland. If I had the resources and the people and the community in Oakland to shoot there, I probably would have done it. But another reason I shot in L.A. was because the story felt like an L.A. story. It felt like these characters would live in Los Angeles; like this would happen in L.A. So it wasn't just because I had an easier way to shoot here, it was also because when I was envisioning the story I saw palm trees, I saw a teenager riding her bike through a palm tree-lined street. It just felt L.A. to me. L.A. and the Bay are very different and I think as a writer when a story comes to you, it comes to you with a location. You should go with what you originally envisioned because there's a reason why that happened. It was supposed to be L.A. It shows parts of L.A. that we usually don't see, especially where a lot of African-American people live, and I thought it was important to show a different part of L.A.
CM: How did you go about finding specifically your cast of teenagers? Or playing teenagers, I'm not sure how old the actors were. You got some really great talent with varying degrees of résumé-length, so I'm curious how you found them?
NM: For the teenagers, we worked with a casting director early on for a very brief amount of time [laughs]. We couldn't really afford to keep a casting director, so that person was able to scout and send out a posting for the film. And that's when we got hundreds and hundreds of submissions for all of the teen roles in the film, specifically for the girls. So that's how I discovered Zoe Renee. She hadn't done much at that point; she hadn't been in a feature film yet, she just had a TV show under her belt. She submitted a self-tape and she was just beautiful and amazing. It was enchanting. I just wondered who she was and where did she come from. So from that point on, I knew she'd be really amazing in the role of Summer. Then the characters of the friends [played by Ashlei Foushee and Maya Morales] also came through that process of going through all of the submissions and deciding how I wanted that group of friends to look and feel. We had auditions and we had them audition together and they really fit together in a beautiful way. The character of Tahir, who is played by Kelvin Harrison, Jr., I had actually worked with him on my thesis film in 2012, many years ago. And he has like eight films coming out now [laughs], but it was before he really blew up. I knew he was a special actor and when he auditioned for this film I knew he had to be Tahir. Actually, after I saw his tape I didn't have to look at anybody else because I knew he was perfect, so I just cast him right on the spot. That's how all the teenagers were cast.
CM: Was the character of Summer always written as a dancer, or was that incorporated because of Zoe Renee's experience with dance?
NM: That was always how it was written. I always saw Summer as a dancer and someone who is always moving and expresses herself through movement. And when she's not moving she's trying to figure out what to do next. That was the character, someone who's a performer, who's performing different identities, who's flirting with people, who's daring but has insecurities. I just knew having her be a dancer would be a beautiful contrast to her mother's conversion to Islam and what it means to want to dance and be a Muslim. All these different associations that came from making her a dancer, that was from the writing.
CM: In terms of a movie focusing on teenagers, this is sort of the rare film where the parent is also a fully-fledged character with depth. How did you end up casting Simone Missick as Jade?
NM: She came through her husband, Dorian Missick, who is also an actor. I had cast him to play the father, David – a lot of people really love his performance. I had cast him and he told me his wife would probably really love the script, and that's when Luke Cage had just premiered on Netflix. So I was watching Luke Cage and knew she was playing Misty Knight. And I thought, Oh my God! Misty Knight would be so amazing in our film! [Laughs] So I sent her the script and she loved it and the rest was history. We just connected and she really wanted to be a part of it. She really believed in the film, but it was all through her husband Dorian who connected us and encouraged me to reach out to her.
CM: You had to shoulder so much of the promotional responsibilities when you were doing your crowdfunding campaign, which I'm sure was a relief when it was over. Does it feel in some ways that you're doing it all over again now that the film is done and ready to go out there? Now that you're promoting it once again, is it more or less stressful?
NM: It does feel stressful because now you're worried about reviews and all that coming out. But it's a good feeling. I am already a little tired from everything we have to do, but I feel like it's a full-circle moment. We were able to get this film made within a relatively short amount of time when you think about films getting made, so I think we're really in a good place to have a film that got distribution, that's going to be seen by people either in a theater or on a streaming platform. We're in a good place, so I try not to be worried about things that I can't really control. I just know that the goal is for people to see the film and to enjoy it hopefully, and I think that's what's going to happen. I'm feeling good about that.

__
Learn more about JINN at jinnfilm.com or on Twitter, Facebook, or Instagram. Thanks to Nijla for taking the time to talk with us about her career!
This interview has been edited for clarity.
If you're an independent filmmaker or know of an independent film-related topic we should write about, email blogadmin@sagindie.org for consideration.