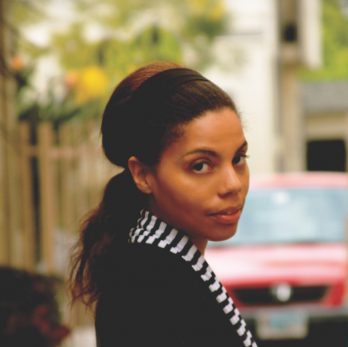 CHANNING GODFREY PEOPLES may have a background as a theater performer (she got her undergrad degree in theatre from Baylor University), but she has since decided to point the spotlight at others as a writer/director. Soon after earning her MFA from USC's School of Cinematic Arts, Godfrey Peoples got to work on her debut feature film, MISS JUNETEENTH.
Nicole Beharie stars as Turquoise Jones, a former beauty queen turned struggling single mother who fears her glory days are behind her. She sets her sights on the upcoming Miss Juneteenth Pageant as a chance to secure her teenage daughter's future and revisit her own past. Miss Juneteenth also stars newcomer Alexis Chikaeze as Turquoise's daughter Kai and Kendrick Sampson as Kai's father Ronnie. After premiering at the 2020 Sundance Film Festival, the film went on to win the 2020 SXSW Louis Black "Lone Star" Award. But accolades were nothing new for the project: Godfrey Peoples' screenplay was a Nicholl semifinalist and American Zoetrope finalist, she was accepted to the Sundance Creative Producing Summit, was an IFP Film Week selection, and a grant recipient from Austin Film Society and SFFILM.
Miss Juneteenth is now ready for its nationwide debut, courtesy of distributor Vertical Entertainment. The film will be released on VOD and digital platforms on Juneteenth itself, June 19, the freedom holiday central to the film. [UPDATE: Miss Juneteenth is now streaming on Kanopy, Philo, and BET+.]
We had the chance to speak with writer/director Channing Godfrey Peoples about her inspiration for the project, making a film in her Texas community, and how Juneteenth influenced the larger theme of the story.
——
COLIN McCORMACK: I hope everything's going well. Congrats on the film!
CHANNING GODFREY PEOPLES: Thank you so much, I'm excited to have it come out. It's also bittersweet, at this time, but I'm eager to get it out into the world and I hope it can contribute to more Black stories.
CM: What were the origins of the film for you?
CGP: Well, I was never a Miss Juneteenth but I was clearly nostalgic about the Miss Juneteenth Pageant. I feel like the film has been with me my entire life, in a way, because I spent my entire life going to Juneteenth and what was always the focus of it for me was the Miss Juneteenth Pageant. I literally had the idea in the back of my head for so long and when I was thinking about what my first feature would be, I said, "I'd love to make a movie with the backdrop being the Miss Juneteenth Pageant."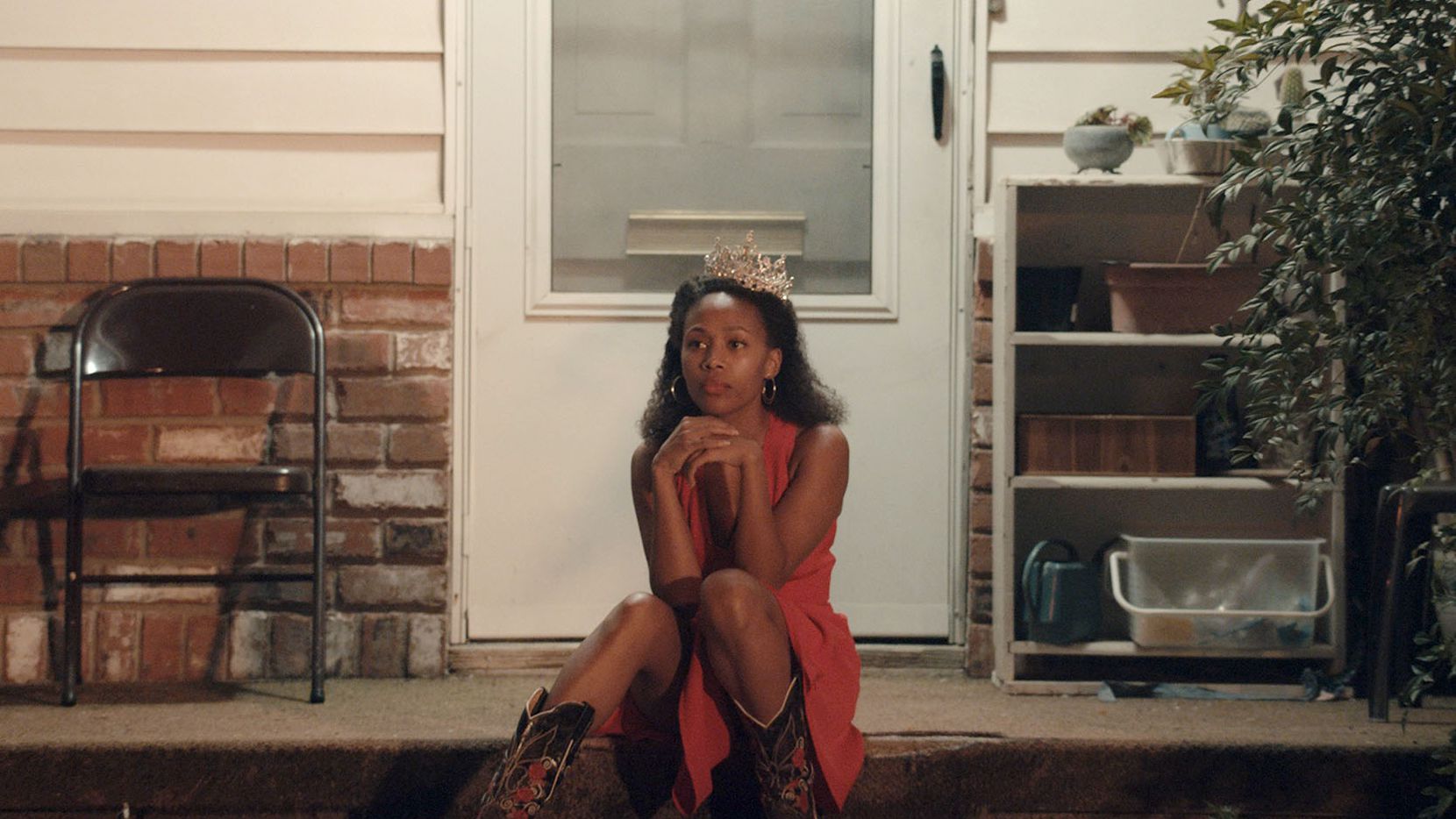 CM: Were the films or filmmakers that inspired you – either with Miss Juneteenth or just in your career and your aesthetic in general?
CGP: Oh yeah, absolutely. I'm a huge fan of Charles Burnett, he's a huge inspiration. I love Julie Dash, Steven Spielberg, Jonathan Demme. Kasi Lemmons was an inspiration with Eve's Bayou. I adore Gina Prince-Bythewood for Love & Basketball. Richard Linklater is an inspiration. There are so many filmmakers that I just love.
CM: Did you grow up a big cinephile, or did you start getting into different filmmakers and films through film school?
CGP: I definitely was not a cinephile. I grew up in Fort Worth, Texas, where the film is set, and there really wasn't access to cinema for a young Black woman in Fort Worth. What I did have was community theatre. My family would take us to a Black community theatre called Sojourner Truth and I participated in plays and got a chance to see plays that now I know were complex plays for a young Black woman to see during that time. I saw plays like Purlie and For Colored Girls and I think that was formative because I went on to really delve into literature.
I say that my early cinematic journey didn't start with cinema, it started with literature. I would read the greats like Toni Morrison and Alice Walker and Gloria Naylor and people like that and I literally could see the pictures in my head. I pictured the words in my head. I think that that stayed with me and I knew that I wanted to make these multi-layered stories, most often about Black women taking a step forward in their lives and in their journeys. I also wanted to make films that had a strong sense of world and community because that's what I experienced when I read those books.
CM: So what were your first steps to getting Miss Juneteenth off the ground?
CGP: I'm going to say "we" here because my husband is one of the producers on the film, Neil Creque Williams. We met in film school, we're both from the South, and we both connected because we knew we wanted to make Black films that were set in the South that had a cultural or historical component. We really pushed the film up the hill together. When I wrote the script, I shared it with Neil and we said we were going to make it no matter what because I wrote the film around the places and spaces that I grew up in. We were really going about it in this scrappy way.
Then Neil had the idea that we would submit the film to different development programs for consideration, but also competitions so that we could elicit notes no matter whether we got in or not. We were literally embraced by so many programs, like Austin Film Society and San Francisco Film and the Sundance Institute, who really helped us push the film forward and connected us with producing partners that later led to the financing.
CM: Are there any lessons that stand out that you learned and ran with from any of those labs?
CGP: I think the value that I got from the labs was the support. The labs were helpful in the sense that they were supportive of telling stories that are not often seen on screen and also protecting those stories. So I do think it was helpful to go through the labs in that sense. I guess that is the lesson, to protect your story no matter what.
CM: You spoke about writing the film to be set in your hometown and writing it in a way that's – for lack of a better word – "makable."
CGP: Right.
CM: You knew you'd be directing it and you knew you'd be using locations you had access to, but you always have to be adaptable. Was there a balance of knowing certain things might change depending on logistics or budget, even though you were planning ahead even in the writing?
CGP: Yeah, for sure. I knew that things could change based on like you said, logistics or budget, but one of the things I was not okay with changing was the heart of the story. Thematically, we were affirming this idea of what happens when good things come too late. We were thematically making a film with the backdrop of Juneteenth and that's what happened to the slaves in Texas, finding out they were free two years after everyone else. They get their freedom late. So we were also looking thematically at the film and the characters and applying the idea of what freedom means for this character. What does freedom mean for Turquoise if her freedom comes later in life? So what was important to me was staying as close to the script as possible, even if locations changed or costumes changed or production design changed, I was married to what we had on the page because we workshopped it and I believed in the script and the producers believed in the script.
CM: Could you go through what the casting process was like?
CGP: What was most important to me was that we found actors who could bring the nuance to their roles. Nicole as an actor, she's a brilliant actor and she can say so much with just a look. That was important to me in this journey because I've discovered as a director, I like for actors to sit in quiet moments. [I like] to just be with the actors. So that was important to me, for the lead actor to bring the nuance to the role that I was seeking for Turquoise. In her emotional journey, Turquoise is navigating disappointment, she's navigating the hurt of this lost dream, but most important to me was that you're able to see the joy and her love for her daughter. So that's the way that I cast the film.
The young woman who played the daughter [Alexis Chikaeze], this is her first feature film and she's just incredible. I can't wait to see what she does in the world because she was such a bright light and so hardworking and was able to jump in with the pace and the tone of the film and really worked hard and applied herself. I couldn't be more proud of her and excited to see what she does.
CM: How did you end up discovering her?
CGP: She was a local find. We had three casting directors on the team and the local casting directors were Buffalo Casting. She read several times for the role and she blew me away every time. I was a little bit nervous about it being my first feature and also her first feature. My undergrad is in theatre, so I like working with actors who have a theatre background, who have tons of experience and all that good stuff. But it didn't matter with her, she was a total breakout and just came in and killed it and taught me new things as a director. We sat down before we shot and went through the script together and I told her the tone I was looking for and talked to her about the pacing, but more importantly, I talked to her just about existing and walking in the character because that's absolutely important to me for the authenticity of the performances.
CM: With your background in theatre, where rehearsal is king, unfortunately that usually isn't the norm in indie films. Were you able to have any rehearsal time for the actors?
CGP: You talked about lessons – that's the big thing I had to adjust. Of course I wasn't able to have as much rehearsal as I wanted to. I tried to get any little bit I could, but indie film doesn't operate in that world. What I did do was I adjusted. If there was a scene I felt like we emotionally needed to be in, we were going to stay in that scene until we got what we needed. I was insistent on that. But I do miss rehearsal time! [Laughs] And I just wanted to shout out Kendrick Sampson, who's actually from Houston, Texas. He's so great in that role and lifted it off the page in a way, so it was exciting to work with him as well.
CM: Was there a scene that stands out as a particular challenge? Either the content of it or because of things that were out of your control on a certain day?
CGP: I mean, sure. We shot an entire existing parade! [Laughs]
CM: I noticed that. I was thinking, That couldn't have been easy.
CGP: There were the nerves, but the comfort that I had was I knew the parade from a community aspect. I knew the energy of it. I've been going there for years. So yes, there was an opportunity for anything and everything to go wrong, but I had comfort in knowing the community and knowing that the community came out for us and were passionate about being involved. I'm excited for them to see themselves, especially in the parade.
CM: You've also done some episodes of Queen Sugar. Were those before you shot Miss Juneteenth or did those happen after?
CGP: No, that was before. I was actually a writer on two episodes of Queen Sugar in season three. That was a wonderful experience.
CM: Were there any lessons you could bring from the TV side of things to your feature, or are they pretty much separate worlds in how they operate?
CGP: I mean, they're absolutely separate worlds but it was good to see it from the TV side because you have to move quickly and be thinking on your feet consistently. I'm grateful I had the experience; I definitely wanted to be able to see things from the TV side and eventually, I have my own television ambitions. It was just great to work on another show that's really focused on character and showing us a new world.
CM: Your film is releasing on Juneteenth. Was that always the ideal plan? Did you have any influence on that decision?
CGP: You know how that is as an independent filmmaker, you have your hopes. But when you start making your film, you don't know. We didn't know that we would premiere at Sundance. All these wonderful things have happened for the film. We were excited about SXSW, but we didn't know about COVID. SXSW still pushed forward and we won an award – they're incredible for that. I'm pleased that it is screening on Juneteenth because for me, commemorating Juneteenth is really about my ancestors, who were slaves in Texas, finally getting their freedom two-and-a-half years after the fact. This is a tribute to them in a way. I really wanted to be able to portray that thematically in Turquoise's journey in finding her own sense of freedom by coming to terms with leaving the idea of who she was in the past. Even though she finds it later in life, she gets a chance to realize a new way to dream.
CM: I usually end interviews asking what's next, and I know a lot of things are still in flux, but was there anything you had in the works or something you're hoping to do once productions open up?
CGP: Oh yeah, I'm so ready to do my next original. I can't talk specifically about plot and things because I'm still powering through, but I will tell you that it has that strong sense of character that I believe is important. Also, it has a lot of the specificity of world in it, which is who I am as a filmmaker and as a human being. I believe you have to bring the details of the world to the project. I'm just excited about hopping in again and I can't believe I'm saying that [laughs]. It was such a long journey and a challenge to get the film done, but I'm just grateful that the film is in the world and I hope that it will find a way to touch some folks.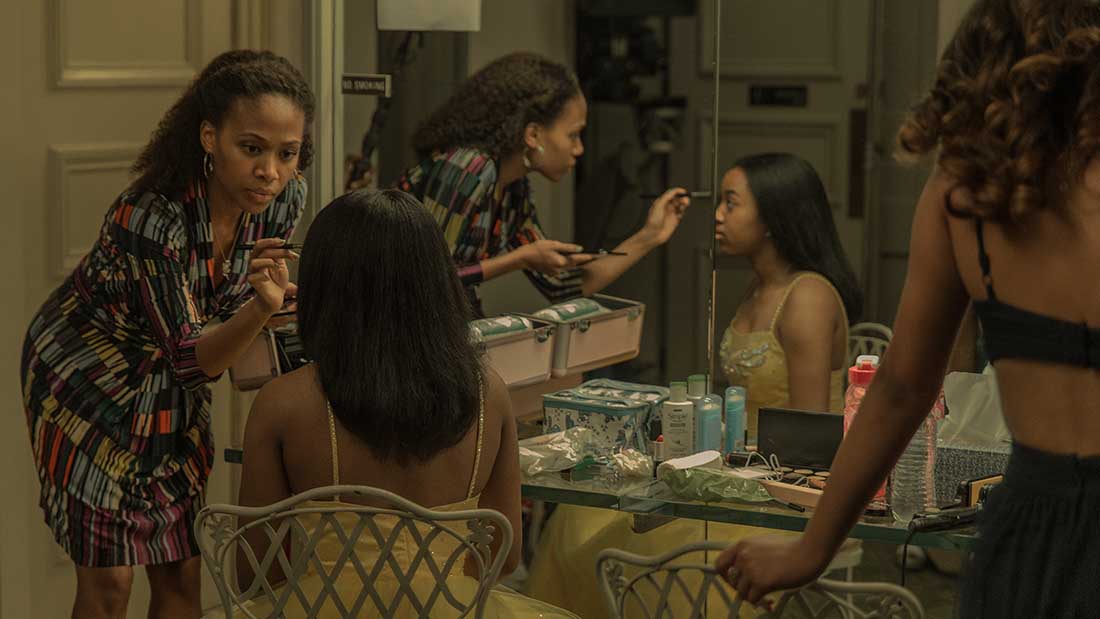 __
Thank you to Channing for talking with us about MISS JUNETEENTH! Learn more by following the film on Instagram or Twitter.
If you're an independent filmmaker or know of an independent film-related topic we should write about, email blogadmin@sagindie.org for consideration.