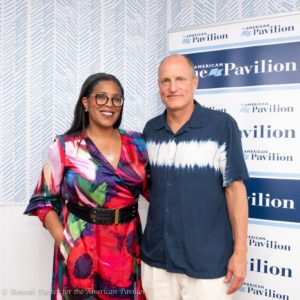 After a canceled 2020 festival and a re-scheduled summer edition in 2021, the Festival de Cannes returned for a full-fledged spring 2022 soirée (May 17-28, in Cannes, France) just like old times! With it, SAGindie returned as a sponsor of The American Pavilion, where we programmed entertainment industry roundtables for the attending film students.
This year's roster of industry pros who shared their expertise included Matt Campbell (Artistic Director, Denver Film); Neil Creque Williams (producer, Miss Juneteenth); Theo Dumont (co-founder, HollyShorts Film Festival); Moira Griffin & Marshall Tyler (partners, New Bumper & Paint Filmworks); Aaron Hillis (Director of Programming, Cinedigm); Jason Ishikawa (Executive, Cinetic Media); Julie La'Bassiere (Awards Specialist, Apple TV+); Jennifer Levine (Head of Production and Literary Management, Untitled Entertainment); Stephanie Pfingston (CEO, Lumos PR); Jeff Sharp (Executive Director, The Gotham); April Shih & Jen Goyne Blake (partners, Diversity Hire Ltd.); Harris Tulchin (attorney, Harris Tulchin & Associates); Rosie Wong (Director of Industry Relations, Sundance Institute); actor/producer Letitia Wright; Maria Zuckerman (president, Topic Studios); as well as Oscar-nominated actor Woody Harrelson in conversation with SAGindie Executive Director Darrien Michele Gipson. (See photos from our Roundtables below or on Facebook.)
But amongst all the career development, networking, and learning going on, there were also movie screenings. Lots of them! (Perhaps you heard some of the applause/boos from across the ocean?) See which of the 2022 Cannes movies wowed the jury with year's award-winners below.
2022 Cannes Film Festival Award Winners
Feature Films
Short Films
Golden Camera Award (For Best First Feature)
Un Certain Regard
Cinéfondation
Congrats to all of the winners of Cannes 2022!
——
If you're an independent filmmaker or know of an independent film-related topic we should write about, email blogadmin@sagindie.org for consideration.