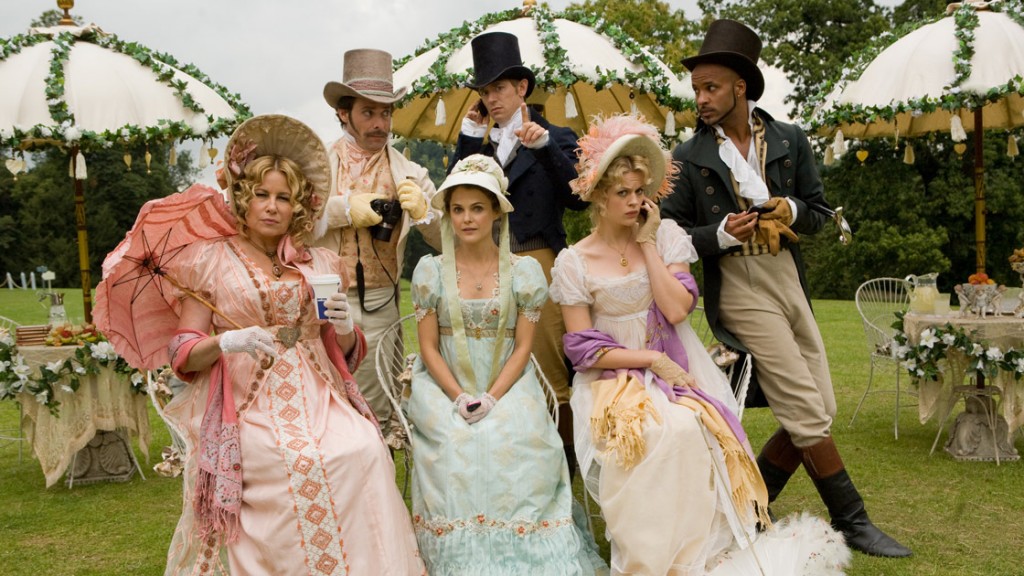 It's time! Sundance 2013 is just around the corner. The festival kicks off tomorrow, Thursday the 17th and runs until Sunday the 27th. The Sundance Film Festival creates an opportunity for independent film to make its mark on the entertainment industry at large. Last year, I saw Beasts of the Southern Wild, and I remember the electric energy and excitement that surged through the crowd after the screening. It was the type of energy that made me think, this movie is something special.
Which films will stand out this year? Only time will tell…
Below is an overview of some of the films from the 2013 lineup. Hopefully, I'll be able to see all of them. One film that I do not have a ticket to right now, but that has sparked my interest is C.O.G., the first book by David Sedaris to be adapted into a film.
*Follow Ellen while she's at Sundance on Twitter and Instagram at @ETphoneh.
*All excerpts taken from Sundance.org. For complete information on any of the films visit Sundance.org/festival.
—
Austenland
Jane's life-size paper doll of Mr. Darcy and her "I Love Darcy" tote may be tattered, but even in her thirties, she hasn't grown out of her obsession with all things Jane Austen. Careworn by love, she saves enough to fulfill her dream of stepping into Austen's world and heads to Austenland for an "immersive" vacation to eschew all things modern. And it couldn't be more perfect. There's an imposing manor with verdant grounds for afternoon promenades, rosy-faced servants, trusty steeds for hunting expeditions, gilded drawing rooms for evenings spent in polite conversation, and, yes, gallant young suitors. Unfortunately, due to limited funds, she's relegated to lesser quarters and drearier costumes than fellow bachelorette guests, but her cares melt away as she catches the eye of a young footman, and she's swept into a romantic adventure she could never have imagined.
Director: Jerusha Hess
Screenwriters: Jerusha Hess, Shannon Hale
Principal Cast: Keri Russell, JJ Feild, Bret McKenzie, Jennifer Coolidge, Georgia King, James Callis
Ass Backwards
Kate and Chloe have been best friends since childhood, when they both tied for dead last in their hometown beauty pageant. Now they are all grown up and living in New York City, where Chloe works as a "girl in a box" at a nightclub and Kate is a CEO…of her own one-woman egg-donor "corporation." Their past humiliation remains long forgotten until they receive an invitation to the pageant's milestone anniversary celebration. The unpleasant memories come flooding back, but Kate and Chloe decide to redeem themselves by winning the elusive crown.
Director: Chris Nelson
Screenwriters: June Diane Raphael, Casey Wilson
Principal Cast: June Diane Raphael, Casey Wilson, Vincent D'Onofrio, Alicia Silverstone, Jon Cryer, Brian Geraghty
Kill Your Darlings
While he is attending Columbia University in 1944, the young Allen Ginsberg's life is turned upside down when he sets eyes on Lucien Carr, an impossibly cool and boyishly handsome classmate. Carr opens Ginsberg up to a bohemian world and introduces him to William Burroughs and Jack Kerouac. Repelled by rules and conformity in both life and literature, the four agree to tear down tradition and make something new, ultimately formulating the tenets of and giving birth to what became the Beat movement. On the outside, looking in, is David Kammerer, a man in his thirties desperately in love with Carr. When Kammerer is found dead, and Kerouac, Burroughs, and Carr are arrested in conjunction with the murder, the nascent artists' lives change forever.
Director: John Krokidas
Screenwriters: Austin Bunn, John Krokidas
Principal Cast: Daniel Radcliffe, Dane DeHaan, Ben Foster, Michael C. Hall, Jack Huston, Elizabeth Olsen
Lifeguard
Leigh, a whip-smart former valedictorian on the verge of 30, is living a seemingly perfect life in New York. When her work aspirations and love life suddenly come crashing down, she hightails it back to the cocoon of the Connecticut suburb where she grew up. Picking up right where her teen halcyon days left off, she moves into her old room with her parents, reunites with her bosom buddies who never left town, and steps back into her high school job as a condo-complex lifeguard. As she takes a transgressive journey back to adolescence, including entering into a forbidden affair, Leigh's bold flirtation with disaster triggers a ripple effect all around her.
Director: Liz W. Garcia
Screenwriter: Liz W. Garcia
Principal Cast: Kristen Bell, Mamie Gummer, Martin Starr, Alex Shaffer, Amy Madigan, Joshua Harto, David Lambert
Afternoon Delight
Rachel is a quick-witted and lovable, yet tightly coiled, thirtysomething steeped in the creative class of Los Angeles's bohemian, affluent Silver Lake neighborhood. Everything looks just right—chic modernist home, successful husband, adorable child, and a hipster wardrobe. So why is she going out of her gourd with ennui? Plagued by purposelessness, Rachel visits a strip club to spice up her marriage and ends up meeting McKenna, a stripper whom she becomes obsessed with saving. She decides to adopt McKenna as her live-in nanny, and this bold move unleashes unimagined and colorful waves of change into her life and community. It becomes clear that Rachel is feverishly, desperately trying to save her own sense of who she is.
Director: Jill Soloway
Screenwriter: Jill Soloway
Principal Cast: Kathryn Hahn, Juno Temple, Josh Radnor, Jane Lynch
Don Jon's Addiction
Jon Martello objectifies everything in his life: his apartment, his car, his family, his church, and, of course, women. His buddies even call him Don Jon because of his ability to pull "10s" every weekend without fail. Yet even the finest flings don't compare to the transcendent bliss he achieves alone in front of the computer watching pornography.Dissatisfied, he embarks on a journey to find a more gratifying sex life, but ends up learning larger lessons of life and love through relationships with two very different women.
Director: Joseph Gordon-Levitt
Screenwriter: Joseph Gordon-Levitt
Principal Cast: Joseph Gordon-Levitt, Scarlett Johansson, Julianne Moore, Tony Danza, Glenne Headly, Rob Brown
The East
Someone is attacking big corporate CEOs and forcing them to consume harmful products they manufacture. An elite private intelligence firm is called into action and contracts ex-FBI agent Sarah Moss to infiltrate a mysterious anarchist collective, The East, suspected to be responsible. Skilled, focused, and bent on success, Sarah goes undercover and dedicates herself to taking down the organization. She soon finds, however, that the closer she gets to the action, the more she sympathizes with the group's charismatic leaders.

After the warm reception he received for 2011's Sound of My Voice, director Zal Batmanglij returns to the Sundance Film Festival with this stunning sophomore effort, which marks his second collaboration with the irresistibly alluring, multitalented Brit Marling.
Upstream Color
Kris is derailed from her life when she is drugged by a small-time thief. But something bigger is going on. She is unknowingly drawn into the life cycle of a presence that permeates the microscopic world, moving to nematodes, plant life, livestock, and back again. Along the way, she finds another being—a familiar, who is equally consumed by the larger force. The two search urgently for a place of safety within each other as they struggle to assemble the loose fragments of their wrecked lives.

Shane Carruth's sensuously directed and much anticipated sophomore effort (his feature debut, Primer, won the Sundance Film Festival 2004 Grand Jury Prize) is a truly remarkable film that lies beyond the power of language to communicate while it delivers a cohesive sensory experience.
Director: Shane Carruth
Screenwriter: Shane Carruth
Principal Cast: Amy Seimetz, Shane Carruth, Andrew Sensenig, Thiago Martins
Mud
Direct from the Cannes Film Festival, consummate storyteller Jeff Nichols, whose Take Shelter premiered to great acclaim at the 2011 Sundance Film Festival, returns to Park City with this homespun fable set on the banks of the mighty Mississippi.

Ellis and Neckbone are best friends approaching the twilight of their youth. While exploring, they stumble upon the hiding place of charismatic outlaw Mud (played with controlled charm by a well-cast Matthew McConaughey), who takes a quick liking to the boys and recruits them to his cause: the search for true love and a clean getaway.
Director: Jeff Nichols
Screenwriter: Jeff Nichols
Principal Cast: Matthew McConaughey, Tye Sheridan, Jacob Lofland, Reese Witherspoon, Sam Shepard
Lovelace
In 1972—long before the Internet porn explosion of today—Deep Throat became a cultural phenomenon. As the first pornographic feature film to be embraced by mainstream audiences, Deep Throat took a multitude of risks: it boasted a plot, humor, and an unknown and unlikely star named Linda Lovelace.

Lovelace tells the story behind the phenomenon. Fleeing her strict religious family, Linda Boreman falls for charismatic hustler Chuck Traynor, who launches her pornography career. Reborn as "Linda Lovelace," the charming girl next door skyrockets to international sensation with her uncanny capacity for fellatio. Fully inhabiting this new identity, Linda becomes a spokesperson for sexual freedom and hedonism. But six years later, she reveals a far more sinister narrative—the dark secrets of her own life story.
Directors: Rob Epstein, Jeffrey Friedman
Screenwriter: Andy Bellin
Principal Cast: Amanda Seyfried, Peter Sarsgaard, Hank Azaria, Adam Brody, James Franco, Sharon Stone
Ain't Them bodies Saints
Bob Muldoon and Ruth Guthrie, an impassioned young outlaw couple on an extended crime spree, are finally apprehended by lawmen after a shootout in the Texas hills. Although Ruth wounds a local officer, Bob takes the blame. But four years later, Bob escapes from prison and sets out to find Ruth and their daughter, born during his incarceration.

The barren landscapes of David Lowery's poetic feature evoke the mythology of westerns and saturate the dramatic space with fatalism and an aching sense of loss. Aided by powerfully restrained performances by Casey Affleck, Rooney Mara, and Ben Foster, Lowery incorporates an unnerving tension into the film, teetering it at the edge of violence.
Director: David Lowery
Screenwriter: David Lowery
Principal Cast: Rooney Mara, Casey Affleck, Ben Foster, Nate Parker, Keith Carradine
Crystal Fairy
Jamie is a boorish, insensitive American twentysomething traveling in Chile, who somehow manages to create chaos at every turn. He and his friends are planning on taking a road trip north to experience a legendary shamanistic hallucinogen called the San Pedro cactus. In a fit of drunkenness at a wild party, Jamie invites an eccentric woman—a radical spirit named Crystal Fairy—to come along. What is meant to be a devil-may-care journey becomes a battle of wills as Jamie finds himself locking horns with his new traveling companion. But on a remote, pristine beach at the edge of the desert, the magic brew is finally imbibed, and the true adventure begins. Preconceived notions and judgments fall away, and the ragtag group breaks through to an authentic moment of truth.
Director: Sebastián Silva
Screenwriter: Sebastián Silva
Principal Cast: Michael Cera, Gaby Hoffmann, Juan Andrés Silva, José Miguel Silva, Agustín Silva
The Way, Way Back
The Way, Way Back tells the story of 14-year-old Duncan's awkward, funny, and sometimes painful summer vacation with his mother, Pam, her overbearing boyfriend, Trent, and his daughter, Steph. Although Duncan has a tough time fitting in and finding his place, he does find an unlikely ally and mentor in Owen, a carefree employee at the local waterpark where Duncan gets a job. Over the course of the summer, as his mother drifts further away, Duncan—with encouragement from Owen—begins to open up and come into his own.

Mining the caverns of human vulnerability for the humor necessary to make life bearable, first-time directors Nat Faxon and Jim Rash have transformed their terrific screenplay into a bittersweet comedy that is both charming and insightful.
Directors: Nat Faxon, Jim Rash
Screenwriters: Nat Faxon, Jim Rash
Principal Cast: Steve Carell, Toni Collette, Allison Janney, Sam Rockwell, Maya Rudolph, Liam James
Stoker
After India's father dies in an auto accident, her Uncle Charlie, whom she never knew existed, comes to live with her and her emotionally unstable mother, Evelyn. Soon after his arrival, India begins to suspect this mysterious, charming man has disturbing ulterior motives, but instead of feeling outrage or horror, the friendless girl becomes increasingly infatuated with him.

Visionary filmmaker Park Chan-Wook, whose Old Boy and Three…Extremes both played at the Sundance Film Festival in 2005, returns with another macabre story, one that marks his first venture into English-language cinema.
Director: Park Chan-Wook
Screenwriter: Wentworth Miller
Principal Cast: Mia Wasikowska, Matthew Goode, Dermot Mulroney, Jacki Weaver, Nicole Kidman