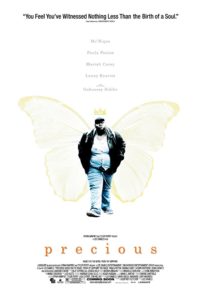 We're extremely excited to be presenting PRECIOUS: BASED ON THE NOVEL 'PUSH' BY SAPHIRE as one of this year's AFI Fest Gala Films. We had the great priviledge to see this amazing film when it debuted at Sundance (in fact, it was called Push back then) and were even fortunate enough to have the director, LEE DANIELS, co-sponsor our Sundance Filmmaker Brunch.
It's a truly remarkable film and we're so stoked for the world to experience it. It screens at the AFI Fest on Sunday, November 1st at 7PM.
—
Set in Harlem, this vibrant, honest and resoundingly hopeful film follows the story of Clareece "Precious" Jones (Gabourey Sidibe), a 16-year-old African-American girl born into a life no one would want. Pregnant for the second time by her absent father, she waits hand and foot on her poisonously angry, abusive mother (Mo'Nique). School is cruel and chaotic, and Precious has reached the ninth grade with good marks and an awful secret: She can neither read nor write. Though sometimes down, Precious is never out. Beneath her impassive expression is a watchful, curious young woman with an inchoate but unshakeable sense that other possibilities exist for her. Could a transfer to an alternative school be the chance she has been waiting for? Winner of three awards at Sundance, the Audience Award at Toronto and an official selection at Cannes, director Lee Daniels takes us on a journey from darkness, pain and powerlessness to light, love and self-determination.
[
UPDATED
with photos from the event!]
——
If you're an independent filmmaker or know of an independent film-related topic we should write about, email blogadmin@sagindie.org for consideration.