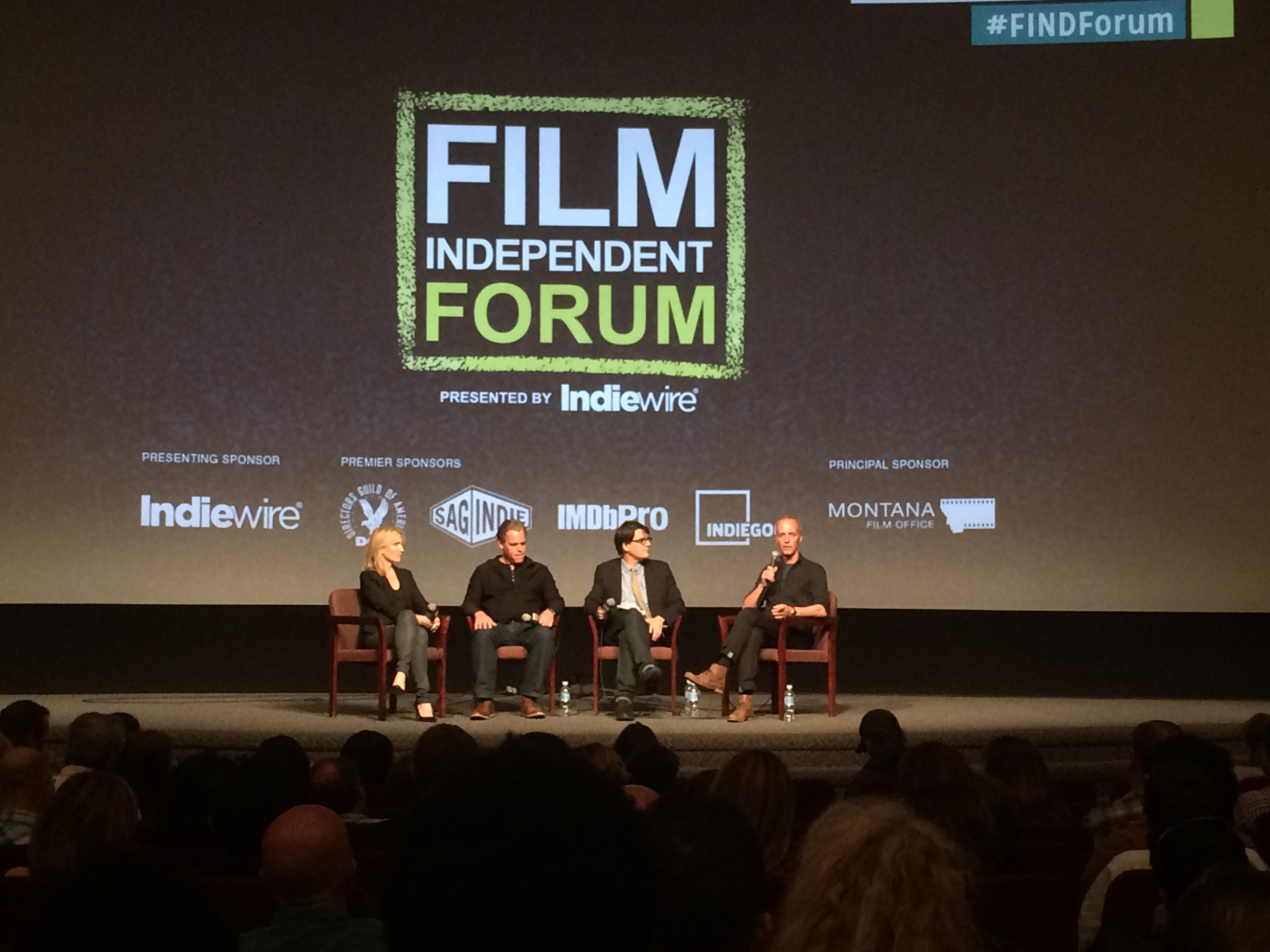 SAGindie was a premiere sponsor of this year's Film Independent Forum, which kicked off October 24 with a screening of Nightcrawler at the Directors Guild of America Theater, followed by a panel discussion with producer Jennifer Fox, editor John Gilroy, and writer/director Dan Gilroy, moderated by Mark Olsen from the Los Angeles Times (pictured above).
In addition to rubbing elbows with some SAGindie staffers, attendees got to witness panels on topics ranging from financing, tax credits, hybrid distribution, and documentary and horror filmmaking. Panelists and speakers included the people behind films like Short Term 12, Nebraska, Precious, and Half Nelson; and executives from companies like The Exchange, ICM Partners, Bold Films, Fandor, and Paradigm Consulting.
While there was certainly too much knowledge dropped throughout the weekend to fully recap, two highlights were easily the keynote speeches from Jill Soloway (creator of the Amazon original series Transparent) and Tim League (CEO of Alamo Drafthouse and co-founder of Drafthouse Films).
Some choice quotes from the weekend follow, with videos of the full keynote speeches below:
"You don't get to say, 'I'm an artist, I need to be free!' You must speak the vision of your project in a way that convinces people to pay for it. If they won't pay for it, that is the artist's fault. It is my fault. It is your fault. It is not the executive's fault or the world's." –Jill Soloway
"A lot of people make a film and are like 'I can save money. I don't have to pay the agent 10-15 percent, I'm going to do those deals…' You run a very very serious risk of getting into something that you don't fully understand. That 10 percent is worth it in terms of access, credibility and sheer safety." –Tim League
"Just make a movie. It's not to make a ton of money or to make your money back. Just make a movie to prove that you can." –Asher Goldstein (Producer/Executive, Broad Green Pictures)
"I couldn't sleep at night if I knew I blew someone's money irresponsibly." –Gita Pullapilly (Director, Beneath the Harvest Sky)
"You have to get drunk with your director. You have to be slurring a little bit during that process. You have to feel that comfortable and that vulnerable and show that, but at the same time introduce boundaries. You know, 'safe words.'" –Lisa Cortes (CEO, Cortes Films)
"[The digital world] was the only place where people my age could be trusted with a miniscule budget." –Jake Avnet (Chief Operating Officer, Indigenous Media)
"There's not a conspiracy to prevent really good writing from being found… You have to have the humility to fail over and over and over." –Ray McKinnon (creator, Rectify)
Film Independent Forum 2014 Keynote Speech: Jill Soloway
Film Independent Forum 2014 Keynote Speech: Tim League