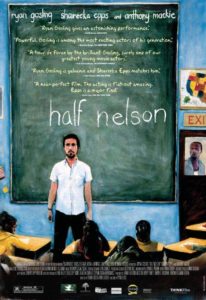 Last night we launched the SAGIndie Diversity Screening Series in New York with HALF NELSON. This film, which premiered at the Sundance Film Festival, stars Ryan Gosling and Shareeka Epps as an inner city junior high school teacher and student who develop an unexpected friendship.
It was the perfect movie to launch this series in New York. First, it's a New York film. Second, almost everyone in the cast is a performer of color, a woman, or a senior performer. Third, it also deals with diverse themes, including the history of the civil rights movement. And, fourth, it's one of the best films I've seen all year. And based on their reaction, I think the audience agreed.
And speaking of audiences… hats off to the filmmakers and actors of New York City!
We held the event at the DGA Theatre, a beautiful 430 seat auditorium, and filled the joint. I was afraid we where going to have to turn people away (and in 100 degree, 65% humidity weather that isn't something I was looking forward to), but we got everyone in.
Before the film started I said a few a words about the program and thanked our sponsors: The DGA for providing the space and Stella Artois for providing the free beer for the reception afterward and Propecia for keeping my bald spot from getting any bigger.
After the film, writer/director Ryan Fleck, producer/writer/editor Anna Boden, and lead actor Shareeka Epps joined me for a Q & A about the film and the filmmaking process. They were open and funny and I think everyone in the audience agrees with me that Shareeka is going to be a star.
The other big news I have to report is the further expansion of the SAGIndie Evil Empire (wait, did I say that out loud?). I am very pleased to announce that we now have a SAGIndie representative in New York City: filmmaker, former actor, and Ambassador to the United Nations (at least that's what his resume said), Michael Sladek.
Michael jumped right into the fire and set everything up for our screening while I was flying cross-country. He brought in three fantastic volunteers; Scott Goldberg, Alyssa Orvis, and Miss Sheryl Santacruz, to help us work the event; bought all the supplies we needed for the reception; and made sure everything ran smoothly.
And as you can see by the way he handles that Stella bottle, he fits in perfectly with the rest of us.
Welcome, Michael!
And thanks, New York!