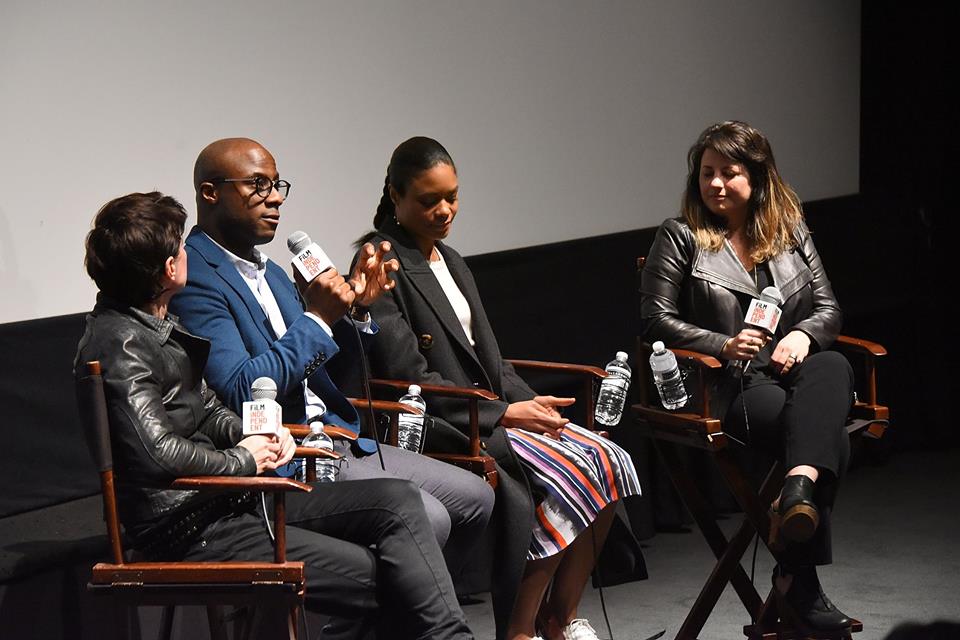 [UPDATED 3/9/17]
SAGindie once again a sponsored the incredible 2017 FILM INDEPENDENT DIRECTORS CLOSE-UP series in Los Angeles, which ran from February 1 to March 1. Attendees of the series got a chance to hear behind-the-scenes stories from some of the most talked-about independent filmmakers of the last year. It was another great year – see below for the schedule, photos, and highlights!
Schedule:
Panelists:

Barry Jenkins (director, Moonlight)
Yesi Ramirez (casting director, Moonlight)
Naomie Harris (actress, Moonlight)
Moderated by Kimberly Peirce (director, Boys Don't Cry)

"For me it was the Lynne Ramsay school of filmmaking. A mix of trained and untrained actors." –Jenkins

"I have a legal background, so I love doing research. I did a ton of [casting] research online. We were three weeks from production [without a final cast list] – thank god for Google!" –Ramirez

"Not a single person in this movie met before they did their first scenes." –Jenkins

"We tried to build our limitations into the method and making of the film." –Jenkins
Panelists:

Travis Knight (director, Kubo and the Two Strings)
Arianne Sutner (producer, Kubo and the Two Strings)
Steve Emerson (visual effects supervisor, Kubo and the Two Strings)
Brian McLean (director of rapid prototyping, Kubo and the Two Strings)
Brad Schiff (animation supervisor, Kubo and the Two Strings)
Moderated by Jane Anderson (writer/director, Normal)

"If you're going to stylize reality, you need to understand reality." –Knight

"A lot of things can go wrong. Animators can bump into things, step into frame, block the light. We do a lot of cosmetic work on the puppets. There aren't a lot of do-overs." –Emerson
Panelists:

Denis Villeneuve (director, Arrival)
Joe Walker (editor, Arrival)
Moderated by Glenn Kiser (Senior Director, Dolby Institute)

"[Arrival] owes almost everything to Joe Walker. We never changed the nature of the story, but at the end of the day the script is just a blueprint." –Villeneuve

"When you have CGI artists in Vancouver and London, the communication [about] how to be precise and give the right mood… was a challenge." –Villeneuve

"Your first cut is never as good as your dailies—and never as bad as your first assembly." –Walker
Panelists:

Andrea Arnold (writer/director, American Honey)
Robert Eggers (writer/director, The Witch)
Pablo Larraín (director, Jackie)
Moderated by Josh Welsh (President, Film Independent)

"Untrained actors never do the same thing twice, which keeps the professionals on their toes." –Arnold

"I do very little with actors. I don't like rehearsal. I like to work with the circumstances. The chaos… Shia LaBeouf claims the only thing I gave him to work off is a picture of a forest." –Arnold

"I'm the opposite of Andrea Arnold. Rehearsal was crucial. We wanted it to feel like a family." –Eggers

"I made Neruda and Jackie back-to-back and I didn't sleep for a year." –Larraín
Panelists:

Pamela Adlon (creator/star, Better Things)
Rachel Bloom (co-creator/star, Crazy Ex-Girlfriend)
Aline Brosh McKenna (co-creator, Crazy Ex-Girlfriend)
Issa Rae (creator/star, Insecure)
Moderated by Wendy Calhoun (writer, Empire)

"Having a creative partner that you feel that comfortable with who can share your voice is amazing." –Adlon

"[Success boils down to] one, a unique idea and two, why you're the one to tell this story. What makes you so special?" –Rae

"When you physically are having a reaction and it makes you uncomfortable, it's going to be good. Write that." –Adlon

"Consistency goes a long way. You knew I would post an episode every Monday at 10am." –Rae

"The scariest thing is to try your best and fail, but it's also the only way to get better." –Bloom
Film Independent Directors Close-Up is sponsored by SAGindie, Directors Guild of America, Landmark Theatres, and Ovation.
__
If you're interested in receiving invites to special events like this, sign up for the SAGindie email newsletter.