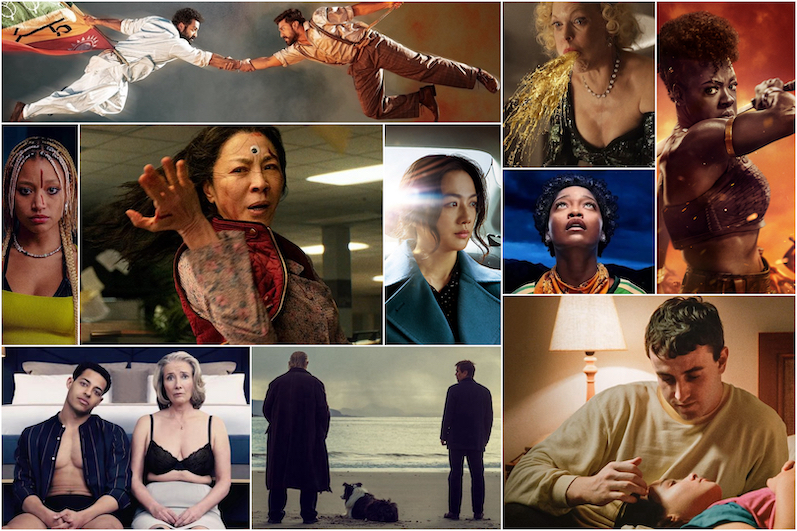 If there's one thing that was the talk of the year in 2022, it was Elon midterms inflation Queen Elizabeth war Dobbs mpox the slap MOVIES! This year's box office was feast or famine, (most) festivals came back in person, and our appetites for movies were well satiated (even if distributors still seem uncertain about the whole "should this go to theaters or streaming?" question). Thus, the SAGindie staff decided it was time to continue a beloved(?) annual tradition to list off the best films they saw this year. Welcome to SAGindie's FAVORITE MOVIES OF 2022.
Also, because we don't only live in the now, we figured we'd list our favorite classic films we finally saw this year as well.
——
Darrien's Favorites:
Each one of these films made me happy that I had taken the time to watch it. Thoroughly enjoyed from beginning to end. Still, there were SO many others that I still want to see but haven't yet.
Eliza's Favorites:
Best New-to-Me:
Colin's Favorites:

Favorite Movies of 2022:
Favorite Classic Movies I Saw in 2022:
Shefali's Favorites:
Favorite Old Movie: Exit – Not super old, but I watched the 2019 Korean film Exit this year. It's an extremely fun action comedy about an unemployed man who's obsessed with rock climbing much to his parents' disapproval, but then those skills turn out to come in handy when an apocalyptic gas explosion hits Seoul!
Michael's Favorites:
I still have a lot to see, but so far Aftersun is my favorite new movie followed by The Banshees of Inisherin. The first is gorgeously gut-wrenching while the latter is hilariously existential.
Otherwise, I also really liked:
As for old movies I saw for the first time this year, I really loved Sweet Smell of Success (Alexander Mackendrick) and very much liked Seconds (John Frankenheimer), Saint Jack (Peter Bognonovic), and A New Leaf (Elaine May).

WHAT WERE YOUR FAVORITE MOVIES OF 2022?
——
If you're an independent filmmaker or know of an independent film-related topic we should write about, email blogadmin@sagindie.org for consideration.