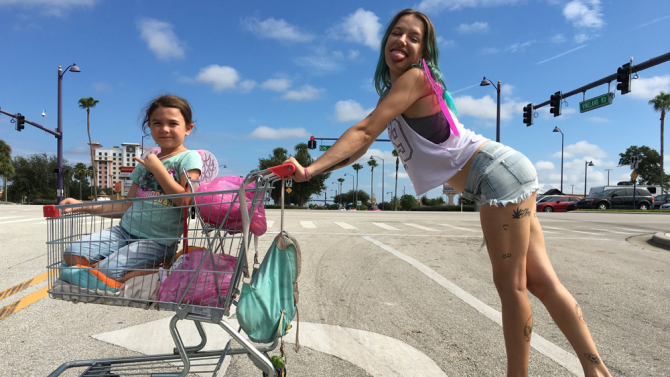 Ready to embrace the Fall and all of the October movies that come with it? So is the SAGindie staff! We studied the list of upcoming movie releases to pick our most anticipated films of the month. What are you planning to add to your October movie must-see list?
——
Darrien's Picks:

OK, I've been waiting a long time for a Blade Runner sequel, and I can't wait. Not only do I want more movie, I want more LIFE, _______!
I'm interested in The Mountain Between Us. One, because I love Idris. And two, I gotta see if Kate Winslet lets this one die, too (I got your back, Leo!)
The Florida Project. Sean Baker's Tangerine follow-up looks promising.
And maybe Professor Marston & the Wonder Women – but does that make me kinda pervy? (*too much?)
Suburbicon – cuz Clooney can do no wrong.
Eliza's Picks:

The Florida Project!!
Blade Runner!
The Polka King
Happy Death Day!
Tragedy Girls
The Killing of a Sacred Deer!!
The Square!!
Novitiate!
Colin's Picks:

Since it's October, I have to pick a scary movie or two. Though the ones I'm excited for don't look like your average ghost stories or slasher flicks: Better Watch Out (a funny, gory, Christmas-themed home invasion thriller) and Tragedy Girls (which looks very Jawbreaker/Heathers-inspired). There's also 78/52, which isn't a scary movie but is about a scary movie, so that counts.
As for the rest? The Florida Project looks amazing; The Meyerowitz Stories (New and Selected) has an obnoxious title but I'll see any Noah Baumbach movie; God's Own Country was a huge hit at Sundance that I unfortunately missed; then it played at Outfest and I unfortunately missed it again. So now's my chance. Third time's a charm?
Wonderstruck reunites Todd Haynes and Julianne Moore, which isn't a bad thing. And finally, there's Novitiate – which also premiered at Sundance and which didn't initially sound like something I had much interest in. But damn, the trailer sold me – Melissa Leo as a mean nun! Why would I have ever doubted this? (Time for my penance, I guess.)
Shefali's Picks:

I actually hadn't heard of a lot of the movies coming out this month (sans Blade Runner), but I just looked into a few of these and they seem pretty interesting! Tragedy Girls, for example, seems like it might be a fun time. Also, I really enjoyed The Lobster (as much as you can really enjoy The Lobster) so I'm sure The Killing of a Sacred Deer will be a wild ride.
Blade Runner
The Florida Project
Faces Places
The Killing of the Sacred Deer
Tragedy Girls
WHAT ARE YOU EXCITED TO SEE THIS OCTOBER?
——
If you're an independent filmmaker or know of an independent film-related topic we should write about, email blogadmin@sagindie.org for consideration.