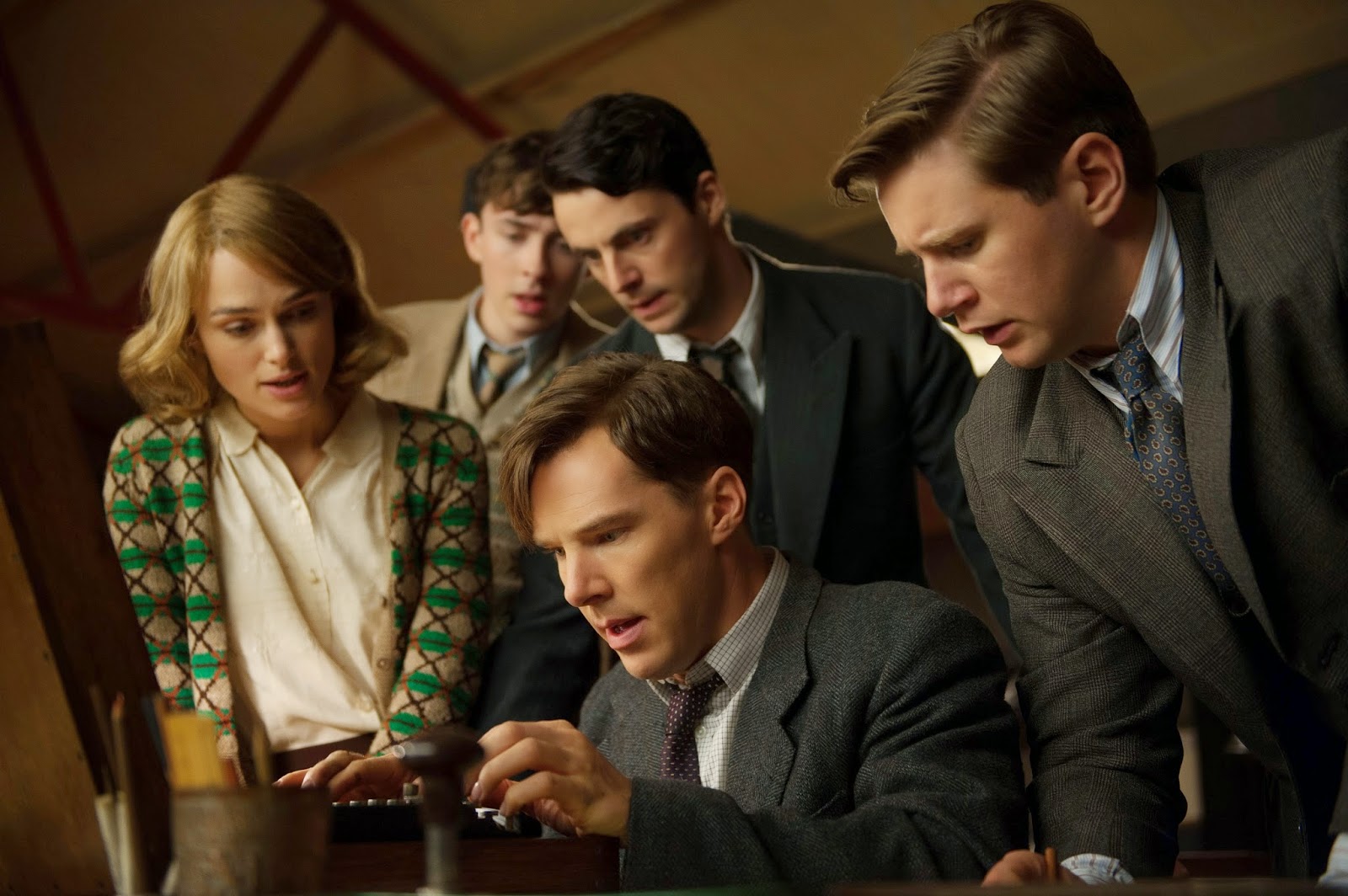 This November's movie calendar brings us a handful of small-scale indies hitting VOD, two movies that will probably take in all the world's money (a Disney superhero cartoon and the Katniss Chronicles Part 3 of 4 or more?), and quite possibly the last of the year's awards contenders (including a Stephen Hawking biopic – as Filmdrunk's Vince Mancini says, "it's not awards season until someone pretends to be disabled"). In other words, there seem to be fewer movie options available as the year winds down. It's almost as if the studios think people will be hanging out with their families or something in November and December? Whatever, take a look at the movies the SAGindie staff will be using to avoid our loved ones this month.
——
Darrien's Picks:

November movies – so do I go for the likely Oscar contenders or the counter programming of Dumb and Dumber To? Well, I've seen The Imitation Game and it is great! So I guess I'm leaning towards a prestige pick. I'm interested in The Hunger Games: Mockingjay, but I'll wait for the crowds of screaming teens to pass. Beyond the Lights is intriguing. Gina Prince-Bythewood's film has an allure and I love any girl who is named Gugu. But despite the buzz of Oscar movies, I have to confess, I laughed at the Horrible Bosses 2 trailer. That might have to be my pick. Don't judge me!
Eliza's Picks:

The Babadook – kids scare me, so I don't mind watching films with children (and the people who choose to have them) being terrorized.
Happy Valley – Ooh, what's this? Happy Valley? Sounds pleasant!
Dumb and Dumber To – glutton for punishment?
National Gallery – Frederick Wiseman? Big fan.
Foxcatcher – Obviously.
Colin's Picks:

Foxcatcher has a lot of buzz, so I'll probably go to see Steve Carell get his drama on. There's nothing I like more than a documentary that leaves me apoplectic, allowing me to annoy my friends with rants about the pertinent social issues of the film (speaking of, why haven't you watched Blackfish/Let the Fire Burn/The Invisible War/Hot Coffee/Crime After Crime yet?!), so I think Happy Valley will get my righteous blood boiling in the best way.
And while it seems to be coming out about a month late (we could have used a good scary movie this October), sign me up for The Babadook because A) I like saying the name, and B) people are comparing it to The Exorcist and The Shining, which means we are either in for a new horror classic, or we're going to be profoundly disappointed.
Amanda's Picks:

There are so many movies I want to see this month, I don't know how I'll fit them all in! I've loved outer space for just about as long as I can remember, so obviously I will be lining up for Interstellar this coming weekend; even if I may not buy Matthew McConaughey as an astronaut, he was so great in Contact, credit where credit is due, the man can feel some sci-fi. The Theory of Everything and The Imitation Game are also on my list; based off the lives of Stephen Hawking and Alan Turing respectively. Ya'll know I've got a thing for space physics, but I'm also fascinated with spies and codebreaking. What can I say, I'm the cool type of nerd.
I really want Big Hero 6 to be good, and Baymax is too cute in those trailers ("Hairy baby" gets me every time), but take a look at the comic version of him and you'll see something like a grown-up Gremlin, it's a little terrifying; I'm happy Disney made the change. And I'll probably be volunteering my money as tribute for the third Hunger Games installment too. Though I'm not a huge fan of the series, I've just gotta know how much cooler J-Law could possibly get.
P.S. — Nightcrawler is out now, and it's definitely one of the creepiest films I've seen in a while, but worth seeing for Jake Gyllenhaal's performance alone.

WHAT MOVIES ARE YOU LOOKING FORWARD TO SEEING THIS NOVEMBER?
——
If you're an independent filmmaker or know of an independent film-related topic we should write about, email blogadmin@sagindie.org for consideration.