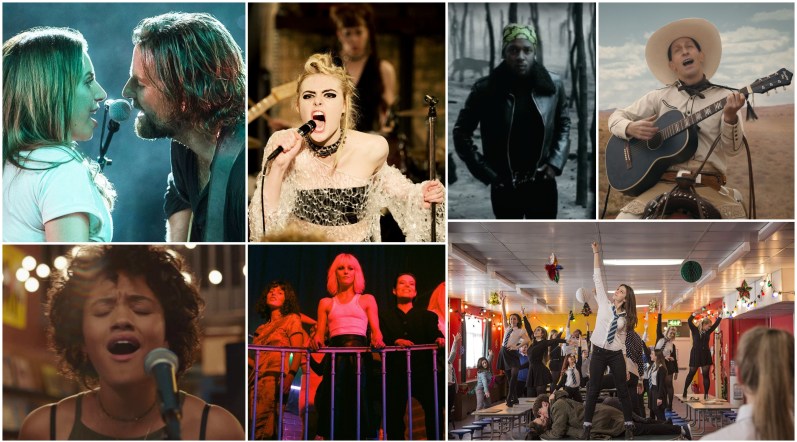 2018 saw the launch of the SAGindie Movies & Music program, dedicated to bridging the divide between filmmakers and music professionals. Finally, the SAGindie staff could learn to appreciate two aspects of the arts: Movies and Music! So with end-of-year nostalgia kicking in, and this new appreciation for the melding of these two artistic worlds, we decided it would be nothing if not appropriate to list our FAVORITE MOVIE MUSIC OF 2018.
Take a tip from our staff to see which movie music from this year you should add to your playlist.
——
Darrien's Favorites:

Favorite Original Song: "Hearts Beat Loud" from Hearts Beat Loud
Favorite Score: Ludwig Göransson for Black Panther
Favorite Music Cue: Katherine Ho – "Yellow" from Crazy Rich Asians

Eliza's Favorites:

Best Score: M83 for Knife + Heart
Honorable Mentions: Keegan DeWitt for Gemini, Alexandre Desplat for The Sisters Brothers
Best Musical Cue: Crosby, Stills & Nash – "Helplessly Hoping" from Annihilation
Honorable Mention: West Coast Pop Art Experimental Band – "I Won't Hurt You" from Isle of Dogs
Best All Around Soundtrack: How to Talk to Girls at Parties
Honorable Mentions: Bad Times at the El Royale, Mid90s, A Simple Favor
Colin's Favorites:

I'm a sucker for a good Coen Brothers musical number. They've given us so much: "Gutterballs," "Man of Constant Sorrow," "Please Mr. Kennedy, "No Dames." So they don't disappoint with The Ballad of Buster Scruggs, where we get a slew of cowboy jams during the film's first chapter, from a post-murder singalong to a mournful crooning. Hot dang it's a good time.
Horror movie scores were a high point of the year (great to see John Carpenter's return with Halloween), but my favorite has to be Thom Yorke for Suspiria.
As far as unexpected song choices go, props to Bo Burnham for utilizing Enya's "Orinoco Flow (Sail Away)" as both a poignant score and comedic record-scratch moment in Eighth Grade.
Finally, it would be downright disrespect to the meme if I didn't include the Lady Gaga wail that took 2018 by storm. Yes, the crescendo of "Shallow" from A Star is Born (go ahead and skip to the 2:30 mark to get to the meat) was the musical moment that landed its punch in the trailer, and still landed the punch when you saw the actual movie. The rest of the song is pretty good too, but never forget where you were when Gaga AHHHH AHHHH AHHH AHHHH AHHHH'd into all of our hearts.
Shefali's Favorites:

There were a lot of great movie music moments from this year like the soundtrack for Black Panther, performances in Hearts Beat Loud, and the score of The Favourite. But my personal favorite was Anna and the Apocalypse. A great zombie Christmas musical that doesn't take itself very seriously, but made me feel great watching it! All the choreography was done by one of the stars, Sarah Swire, and my favorite dance musical number "Turning My Life Around" included some insane zombie mauling and an epic dance off in a cemetery.

WHAT WAS YOUR FAVORITE MOVIE MUSIC FROM 2018?
——
SAGindie's Movies & Music program is designed to bridge the gap between the filmmaking and music worlds. For more Movies & Music content, click here. If you know of a film music professional we should profile, email blogadmin@sagindie.org for consideration.