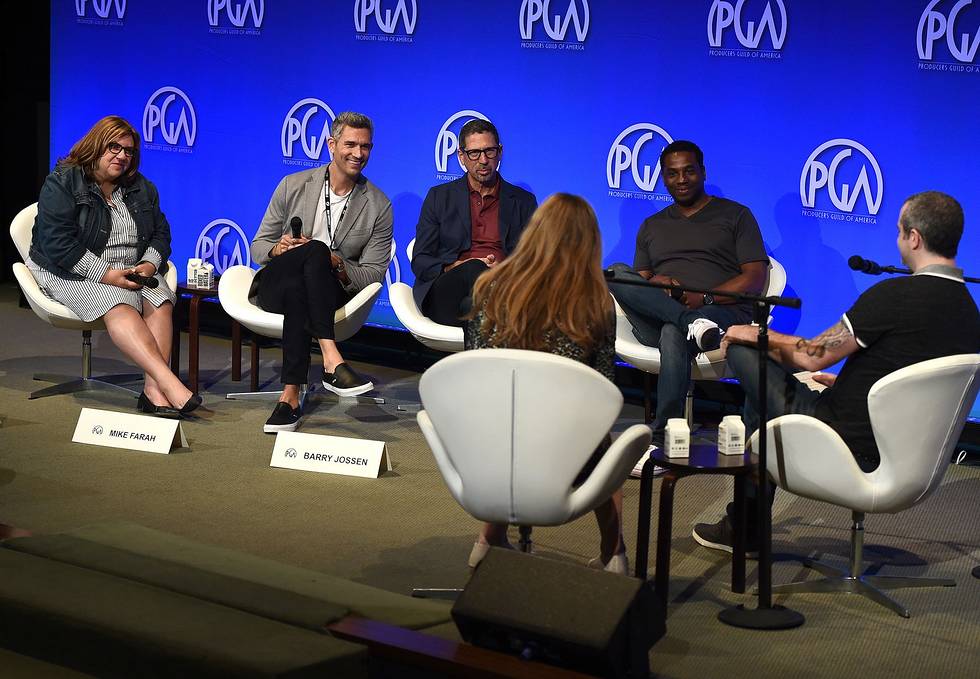 SAGindie once again sponsored the annual Produced By Conference Los Angeles, one of the signature events from the Producers Guild of America (PGA). The conference took place June 8-9, 2019, at Warner Bros. Studios, where SAGindie co-hosted a lunch table with SAG-AFTRA. We were also able to sit in on some of the panel events, which featured discussions with Michael B. Jordan, Mindy Kaling, Jeffrey Katzenberg, Michael Douglas, Ava DuVernay, Leslye Headland, and more.
For a pretty good overview of the weekend's highlights, check out Shoot's article on the event. We've also collected some quotes to help you in your various producing ventures below.
Inspiration
"Starting in front of the camera, from the actor's perspective, it's all about the heart. It's about wanting to create bodies of work and tell stories that will make people go home and think thoughts that will weigh heavily on their heart." –Michael B. Jordan (producer/founder of Outlier Society)
Work Ethic
"Starting out, more often than not, you will get treated unfairly, even though you're working your ass off. And I think making sure that every day, you're going into it with the feeling of, OK, I want to be of service, and not, How do I get the credit? Because people will try to take that from you anyway, but consistent hard work, I believe, will make it so that you will succeed no matter what." –Mindy Kaling (producer/founder of Kaling International)
Representation
"We have to own these problems. We can make the biggest difference; we can find the people that we don't know." –Lucy Fisher (President, Producers Guild of America)
"When you look at something like streaming, you are actually getting those marginalized voices—female, filmmakers of color, or a gay filmmaker, for example, that maybe can't and don't have the same access out in front of the world." –Leslye Headland (filmmaker and co-creator of Russian Doll)
Finding Material
"[On a podcast] I have people basically speaking into my ear and telling a story, and that's a lot more seductive than someone sending you a PDF of an article that they think would make a good television show… It's another incredible source of IP and it's exploding all the time. If you're in my position, you'd be a fool to not try to consume as much of it as possible." –Alexandra Cunningham (showrunner of Dirty John)
Theatrical Distribution
"Our theory is basically the theatrical experience, far from being broken, is maybe a little more competitive and is in better shape than usual… The average number of movies Americans are going to has ticked up. You start seeing it with theater chain subscription services. These are starting to work. They're discounting the ticket, and make the difference on concessions. It's basically asking people to buy a 12 times a year habit. None of these things is going to turn movies back to what it was in the '70s but it's going to help make it sustainable." –Mark Gill (CEO, Solstice Studios)
Competition
"Disney is going to be number one for the foreseeable future. But I do think there's a chance for us and other studios like Universal because Disney and Fox have a very specific type of focus. That gives us a chance to take specific risks with theatrical releases that they wouldn't take. It's like baseball: hit it where they ain't." –Toby Emmerich (Chairman, Warner Bros. Pictures Group)
New Innovations
"This is a completely new platform, with a completely new opportunity to tell stories in a different format. People are watching up to 60 minutes a day of video on their phones, and that figure is only going to get bigger with the arrival of 5G." –Meg Whitman (co-founder, Quibi)
"[The Da Vinci Code author] Dan Brown has spoken about having these 464-page novels with very short chapters, so that if his readers didn't have 30-40 minutes to sit down and read a big section, they could still have a good reading experience with however amount of time they had… The goal for us is to do [TV storytelling] with a new time constraint and a new format." –Jeffrey Katzenberg (co-founder, Quibi)
WHAT WERE YOUR PRODUCED BY CONFERENCE HIGHLIGHTS?
——
If you're an independent filmmaker or know of an independent film-related topic we should write about, email blogadmin@sagindie.org for consideration.