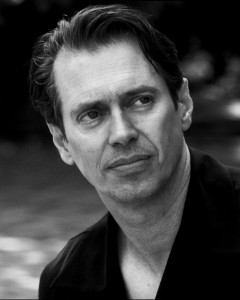 On June 6, 2010, actor, writer, and film director STEVE BUSCEMI will talk with Emmy Award-winning journalist and Co-Host of WNYC Radio and PRI's The Takeaway, John Hockenberry, about creating unforgettable characters that ultimately drive a film's narrative and impact. The afternoon will feature film clips from the actor's career as well as brunch at an award-winning Brooklyn eatery.
It is our pleasure to extend an advance invitation to SAG and SAGIndie members. The event will be publicly announced this Friday May 14th, so please take advantage of this opportunity to secure seats to this intimate event.
Actor as Auteur Brunch To Benefit ISSUE Project Room
Presented in Collaboration With SAGIndie
Sunday, June 6, 12pm – 2pm
$125 Per Person ($95 tax-deductible, three-course brunch is included.)
SEATING IS LIMITED. BUY TICKETS
For more information please call 718-330-0313.
There are numerous iconic characters in film history, from The Little Tramp to Charles Foster Kane to Colonel Kurtz to Travis Bickle, all of them well drawn and directed. However, had Chaplin, Welles, Brando or DeNiro not played these roles would the film had the same powerful impact on our culture? Can a case be made for actor as auteur?
It is difficult to imagine Buscemi's roles and their indelible effect on each film without his personal, stylized approach in bringing them to life. They emit essential energies striking a balance between deeply held neuroses and outward bombast. From lead roles in films like Fargo, Reservoir Dogs, Living in Oblivion, Trees Lounge, and Ghost World, to supporting roles and cameos in films such as The Big Lebowski and Barton Fink, his presence breathes life into every corner of a film. "Buscemi is a quiet tyrant of artistic fury who threatens to overrun every frame he's in with the inner desperation he projects even in his most subtle performances," says Hockenberry.
___
SAGIndie is a gentle and loving union between the hard working thespians of the world and the passionate filmmakers who buck the system. Since its formation in 1997, SAGIndie has been traveling to film festivals, trade shows and conventions spreading the word: Just because your film isn't produced by a studio doesn't mean you can't use professional talent. www.SAGIndie.org
ISSUE Project Room, a registered 501(c)(3) organization, was established in 2003 by visionary artist Suzanne Fiol, and is a vibrant nexus for cutting-edge, multi-disciplinary arts in Brooklyn. ISSUE supports emerging and established experimental artists through more than 200 programs each year including music concerts, literary readings, films, videos, dance, visual and sound art, new media, critical theory lectures and discussions, site-specific work, commissions, educational workshops, master classes, and genre-defying interdisciplinary performances that challenge and expand conventional practices in art.  Support for ISSUE has been provided by CHORA, a project of the Metabolic Studio, a direct charitable activity of the Annenberg Foundation led by Artist and Foundation Director Lauren Bon. CHORA aims to support the intangibles that precede creativity. www.ISSUEProjectRoom.org