The 30th Anniversary FILM INDEPENDENT SPIRIT AWARDS were held on February 21 in Santa Monica, hosted by Fred Armisen and Kristen Bell. The event pays tribute to the best in independent cinema (see the full list of nominees and winners below), and SAGindie's Darrien Gipson and Eliza Hajek were there to help celebrate.
See what SAGindie National Director Darrien Gipson had to say about this year's star-studded event…
_______
I know it seems like SAGindie gets to do a lot of cool stuff. And yes, we do – it's definitely a perk of the business. But going to the Spirit Awards is one of the most fun events on our schedule. We host a table of actors, all who have hot careers and are, well… Just hot. This year was no different, as we had a group of lovely actors who were not only really good looking, but had the audacity to be really nice, too.
Our day started right at 11am, when the "doors" opened (well, it's a tent, but "when the flaps open" doesn't sound as nice). Eliza and I, in our best frocks, were waiting by security, ready to escort our guests in. While we were waiting, we got to watch the parade of who's who as they arrived. Yes, I love actors and film, but I'm a huge football fan, so it took everything in my power not to jump on Aaron Rodgers as he escorted Olivia Munn down the PINK carpet. I mean, really – NFL MVP!!! Before long, our first guests arrived in the gorgeous form of Ben McKenzie. I had the illustrious job of taking Ben down the pink carpet. Look, being a publicist is no joke. You have to get your person on the carpet, while staying far enough away to not be in the picture, while watching the people on the carpet before you, so as not to walk into THEIR picture, AND keep your client moving down. It made my head spin. And Ben just stood there, smiling casually as people screamed his name, shouting instructions, and – in one case – catcalled him with "Hey Sexy!". Once he was down the carpet, he joined our other guest and his friend, Paul Wesley and they dashed into the tent.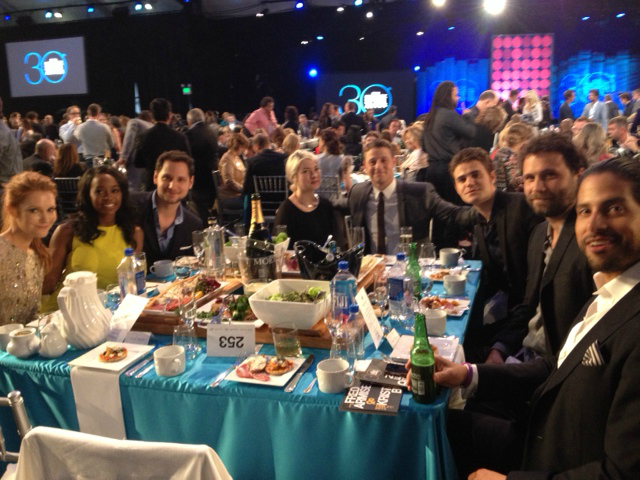 When I say we had a great table, people, understand that we had a GREAT table. Darby Stanchfield (Scandal) joined us, as did Aja Naomi King (How To Get Away With Murder) and Matt McGorry (Orange Is The New Black). Next year, we'll invite people who have show titles of 5 letters or less. Also, joining Ben and Paul, was Jeremy Sisto (so many movies and shows, but he'll always be Elton to us) and Adam Rodgriguez in his Magic Mike glory! Everyone got along – we all had a good time, and Eliza managed to not "accidentally" sit on Ben McKenzie's lap.
The show itself was good. The awards went to deserving people and Fred Armison and Kristen Bell were engaging hosts. The room was filled with everyone you could ever want to meet but were too afraid to talk to. Seriously, OPRAH was there! And did I mention Aaron Rodgers?! AARON RODGERS, people!!! All I can say is, we, the folks at SAGindie do a lot of things that look like fun but are really hard work. THIS wasn't one of them. We had a blast.

Nominees & Winners:
Best Feature
Best First Feature
John Cassavetes Award
(for best film made for under $500,000)
Best Director
Best Screenplay
Best First Screenplay
Best Cinematography
Best Editing
Best Male Lead
Best Female Lead
Best Supporting Male
Best Supporting Female
Best International Feature
Best Documentary
Robert Altman Award
(for best ensemble casting)
Special Distinction Award
Piaget Producers Award
LensCrafters Truer Than Fiction Award
Kiehl's Someone to Watch Award
WHAT WERE YOUR FAVORITE SPIRIT AWARDS MOMENTS?
_______
If you're an independent filmmaker or know of an independent film-related topic we should write about, email blogadmin@sagindie.org for consideration.