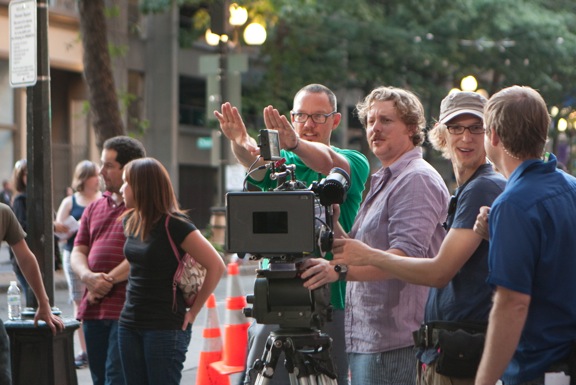 MATTHEW LILLARD has portrayed some of the more memorable film characters from the last couple decades– Cereal Killer in Hackers, Stu Macher in Scream, and Shaggy in the Scooby-Doo franchise, just to name a few. With his recent work in Alexander Payne's The Descendants and an upcoming role opposite Clint Eastwood and Amy Adams in Trouble With the Curve, it'd be safe to assume he's more than satisfied with his prosperous acting career. Right?
Not entirely the case. Sure, he's thankful and perfectly happy working as an actor when the roles are there, but what about when they're not? Somehow the appetite for creation must be fed or those of us, like Matthew, who are hungry to make stuff will wither away and die (Melodrama intended!).
The good news is Matthew's appetite to create has been momentarily satisfied with K.L. Going's popular young adult novel, Fat Kid Rules the World. Matthew first came into contact with the touching tale about a suicidal, overweight teen when he was hired to record an audio version of the book. He related to the main character so much he instantly felt compelled to bring this story to the screen.
Flash forward several years later to the summer of 2011 when Matthew finally stepped behind the camera to direct the film adaptation of FAT KID RULES THE WORLD (trailer below) starring Jacob Wysocki (Terri), Matt O'Leary (Brick), and Billy Campbell (The Killing). The film would go on to premiere at the 2012 SXSW Film Festival, winning the Narrative Spotlight Audience Award in the process.
Although reviews and buzz have been more than positive for Fat Kid Rules the World, the film has unfortunately not received the same love from distributors– a common experience among most of us indie filmmakers. The phrase "We're just not sure how to market this" is old hat. Not to be discouraged, Matthew and team have decided to self-distribute via an aggressive Kickstarter fundraising campaign and some forward-thinking partnerships with TUGG.COM and the VANS WARPED TOUR. Come hell or high water, they're determined to get this unique film to the masses.
To give us more insight into the self-distribution decision, as well as his decision to start directing, Matthew Lillard was generous enough to answer some questions.
——
WILL PRESCOTT: Up until now, your career has been in front of the camera. Was it always a goal to eventually jump behind it?
MATTHEW LILLARD: Not specifically, no. I've always been keen to do more than act though. I'm not a huge fan of passively waiting for the phone to ring, there's just not enough work as an actor to keep me satiated. Even in a great year, if you count the hours a week or month that you're actually practicing the craft of acting, what's the total time spent? What are you supposed to do with the rest of your life?
WP: Directing is a pretty seamless step for actors. What's the biggest challenge you've found making the transition?
ML: All the "challenges" for me actually would fall under the banner of producing. It took 9 years to find someone that believed in the story enough to let me make the movie I wanted.
WP: Did you seek any advice from other directors in preparation for your début?
ML: I didn't seek direct council from anyone before I took the leap of faith. Directing a movie is like having a baby… what are they going to say to me that would prepare me for the experience I was about to go through? Breathe. Sleep when you can. Drink wine often. For me, directing is instinctual– part of who I am as an artist. I don't know if you can seek advice on matters of art. I do enjoy talking about the process with other directors now after the shooting has stopped. There's a wonderful fellowship in those relationships.
WP: Was directing just a thing you had to do for this particular project or is Fat Kid just the beginning? In other words, can we expect more from you as a director?
ML: I hope it's just the beginning! If I was drawing up a master plan for my life, I would teach acting at a liberal arts college somewhere romantic and ivy covered and direct a movie every couple of years. That sounds about perfect!
WP: It actually does. So, how did Fat Kid come to you?
ML: I was lucky enough to do the book on tape of KL Going's wonderful young adult novel. Twenty pages into the experience I had tears running down my face the story had rocked me so completely.
WP: Wow. How so?
ML: I saw myself in the hero of the book, Troy. He's is overweight, lost and on the outside of life until he is "saved" by punk rock. For me, I found drama class in Junior High School and that changed my life. Gave me purpose, strong sense of self and helped pull me through the complexities of High School.
WP: In the film, Troy is played by Jacob Wysocki. Can you talk a little bit about how you cast him?
ML: Whitewater Pictures and I decided to shoot a short film called Fat Punk using scenes from the feature script. We were a non-union digital shoot that was paying $100 a day and when we put it out over breakdown we got four kids to come in and audition. Jacob was one of of the kids and we cast him to be the lead in the short. By the end of the process we were so in love with him he became the linchpin for our financing.
WP: Did your extensive acting experience help you communicate better with a young-up and-comer like Jacob?
ML: No doubt being an actor helped but I think it's the teaching I've done that really made a difference in my directing. I started teaching at the Vancouver Film School a couple of years ago and the time I spent there working with those kids in their scene study work gave me the confidence to lead this film's performances.
WP: Any specific stories or examples from the shoot?
ML: There was a day when Troy is suppose to lose his shit and Jacob came up to me and was worried about his ability to "get mad." I walked him through a quick exercise and he exploded into the work. We quietly rolled cameras and captured his brilliance in one take. He was so emotionally charged he smashed a hole in the wall while shooting the scene and afterward he went outside and threw up. It's my favorite scene in the film for two reasons: one, when you watch the work in that moment you can feel it in your body, that energy strikes a physical response in people when they see it; and two, I feel like I helped Jacob tap into a side of his work that he didn't know existed.
WP: When and where did you shoot?
ML: Seattle, Washington in the summer of 2011.
WP: What SAG-AFTRA contract did you use?
ML: The Low Budget Agreement with a side of the Diversity in Casting Incentive, which was the best part I think. I'm an open minded director when it comes to ideas for casting, but the Diversity in Casting Incentive pushed me to keep thinking outside the box. I'm proud of the diversity in our film.
WP: Where did Fat Kid premiere? How was it received?
ML: We premiered at the South by Southwest Film Festival in March and won the Audience Award in the Narrative Spotlight category. It was an epic week!
WP: Any other places it's played?
ML: We just played at the Seattle International Film Festival as one of their opening night films and at the Toronto International Film Festival– NEXT WAVE where we were the closing night film.
WP: What's the current status of the project?
ML: After SXSW we had offers for distribution but none of them gave us much of a chance to recoup our modest budget. We had seen the movie play, we'd just won the audience award and received amazing reviews across the board. In light of all that we decided to go it alone. The first thing we did was start a Kickstarter campaign to support our self-distribution efforts. Then we did a deal with Tugg.com which allows us to screen the movie in just about any theatre across the US once you have a critical mass of tickets pre-sold. Think Group-on with a movie!
WP: That actually sounds really promising.
ML: We also made a deal to co-sponsor the Vans Warped Tour this summer to market the film to the 1 million kids that visit that event every summer. We'll have a street team that travels the country encouraging kids to set up their own screenings of the movie at TuggTheFatKid.com. We believe we're onto something very cool and can't wait to see how the whole thing breaks over the next four weeks!
WP: That's great. So, how important is something like Kickstarter to the rest of the indie film community?
ML: I think it can be an incredibly important tool, not only for the indie film world but for artist in every medium. It's a simple way for people who want to support the arts to rally behind their passion. Financially! That's huge for the arts, we need that sort of support.
WP: Any particular incentives we should be excited about?
ML: I can't believe we still have a Mike McCready (Pearl Jam guitarist who did our score) signed guitar available!
WP: Where's it going to screen first after you hit your goal?
ML: We're launching with Tugg.com so anywhere in the USA! I have a feeling there are some fans of the book who will be the first to make it fly.
WP: What's the future look like for Director and/or Actor Matthew Lillard? Any upcoming projects we should know about?
ML: I'm in the new Clint Eastwood/Amy Adams movie coming out this Fall, which is fun. As a director, nothing yet but the great thing about this Kickstarter/Tugg/Warped Tour model is that it's repeatable. We'd like to make a movie a year for these kids for the next 100 years!
WP: Any final words of wisdom for directors or actors-turned-directors who are looking to embark on their first feature?
ML: Believe.
__
Matthew Lillard has only a few days left to raise enough funds to help bring FAT KID RULES THE WORLD to the masses. Visit the KICKSTARTER page and support the effort if you can.
For more information on FAT KID RULES THE WORLD, check out the official website as well as the Facebook Page. If you're an independent filmmaker or know of an independent filmmaker we should interview, email blogadmin@sagindie.org for consideration.